Ushuaia
Day 20 (18-12-05)
Before we set off for the airport we had a walk out towards the lake for some bird watching. This was not very rewarding and we returned. Very soon the taxi arrived to take us to the airport.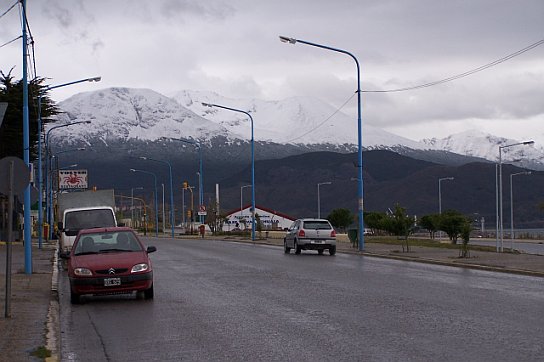 Jim and Frans had their gas stoves with gas cylinders discovered and were recalled to the counter for a reprimand and removal of the offending item. Ushuaia was cold and rainy, 3°C the pilot said. A taxi was organised to take us to the campsite, la Pista del Andino it was called and it doubles up as a ski slope in winter. We had a very friendly welcome by the camp warden.
Tents were set up and into town for shopping, walking around, eating and drinking coffee. Returned by about 21h00 and went to bed.
And just an observation, it looks like the further south one goes the cheaper the petrol, A$1.94 in BA, 1.33 in Calafate and 1.19 here in Ushuaia.
Day 21 (19-12-05)
The night was cold, the coldest possibly so far. I could kick myself for bringing my summer sleeping bag instead of the old down bag. Somehow I managed to survive the night.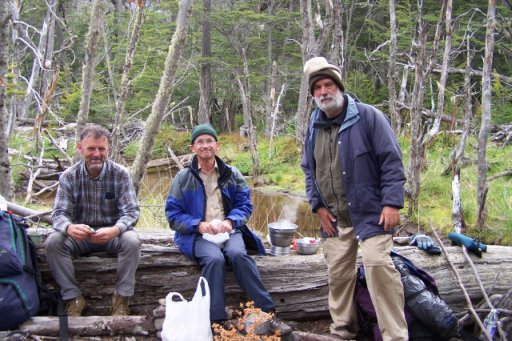 Packing and the slog down to town to catch a bus to the park. As we arrived at the bus stop a young lady approached us offering transport to the park and back for A$20, that sounded ok and we accepted the offer.
She dropped us off at the right point and we did our hike through the forest along the coast. Nice place, and when the sun came out for a short while it was even better. We selected the Lago Roca camp, since it was serviced and we like our luxuries, like hot showers. Good set up with the dinning room available to us for cooking and eating.
We booked in for two nights.
Day 22 (20-12-05)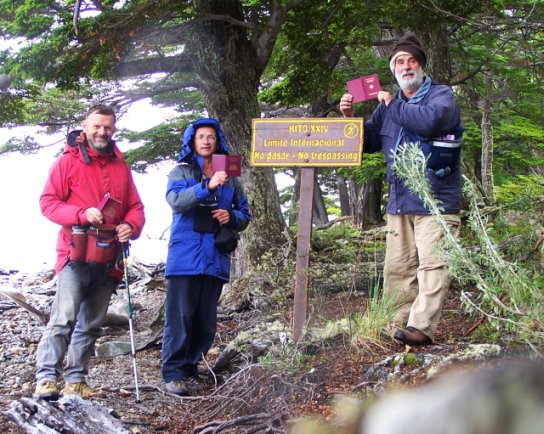 Rain, wind, shitty weather. To no avail, we had to at least do a short walk. We selected the hike along Lago Roca. As we entered the forest things improved and we finished up walking all the way to the Chilean border. At that point a sign warns us not to trespass, which of course we had to do. But at least we showed our passports to each other.
Along the way we found some ship's wreckage and wondered what that was all about. It was mainly the winch from a large sailing boat, which attracted our attention.
Near the turnaround point we came across a rock overhang barricaded with logs, we declared this a shelter of the firelanders who used to live here.
Day 23 (21-12-05)
This day turned out to be a bit better. We even got the sun to shine for a while. The hike of today was over to Lago Negro. It was a good hike, lovely forests, swamps, beaver colonies, overall a very satisfactory hike.
The bus came to take us back to Ushuaia, we got off loaded at the camping site. Off to town again to eat in one of the buffet restaurants.
Day 24 (22-12-05)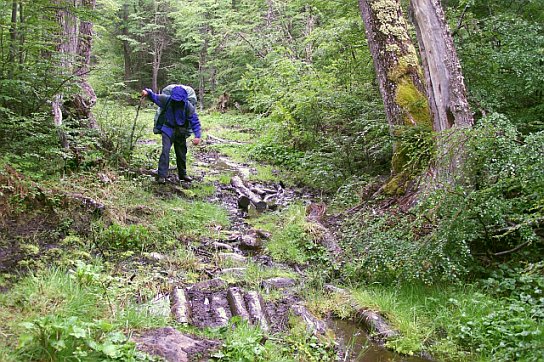 After a slow start we got into a taxi to take us to Refugio Altos de Valle. This is the starting point to get to Lago Esmeraldo. After paying starting fees of A$2 each we were off into the swamp. It was mud, mud and mud. But Lago Esmeraldo is beautiful. Camp was et up on the far shore and we managed to actually get a fire going. That was very welcome, in the national parks we were not allowed such a luxury. It was colder than normal and this fire was very welcome, our altitude here was 326m that is near the snow line at these latitudes.
We had a quick check on the route onwards and then enjoyed our fire. We invited some nearby Koreans to come and join us, but they were not very sociable and stayed at their tents.
Day 25 (23-12-05)
The night was cold and again I regretted my choice of sleeping bag. Today we wanted to go up to the glacier. And up and up we went. On the way we inspected a beaver colony, it's amazing what these little buggers can do, chop all that wood and build these dams.
At 770m we gave up, assuming that what the guidebook calls a glacier is actually just a snowfield. It was only later that we got to know that we should have gone higher and over the edge. But it was cold up here and we quickly made our way down.
On our return the decision was taken to walk out this afternoon still. It suited me, because it was still very cold. So the battle through the swamp started all over again. A bit more successful this time because we had learned a couple of tricks. Mainly 'reading' the surface, certain type of grass meant more solid underneath and grey soil means solid subsurface.
At the refugio we organised a taxi and set up camp again at the Pista del Andino.
Day 26 (24-12-05)
Late getting up, long breakfast, down to town to confirm flights and do some shopping. Museum at the end of the world is a local history and nature museum, fairly interesting.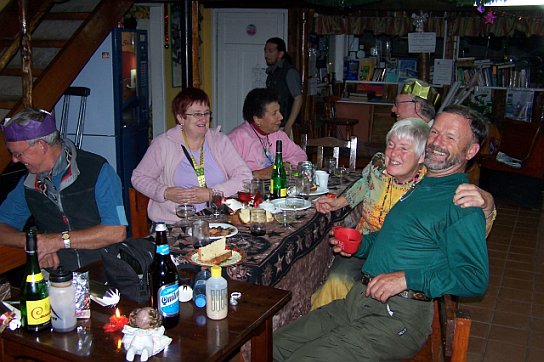 Walked around the bird sanctuary, but the birds were out, it's not a nice place, polluted. Sitting around a bit more drinking coffee and waiting for the buffet restaurant to open for our Christmas dinner.
This turned out to be a stuff-up. Not only were most of the restaurants closed, those that were open only offered special Christmas dinner at astronomical prices, A$90 up. Eventually we found a cheap place, the Irish Pub and got fixed up with a steak burger and a bottle of wine. That was not value for money and the music was shit as well.
The day was saved when we returned to the camping area and found a Christmas party in full swing there. We had previously been offered to participate but thought that the cost of A$35 was too much, we didn't know better at the time and did not accept. It was a group of mostly British campers who invited us over, they were touring the continent in their camper mobiles and had been on the road for some month already. Very interesting chatting to them.
Day 27 (25-12-05)
The taxi arrived on time and off we went home, but first to the airport. We had a few hours to kill in BA, but nobody felt like spending any time in town so we took a taxi from the local airport to the international airport. We found a quiet corner and came to rest until it was time to join the queue to board our flight. And home we went.