Torres del Paine
Day 14 (12-12-05)
For Eleni, Christopher, Eric and Tiens it was time to catch the plane back to BA and for the three hikers to catch a bus at 8h30 to Puerto Natales in Chile. Another one of those long range busses, although not as luxurious as Via Bariloche. We sat in it until 13h30. Border crossing was without hassles, except for Frans who had to hand over some dried fruit. The Chileans don't like dried fruit coming into their country for some reason.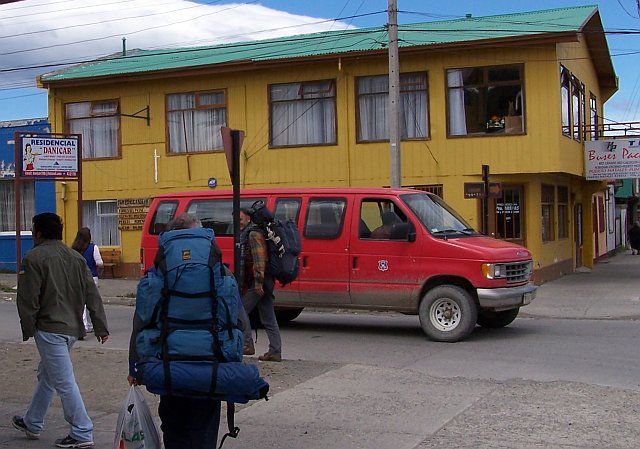 At the terminal in Puerto Natales we were approached by a young lady asking us whether we would like to go to Torres del Paine. Yes, that is what we wanted to do and she offered us a fare for US$31 there and return. That sounded ok to us and we accepted. In addition she noted that we possible want to exchange some money and this was Sunday afternoon. Not a problem you can do this right here. And there is also accommodation right here for when we come back, because there is no onward bus when we return. She was obviously a very good businesswoman; we were impressed and took an instant liking to her.
In no time were we on the bus and on the way to the park. Most of it dirt road but well maintained. A surprise waited for us at the gate. 'Today' the ranger said 'entrance is free'. We had no problems with that; it saved us 10000 Chilean Pesos CP). The reason we surmised was most likely that el presidento was in town (Puerto Natales). We didn't argue.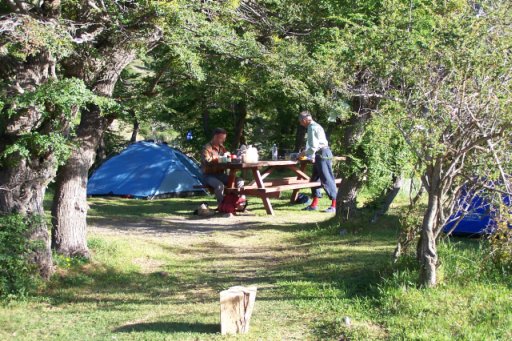 Another bus was waiting to take us to the campsite for CP1000. I was going to take it but was overruled by the other two saying that the hike starts here. So we walked the 7km to the campsite.
Camping was also free, but that was accidental. There was a guy walking around with a receipt book who approached Jim, but Jim somehow confused him with his Scottish accent and we were left alone. We had a lovely camp spot, see picture. A spectacle observed in the late afternoon was snow avalanches coming down the mountain face.
To celebrate our free entrance we went to the hotel, the bill for one beer, two hot chocolates and one coke came to CP11500 (R135). We were shocked, didn't leave a tip and vowed never to return to this bar.
Day 15 (13-12-05)
The hike up to the towers started by Jim taking the wrong path. Fortunately the shouting of a fellow hiker got us off and onto the right path. And looking back once we were further into the valley we could understand that Jim's path would not have gotten us to where we wanted to go.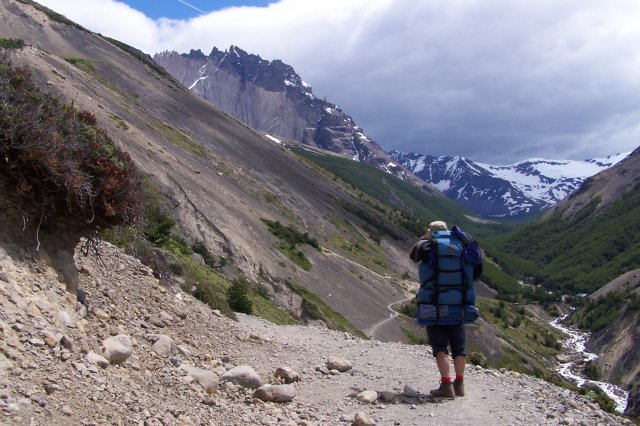 The slog up was for about 400m-altitude difference. Hard going with the heavy rucksacks and our age. Lots of hikers, all much younger, would overtake us and there were lots of them. This is obviously a very popular hiking spot.
Downhill to the refugio was no problem. We stopped there because I felt like having a coke, but at CP1500 for a can I refused, in P.Natales I had paid 500.
And onwards we slogged through a beautiful valley, a raging river on our right and the towers of Paine to our left. Most of the time it was uphill which I didn't enjoy, but eventually the campsite arrived. The camp commander informed us about the rules: no littering, no open fires, no shitting in the bush and camping is free, but we are allowed to leave a tip.
We selected a campsite and with a bit more time available walked further up the valley to the Japanese camp. To go up to the bottom of the towers was not on, the towers were covered in mist.
Day 16 (14-12-05)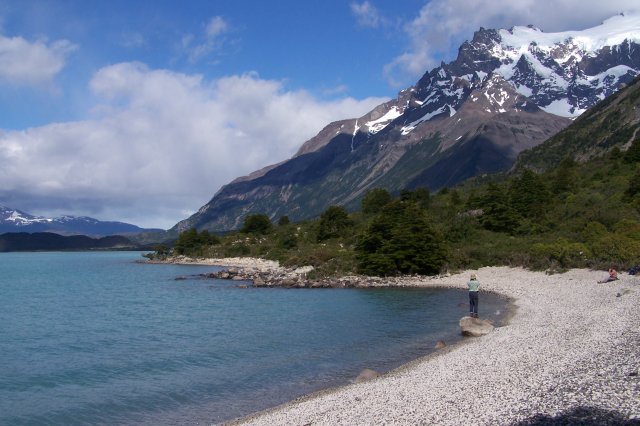 Packed our things and walked back out and then along the mountain. It was supposed to be a 7 hour hike, it took us 9 to get to Los Cuprnos. That way we got behind the towers of Paine and what a view.
Paid for the tents and settled down. I splurged out on a coke and a tin of peaches. Supper we had in the communal room.
Day 17 (15-12-05)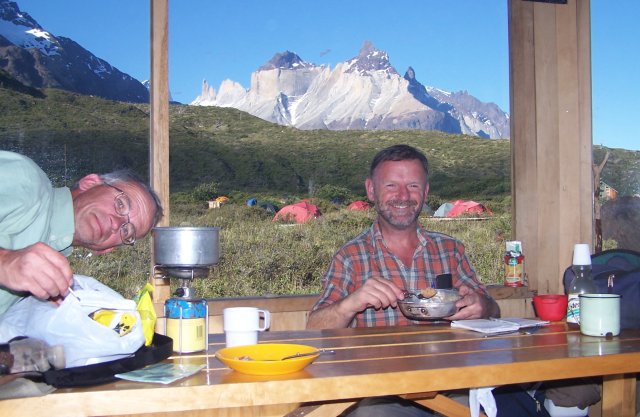 This was going to be a short hike, thus no hurry in getting started. After we pulled down the tents we still had another cup of coffee before setting off at 11h00.
The hiking was mostly flat and we made good progress and we arrived at Campamento Las Carretas at 15h30. It's a green camp, which means there is nothing to pay. What we had was one hut closed on three sides with benches and a large table and a toilet.
We were the only people here. The afternoon was killed by making coffee, walking around and sitting in the sun, which had eventually come out from behind the clouds.
Some amusement was to watch a nest in the rafters of the hut of a Cisticola and to see the first fledgling leave the nest for the first time.
Day 18 (16-12-05)
Over night the storms came in, wave after wave. It made sleeping very difficult. At 7h30 it was time to get up, the air was cold and the wind still strong. Fortunately the hut kept us sheltered for breakfast.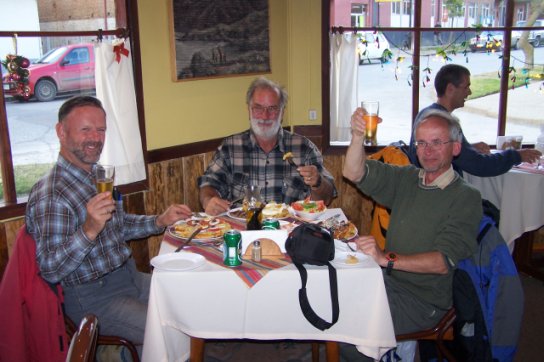 The hike to the main administration center was easy and straight, hardly any ups. By 11h00 we arrived, the bus leaves at 13h00; we had thus time to kill. Not much here, the shop is not much of a shop and the coffee shop non-existent. The information center offers some attractions with the displays and explanation of how it all came about.
In Puerto Natales we had a problem in that the bus didn't drop us at the place where it had picked us up. None of us had noted down the street name of where our hostel was. But not really a problem, I had a picture of it in my camera. All I had to do was call it up and show it to a passer by, it worked instantly and in no time were we at our overnight quarters. It was the Danicar Hostel on the corner of O'Higgins and Baquedador (that is now for future reference).
We went to town and had supper in one of the restaurants; I had sirloin, chips and salad. It was a good meal and value for money (in my case CP 7200 including drinks).
I certainly had a good nights sleep in a real bed.
Day 19 (17-12-05)
In the morning it was a quick breakfast and off to the corner to catch our bus back to Calafate. Breakfast was very basic, coffee, slices of white bread, peanut butter and dolce de leche.
Into the bus, next to me was a guy from England traveling the world for a year. Our bus route was different this time, I don't know why.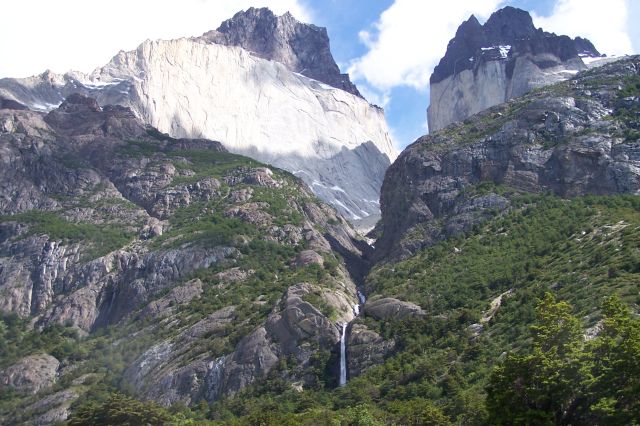 We first went north on the dirt road to Torres del Paine up to Cerro Castillo where we had a break. Unknown to me at first this was also the Chilean border post. A few kilometers further was the Argentinean post, a border station in the middle of absolutely nothing. I felt sorry for the guys working there.
And then the bus joined the main road again, but didn't take the short cut and went through Esperanza, which is a long way around.
In Calafate we found a different campsite by looking at a pamphlet handed to us as we came off the bus. Set up camp, did some washing, went off to town, confirmed our flights and drank coffee.