22-July-04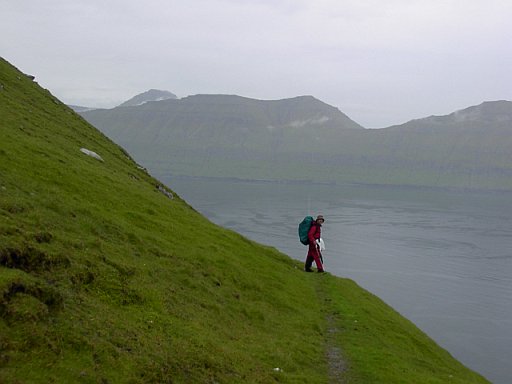 Yes, it stayed dry until the morning when we wanted to start hiking. We remained in a bit longer and only by 9h30 we got going. The drizzle soon stopped and we were on this proper path to Elduvik. Sliding along and down the mountain was a pleasure. Elduvik is a small coastal village, very concentrated. I don't know why? It looks more like a medieval town, narrow gaps between the houses, no room for a car. Here we saw a sign saying 'coffee & cake'. That was just what we wanted. The lady of the house made us very welcome. In fact it wasn't a coffee shop or anything like that, just a house with us sitting in the lounge.
She started this business because there is nothing else in town and told us that visitors would come to the village and there was no place where they could have a cup of coffee. So she decided to do it.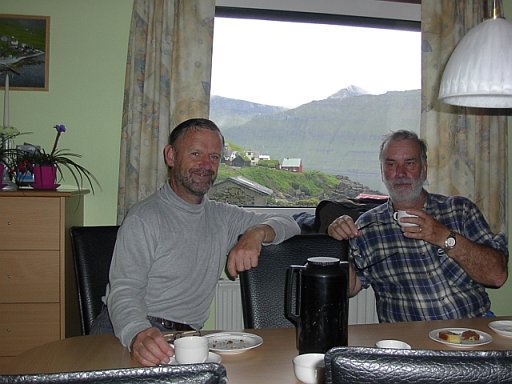 We had coffee and cake and seeing that it was lunchtime we stayed for lunch as well. But before consuming lunch we took a break to have a look at the harbour, or what used to be the harbour. It is situated at the beginning of a gorge, lovely setting to watch fish and jelly fish in the water.
It was slices of brown bread with cooked lamb, eggs and fish. Very nice, total bill DK155, which included a beer and two cokes. And just to mention whilst all this was happening our rucksacks were laying next to the road at the church, they were still there when we came back after a few hours.
Filled with these nice things we made our way up the mountain, camping just before the top.
23-July-04
After a bumpy sleep we woke up and made our way up the mountain and down the other side into Funningsfjørður. No shop, no telephone. We just had a look at the harbour and carried on, going along the fjord to Funningur. No shop, no telephone. Jim wanted us to go over the mountain into Eiði. That way we would camp high up on the slopes of Slættaratindur at 882m the highest point of the Faroes.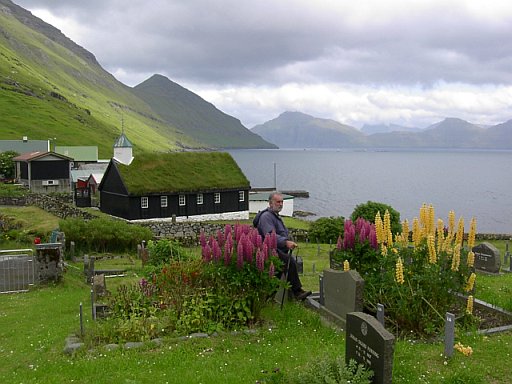 First we had to have a look at the village, a nice little place. We were amazed by haymaking. It is dried on a drying rack and than carried to the barn by hand. The carrier disappears under the hay such that from behind it looks like a moving hay ball.
And up we went, following the road, which goes up to 356m before it dips down to Eiði. It was a heavy slog and when a car stopped and offered us a lift to Eiði there was no hesitation.
The driver was a doctor from Denmark, well informed about what goes on in Southern Africa. We had an interesting discussion about all sorts of issues affecting the subcontinent.
He dropped us in town and pointed us in the direction of the campsite. After a short shopping stop (yes, there was a shop) we made our way up the hill to the hotel. Next to it is the camping place with toilets, showers and an Aufenthaltsraum. I tried the telephone in the foyer, it takes money. My initial attempt failed, and the swine of a telephone would also keep my money even when no connection was made. Querying this with the guy at the bar he said:" that's the way it is". Trying again after dinner and throwing about DK40 into the slot got me through to Eric's cell phone. They were in Nylstroom, just about to go into the hot pool. Here we had a cold wind blowing with no idea of swimming.
For the evening walk we went down to the harbour where Jim spotted a Fish & Chips shop and he promptly bought a packet for DK55. I only had a cool drink. And now I am sitting in the Aufenthaltsraum writing this story.
next---->
return---->