27-July-04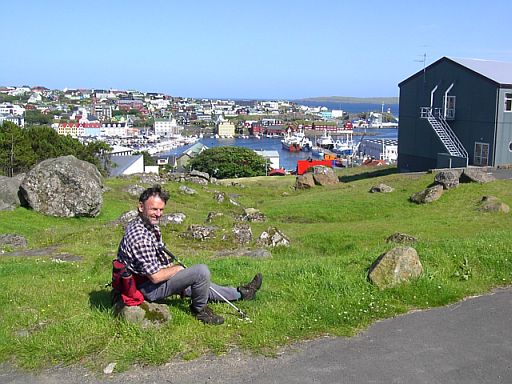 And that is what I did; I got 700 something Krona and immediately went to the supermarket and souvenir shop to spend it. The usual coffee mug and a sew-on for my rucksack had to be purchased. At the supermarket I could fill up with cheese, tomatoes, kaviar paste and juices.
With all that we returned to the tent and had lunch. A walk over to Kirkjubøur was planned for the afternoon, but first, since it was on the way we had to visit the Natural History Museum. The geological section is very well done. It told us the story that the islands came out of the sea at about 60-54 million years ago. At that stage it was splitting off from Greenland.
Our legs were giving in and Jim didn't feel like walking over to Kirkjubøur. So we meandered through town with the aim of getting to the Nordic House. We didn't know what to expect, but it is a landmark in town. It's actually a cultural centre with 15 Krona coffee and Internet access, which I used at a price of DK 25 for ½ hour. I used it to mainly clean up, kick out all the Spam and trying to send a greeting to my hiking friends. That didn't work.
Then downhill to a Fish & Chips place so that Jim could have his fish and chips, I had ½ a chicken.
The campsite will be very lively tonight; I see lots of locals walking around with beer bottles. This is going to be a momentous piss-up in preparation to St.Olaf's Day.
28-July-04
It wasn't that bad, we had peace the whole night and got up by about 9h00. Our aim was to get to Nólsoy or to Kirkjubøur. Information told us that we could have a boat over at 12h00 and back at 20h30. Not sooner because the harbour will be closed for the duration of the boat race in the afternoon. We didn't like such a long stay on the small island and thought we should rather take the bus to Kirkjubøur. There are no buses and walking was a bit far, there and back. So we stuck around town waiting for the procession that was going to take place.
It was a Blaskapelle followed by school kids and horses. Than the prime mister made a speech and the orchestra played a bit more. I didn't understand a word she was saying but felt that it was a good speech.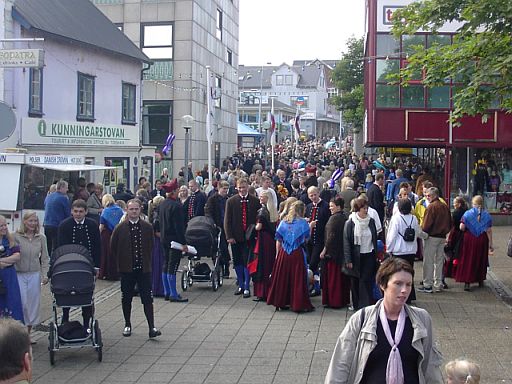 From here it was down to the boat race. They wanted DK50 entrance fee to get into the harbour area. Thinking that that was too much money we went back to the coffee shop and rather spent the money on some more coffee.
It was nice in town, many of the locals were in folk dress, very colourful and I think the girls look very sexy in their outfit.
That done it was back to the campsite. The piss-up was still in progress.
29-July-04
The mist had come down over night and we woke up to a quiet morning. Nothing much that could be done today. I wanted to see the procession of dignitaries from church to parliament. That was going to happen at 12h00, and it did, me and my camera in attendance.
The choir singing happened when they got to parliament. It was a mixed choir with good harmony and a high quality audio system. I enjoyed listening to all their songs, with one exception, a mixed up thing with trumpets and choir. I wasn't too sure what to make of it, its similar in my view to modern art. Jim thought the music was written by Mad Magazine.
The last song, which we thought was the national anthem was really beautiful and very uplifting.
At the end of the concert nothing happened and the cafés where still closed, so we went back to the campsite for lunch. At 16h00 we went off again, hoping for some chain dancing in action. No joy, what we saw was the Salvation Army playing and singing. That wasn't very good, in fact the singing was very mediocre. Than there were also some kids in various customs putting on a show of singing and dancing. Not sure what it was all about, I somehow missed the plot.
Otherwise we just milled around, everybody was there as usual in their traditional outfit. Apparently the aim is to walk up and down and to meet acquaintances and to renew contacts.
For dinner we had a hot dog (DK25) and two pancakes and coffee (DK25). By 20h00 we were back on our way to the campsite. The lady at the pancake place told us that the chain dancing and singing would only start at midnight. We couldn't stick around that long. The boat will be waiting for us early in the morning to take us to Shetland.
The piss-up was still in progress.
30-July-04
Jim was up very early, reading. My cell phone alarm went off at the appointed time 6h00. Things got packed and after a quick coffee in the hut we marched off down the hill to meet our ship.
Confusion! We were sent back because we had overlooked the existence of a check-in point. I had to stand in the queue, it was certainly not an express check in and only one check-in lady in attendance handling hundreds of people. All is well that ends well and we got onto our boat and found our way down to the couchettes. These are cabins with 6 beds, lowest class one can get. And they are situated somewhere near the propeller shaft.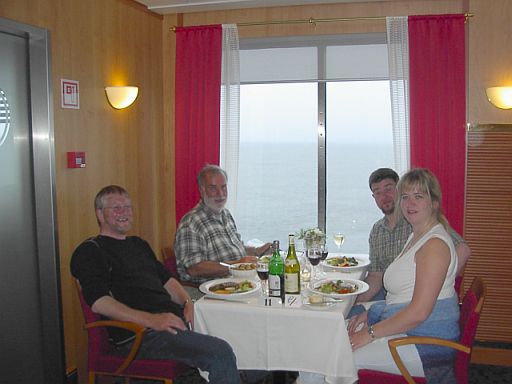 We shared the cabin with three people from Shetland: Magnie, Anita and Marius (the Scot). I was immediately taken in by their hospitality and their free use of industrial language. They had been to the Faroes for the party, Anita used to work there. Jim buggered off very quickly, I stuck around for information which I received plenty. It basically confirmed my initial plan of hiking around Rønies Hill and down to the beach.
We whiled away the time by sitting, walking, drinking coffee and watching BBC. Jim didn't want to go to dinner so I joined my newfound friends to diner in the restaurant. My choice was Whale steak, first time in my life, I enjoyed the taste and the texture, somewhat like steak. And on top of it very pleasant company. At he end of it Magnie paid for everything, these Shetlanders are great people.
Eventually arriving at the harbour in Lerwick in the early evening we collected brochures at the terminal and walked through the mist to the campsite. £6.50 total for camping was not bad. It was followed by a midnight walk to look for a pub, which we found.
next---->
return---->