Wag-n'-Bietjie (21 to 23-June-2002)
Capparis tometosa is the botanical name of the Wag-n'-Bietjie tree or in english Wait-a-Bit tree. Called so because of its nasty habit to hook anybody passing by with its vicious back hooked thorns. But it is also the name of a hike near Warmbath.
It didn't start very well because we couldn't find the way out of Warmbath. And I had also forgotten to bring my notebook with all the telephone numbers. Phoning Eric also didn't help. Fortunately at the deepest moment of despair Allen phoned to tell us that the description is wrong and the place is not 0 km out of town but 20. All is well that ends well and we got there.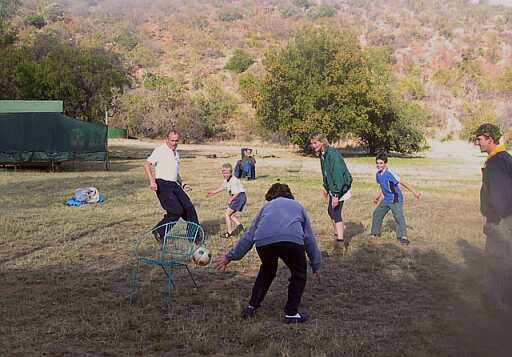 They have a couple of Wendy houses there, no beds, just mattresses on the floor and a rustic multi-sexual ablution block. Naturally we selected the long hike of about 12-km for the Saturday. It took us up and over and along and down and, for the energetic, up again and down again. It was a nice walk through the bush, but no special attraction. The main group was back by about just after lunchtime and the splinter group of the tough hikers came a while later. We went up some mountain, not right to the top and down again.
We were back for shop opening time, it meant ice cream all round. And then there was the soccer game, inspired by the soccer world championship in progress at the time. As can be seen on the picture young and old participated.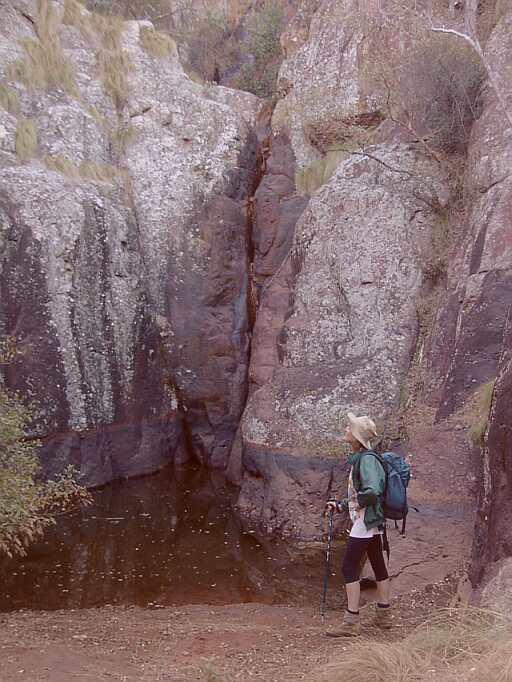 On Sunday we had a split, there were those that wanted to go up that mountain which we had partially scaled the previous day and there were those that wanted to see what is on the other side of the fence, and that was Janine and I. I had noticed a sort of water fall looking over from higher up and wanted to have a look at that. Information gained afterwards was that we were trespassing. Well, we didn't know it at the time. This hike took us through wild country without a path; it was worth it. We came to what would be a waterfall in the rainy season with a slight trickle coming down at this time of the year. Going up and along on top of the rockface gave us a good look out over the valley and the campsite. Highlight of this tour was finding a porcupine trying to hide under some rock.
That is the end.