Chainladder-Tugela Falls (28 to 30-July-2005)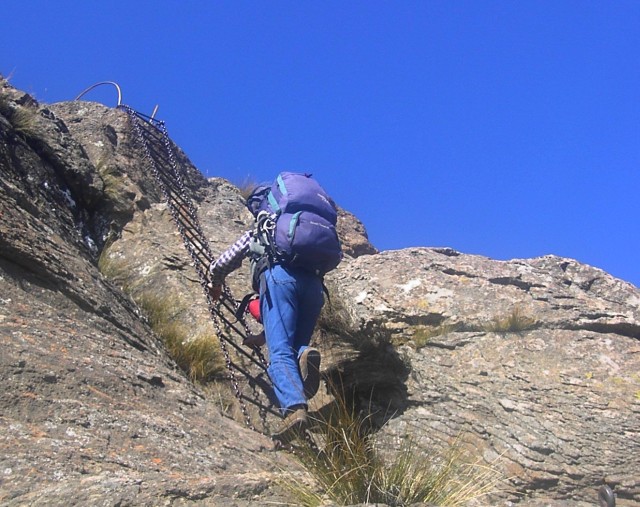 It was decided that we should go up the chain ladder at Mount aux Sources and at the same time test Jim's new tent. It was also decided that we should start hiking on Friday night, using torchlight to find our way to the Sentinel cave.
And that we did, arriving at the parking area at around 18h30 Jim persuaded the guard that we should only pay for two days and not three as he originally requested. They have come down with the price, it used to be R40 and now its only R25 per day. That certainly is a move in the right direction, sooner or later they get to the zero as is requested by us, the owners of these mountains.
Darkness had set in by the time we marched off; the zigzags had us a bit confused. It's amazing how different things look like when you just see what's in the torch light. Twice we went wrong and had to retrace and correct.
When we got to the gully we knew we were close and when we reached the chain ladder we knew we had gone too far. We did find it on the return trip after I nearly passed it again. Home sweet home, that was our cave for the night. Some coffee and some food made the evening very pleasant.
The sun doesn't reach into the cave and it was around 8h00 before we noticed that it would be time to get up. What a lovely morning, coffee and breakfast and off we went. That is back up to the chain ladder and over to the top.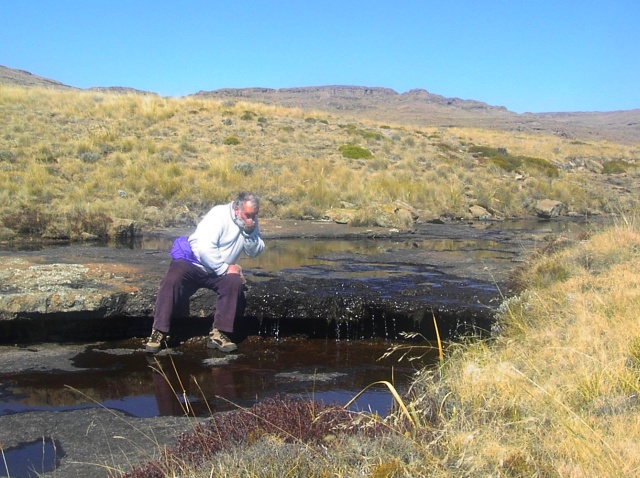 We had been told at the bottom that there is hardly any water up here, but we found straight away, the Tugela was trickling, providing sufficient water for our needs. The landscape was disappointingly barren, no snow, hardly any ice and lots of brown grass.
Where to go? None of us felt like slogging up to Mount aux Sources, so it was decided to follow the Tugela upstream and to see what we want to do when we are there.
Slogging up we noticed something that looked like a cave/over hang which we had not been to before. Changing the route up we went to meet this cave. It turned out to be a very shallow overhang, but it had a wall, a sure sign that it has been used for overnighting before. Enjoying the pleasant warmth of the sun and being out of the wind I fell asleep.
It was 15h00 before we set off to make our way over to Crow's Nest cave. Because we wanted to test Jim's new tent we put it up in the cave, but only for practice, to sleep in it would have been a bit of a problem finding two flat spots next to each other.
It's always so nice to sleep in one of the caves, one feels so close to nature. This cave has the added plus that one can observe the sun rising over Natal, which I did and then fell asleep again.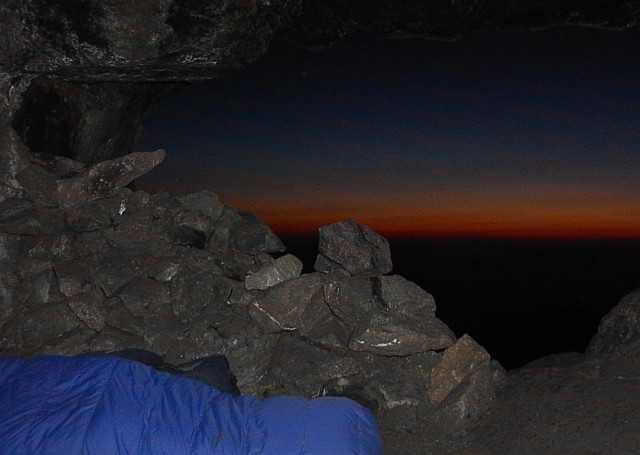 Not much was planned for the Sunday; we just packed our things and went down. It was lunchtime when we came past Kestel and thought we should look at the town and see whether there is any new development. And there was, they are also trying to attract tourists and we found a coffee shop/ restaurant/pizza place. The service was good, we could sit in the garden and the hamburger was superb. We'll stop there again.