Tholo Lodge (24-26 Jan 2003)
One of Eric's customers has a game farm near Klerksdorp. It is not a hiking farm, i.e. there are no laid out trails but it is a pleasant enough place to spend a weekend. One can walk around and in fact Dirk came personally on Saturday to take us around. Accommodation was good, we had real beds with sheets and blankets, didn't even have to bring sleeping bags, and that all for R50 a night. Included in the deal is a large common area, a functional large kitchen and a swimming pool. This being the first hike of the year nearly everybody turned up.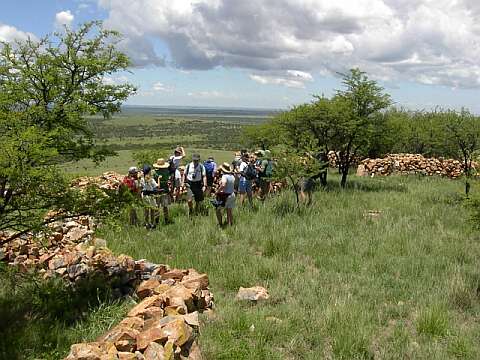 Friday night we had a cheese fondue, organised by me and Eric. Most people participated.
Saturday was allocated to hiking around the farm. It was more or less around the boundary fence, stopping frequently to look at some game. He has got many of the bucks and some giraffe. Of interest was the high ridge (1556m, camp was at 1441m) which was covered in remnants of walls dating from the early 19th century when the Matabeli where living around here. From here we had a view well over the country, most likely the reason why the Matabeli had their settlement at this point.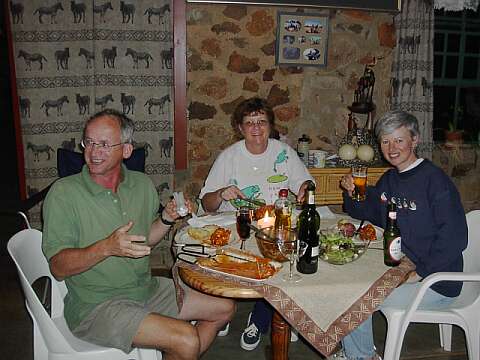 We got back reasonably early and had lots of time to spend in the swimming pool. This had just been filled with clear water and had no Chlorine in. I could immidiately feel the difference, it's so much more refreshing. It reminded me to look at this Silver/Copper elctrodes method for my own pool which does not require the addition of any Chlorine.
Main activity of the evening was the night drive, on which Dirk took us free of charge. We didn't see very much but the spirit on the truck was good. At one stage he showed us a genet, but unfortunantely it was invisible to most of us. I just couldn't could make out anything, even when it was explained in detail on which branch he was sitting.
A few die-hards went off on a short hike on Sunday morning; we tried to cover the northern boundary. Some of the really die-hards even went back up to the top of the ridge, to have another look at the ruins. The slope up to it was covered in ticks and we kept on pulling them off.