26-07-2002 (Friday)
A short day, got up late and only started walking at 11h30. This seems to happen in Spitsbergen, ones day shifts towards the evening. I don't know why.
The going was slow, the terrain was tough, soft and soggy at places. Overall we only ha done 6.5km when we found a perfect campsite on solid and even ground. This was half way up the valley of Fardalen, it is still 10.2km to the road on the other side.
Jim went up the mountain and took a long time to get back, so much so that I took the rifle and followed his footsteps up the slope. Fortunately he came back before I had to search the whole mountain.
For the night we didn't set the bangs, just the trip wire. The reason was that there were lots of nosy reindeer around and we were concerned that they would set off the flares and we would loose our deposit at the shop.
27-07-2002 (Saturday)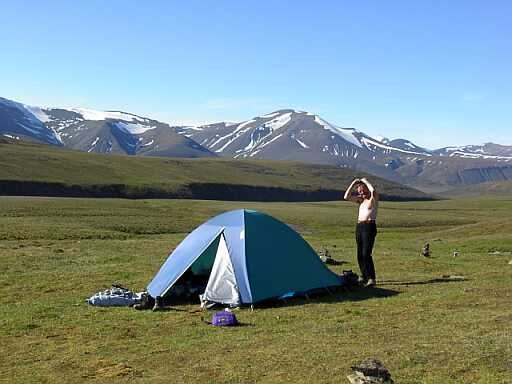 Woke up to a great sunny morning. So sunny and mild that I got Jim out of the tent to take his shirt off for a picture of him shirtless 1200 km from the North Pole. It was nice sitting around having breakfast half in the nude. Unfortunately it didn't last very long. I started the hike just wearing a shirt. But as we got higher a cold wind came up and I was back in my normal gear of T-shirt, shirt, jacket, later on even gloves. The wind became biting cold.
Slowly we went up and up to the highest point of the hike between the two valleys, Fardalen and Endalen.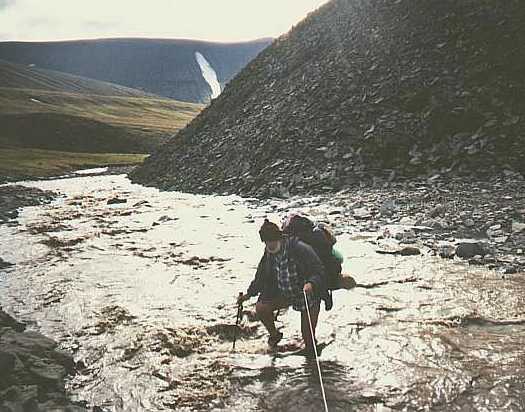 There was one river crossing in between, fairly serious. Water flowing strongly above our knees and very cold. We managed, but felt that we had to use the safety ropes.
Up here we could observe the glaciers doing their work. All very dramatic and interesting. Seeing all those rocks and sand and mud deposited by the glaciers in big heaps gave some real meaning to the geological term 'endmorain'. And it reminded me of my home town, Bad Schmiedeberg, which is situated at such a place where the ice from the last ice age deposited heaps of sand and stones.
Coming down from the glacier was another river crossing, by now we were experts and managed without incident.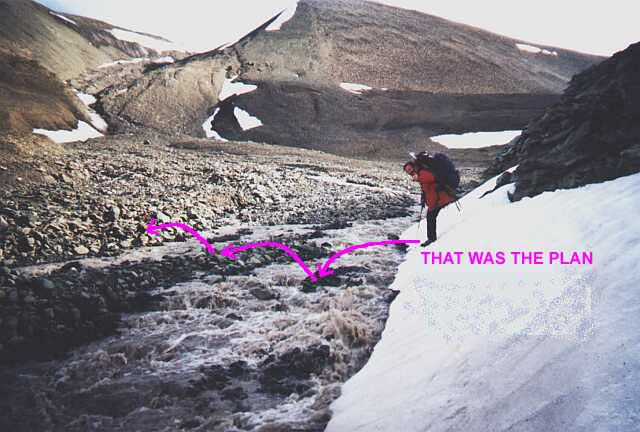 What we hadn't realized was that just a few meters away was another river to cross. This we only noticed after we had dressed up again.Being to lazy to take everything off again we decided to search higher up for a dry crossing. We found one, it meant moving along a snow bank on the side of the river and to jump from there onto an island in the river and than another smaller jump to the other side. Jim managed okay and when it was my turn I fell forward into the water. I am unable to reconstruct what had happened. The theory is that my rucksack must have pushed me forward. In the process I also broke my hiking stick. Fortunately only my gloves and trousers got wet. The trousers dried very quickly and by the time we reached camp they were dry.
Another accident of the same day was when I pulled out my Leatherman (Swiss Gear ‾ made in China) disintegrated into all sorts of bits and pieces. An intensive search was launched and, I think, most of the pieces were found except for the bolt that holds the whole thing together. When I get back I will have to have a word with Dions about this rubbish they sell. camp was set up half way down the valley.
Going out to the river to search for fossils brought success, I found two lovely leave imprints from 50 million years ago.
28-07-2002 (Sunday)
We argued about whether it was Sunday or Monday. It turned out that Jim was right, its Sunday. It is thus no point going into town, by the time I get there every thing will be closed.
It didn't take too long to get to the bottom of the valley, its all down hill. Passing Gruve 5, a disused Norwegan coal mine we stopped to have look. The gear is still mostly standing. A long staircase next to the rail that took the coal down invited for an about 100m (in altitude) climb. On top we were able to inspect two adids partly filled with ice.
The first one was open enough to still get into the mine, which Jim did, although not too far in. He reported finding offices and workshops just behind the entrance. The second adid we inspected contained some stunning ice formations, which called for a photo session. This filling up of the entrances with ice is a natural process to do with the permafrost.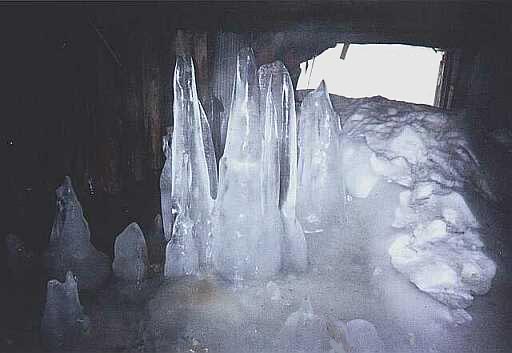 And from here we walked out into the adventdalen valley and camp was set up not far from the road to LYB. It was cold and windy. A nearby coal bucket relay station called to be inspected. At one stage the coal was transported from Gruve 5 and 6 by a cable car system. The relay station was used to channel the traffic from the two mines onto the single line to LYB. Very interesting how the system worked. We couldn't figure it out completely. There was on each incoming line a waiting 'room' where buckets could be stacked to be released by the operator onto the main line as and when required. The return line of empty buckets was very much the same. The operator must have had some fun with juggling the buckets, especially if both mines were sending them at a fast rate.
We found some reindeer biltong hanging around in the building. It looked old, as if somebody put it there some years ago and forgot about it. Jim confiscated the lot, it didn't taste very well. Carbon dating would probably reveal its true age.