16-08-2002 (Friday)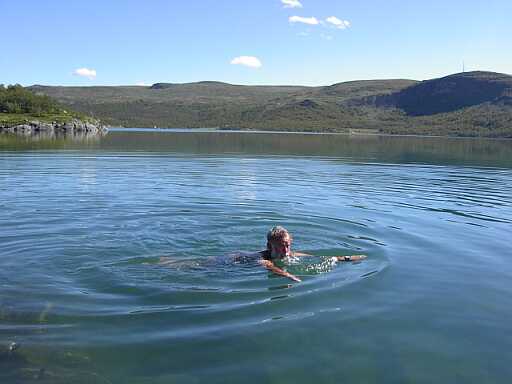 First a picture of the last swim, I couldn't get it onto the previous page. On the way out Jim showed me a sign that said 'No Camping', too late for us. But he admitted that he had seen it the previous day, but never told me. Well, what do we expect from Jim the anarchist.
The train ride was an absolute joy. Beautiful and stunning scenery all the way to Oslo. For Oslo we had decided to find a cheap hotel near to the town centre. That makes it much easier to see the city and it gives us a chance to clean up for the home journey.
Residence was taken up in the Anker Hotel for 307 Kr per person. After shower and changing cloth we went back into town for sightseeing. I actually, for the first time this holiday, went in shorts. It was hot and humid. The highlight of the town visit were shopping for presents and having a hamburger at MacDonnalds for a 'I-can't-remember horific price'.
The night was long because Jim insisted on watching some stupid mars landing film on TV into the early hours of the morning.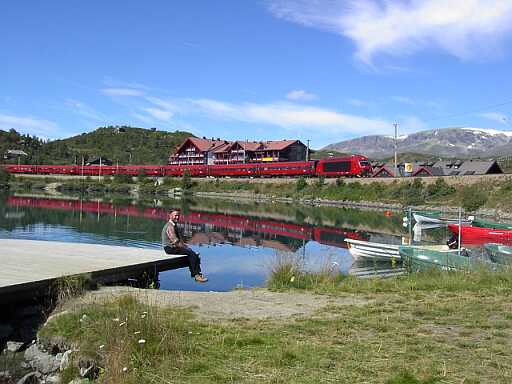 17-08-2002 (Saturday)
Had breakfast, left the rucksacks in the hotel and started walking. At the Botanical Garden we split because Jim wasn't interested enough in the garden to wait until it opens at 10h00. I wanted to spent some time studying the local flora and spent a few hours there.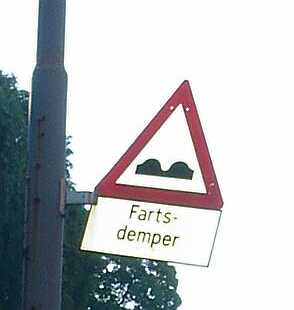 We met again at the railway station in the afternoon and took a hike from there back to the hotel to pick up our rucksacks. And then walk back again following the river Akerselva to the station. An observation on the social structure of Oslo. Alcohol is very expensive and I was surprised to find a collection of alcies along the river with ample supply of booze, most of them totally pissed out of their skull. It looked like this was their usual Saturday afternoon activity.
And from here another, the last, lovely train journey, the 50km or so to Gardermoen to catch a plane to London. At the airport I spent my last 50 Kr on two coffees and off we went.
And let's sign off with one of those funny road signs we frequently noticed in Norway. Could the Norwegians be suffering from excessive flatulence? That was it, the end of an exciting and beautiful holiday. Right now I have the feeling I must come back and this time we do the hike to Barentsburg and I also like to do a hike high up in Lapland to the north of Kilpisjärvis.