19-7-02 (Friday)
We are sitting in Oslo airport and I have something to write about. We are here, but our rucksacks are not. They got stuck in Heathrow. Now what do we do? I don't really feel like continuing without my rucksack. The way we sorted it out is that we will push on to Tromsø and sit at the airport there until our luggage arrives. The guy in Oslo promised that they would be on the next plane. Wait for the next installment of this exciting story. Before we go on, here is a learning point. If you want your luggage to arrive with you then allow enough time at the in-between airports for your luggage to make it. I think in Heathrow 1½ hours is not enough. If it means to rather take the next plane and to sit around for a bit longer so be it.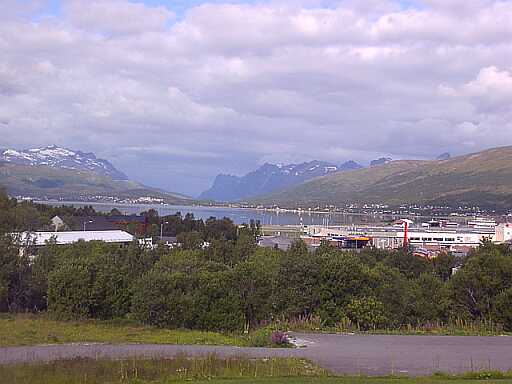 When we arived in Tromsø after negotiating with arrivals service about our missing luggage we killed a bit of time by marching down to the shore.
Enjoying the balmy weather with some sunshine and the clear water of the ocean. Nice vegetation, lots of flowers and high grass, the place is actually a jungle. Something one would not expect from a place well north of the Arctic Circle. It is the Gulf Stream that makes all the difference.
And here is the second installment. It is 0h30 and my rucksack has arrived, but not Jim's. So we are still unhappy. But kind Tina from airservices has decided to put us up in a hotel for the remainder of the night.
20-7-02 (Saturday)
The Scandic hotel seems to me is one of the top hotels in the area, 1100 Krona a night, I wouldn't pay that. To understand this price when I exchanged I had to pay R1.39 for one Krona. We had a good nights sleep and just finished a good breakfast where we found the Kaviar paste we grew to love so much in Iceland. Guess what will be in my rucksack when I collect it at Jan Smuts again. It's all very nice, but the missing bag is still weighing heavily on our mind. Let's hope that when we get back to the airport it is there.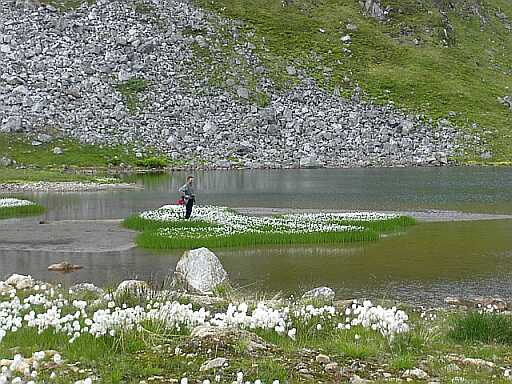 A few words about Tromsø, it's beautiful, it's green and it is not cold. The sun at night seems to just disappear behind the horizon. There is no darkness. No, the bag has not arrived, the saga continuous. On inquiry with Tina she phoned someone in Oslo to inspire them to look for the rucksack. In the meantime we decided to buy some coffee and cooldrink. Cost, 25 Kr for 0.4l of Pepsi and 10 Kr for a small cup of coffee. And whilst sitting there commiserating about the missing bag Tina arrived to tell us that the bag has been located and will be on the next plane. We felt considerable lighter and started looking at the country site for a possible place to hike to. There was a waterfall on the next island (everything is an island here, except when you cross over to the mainland). To get there we had to cross a long and high bridge, this we did after leaving my rucksack in Tina's office.
Just walking over the bridge was an adventure since it is so high above the water, I guess 50m or so. Well, it's enough to let an ocean liner pass underneath. On the other side the path took us up and up. Lovely surrounding, initially birch trees (Betula pentula) and blueberries, higher up it turned into tundra type vegetation. At 400m altitude we came to three little dams which was the end for us. A herd of reindeer attracted our attention with some attempts to get closer for some picture taking. We didn't have much luck.
A hasty retreat was called when the weather turned to not so nice. We walked down the 6 km back to the airport without any major stop. With happiness Jim collected his bag and we had an expensive cup of coffee in the bar which was the only place open and cost 21 Krona. Crumbling about the place next door charging only 10 Kr I was told by the bar lady 'yes, but they are closed'. Other prices in the bar advertised: Draft beer (0.5l) 57 Kr, Miller (SAB) 56, Heineken 56, a whisky 69 to 74 and a toast with salami 29 Krona.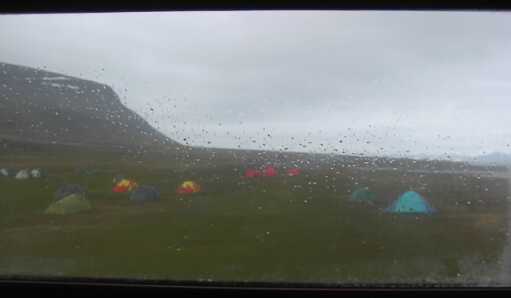 And off we go, lovely flight moving speedily further and further north. Outside temperature 6°C, which seems to be the standard at this time of the year. Once out of the airport I knew exactly where to go, much to Jim's amazement I was out of the building, straight down the hill and here we are at the official camping ground, ruled over by the camp commander, or as Irene referred to him: the Gauleiter (he was German and you will hear a bit more about Irene later on). Setting up the tent and walking around a bit I got a bolloking from the Gauleiter for disturbing his fucking birds. They were attacking me like they did with anybody else who got a bit too close to their nesting ground. How was I supposed to know about these things. Well we made peace and paid our camping fee. The place is very comfortable in the hut with showers and toilet and a communal room for eating and sitting around. And here is the initial view out of the window from the communal room. The blue tent is ours. Shitty weather, isn't it? Fortunately it wasn't like this all the time.