Serendipity (19 - 21 April 2002)
A privately owned game farm north of Nylstroom, they allow hikers onto the land to do a hike between two overnight camps. That was us. From the beginning it was said that there was a chance of taking rucksacks by car to the next hut, it all depends on the state of the roads. Some people thought that this means we will take the rucksacks over. Most of us were prepared for a backpack, not all.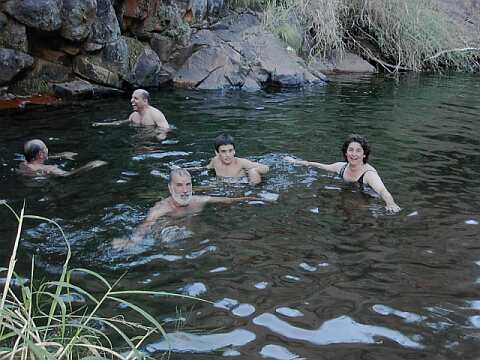 Jörg and Janine went off in their respective vehicles to take the rucksacks. First thing that went wrong was that Janine had a puncture, probably caused by one of those millions of sharp rocks on the road. It required additional help in the form of a better wheel spanner to arrive (fortunately cell phones worked there). Next thing that went wrong was that the gate, which would have taken them to the hut, was locked and the magic wand (cell phone) was not able to open it because the holder of the key was in Cape Town. Thus mission was abandoned and we got things into our rucksacks and marched off the 10 km to the next hut.
And look what arrived whilst I was typing this, I can stop now, Jenny has written it all. Thanks Jenny.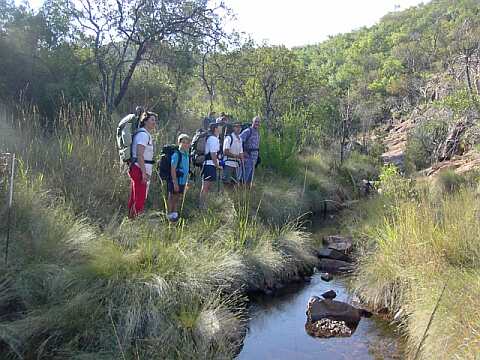 Thanks to Jörg for organising this very lovely and Not Easy hike...As Eleni says, if the books says "moderate" we should know its "stiff"!!
We had the luxury of privacy, (lots of En Suite (!) rooms enhanced by the odd mouse) fading solar power lighting, and cosy fireplace with chairs. We sat up an yakked until 11h00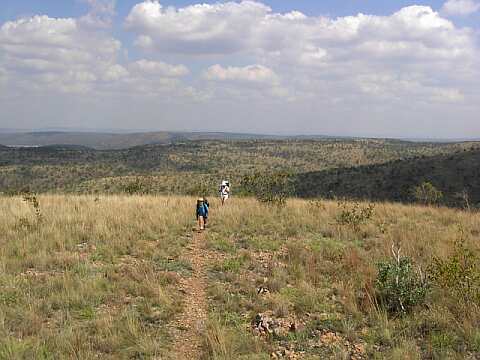 The first day started rather scratchily as , after a flat tyre, (Janine) and camel men (Rog and Eric) to the rescue, a couple of us drove a looooooong way to dump the stuff at the next camp, only to discover that the gate was locked and the owner in CPT... Drove back and after a bit of argy bargy decided to bite the bullet and back-pack... SOME of us couldn't help saying "This is all because you didn't want to back pack" but we forgive a mere man for this slip in civilised manners..... A very rapid re-pack followed (interesting to see what the various priorities were!!) with various bits divvied up between our ever-willing gentlemen and we finally hoofed off at about 11h00.
Continued hoofing until 17h30 with at least four mountains in-between - but lovely scenery, riverine forest with craggy cliffs, beautiful swimming pools and a number of those long character-building plods to the tops of ever distant mountain crests The second night was as spacious as the first, and although we were tired, we managed a somewhat sparse repast by candle light at a long table on the veranda, and then tried a bit of singing round the campfire, but...... We are Not Singers.........
Next day was much the same - four taxing mountains (maybe even five??) many super rock pools, with one swim enlivened by a prolonged Full Monty from Eric, as he came down the rocks dressed only in hat, boots and back pack!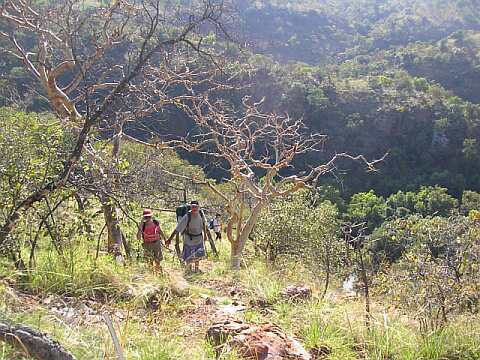 We arrived back at about lunch time, and left shortly after that....No hot water for showers was the only drawback for the whole expedition,, but it did not deter most, and the screams from the showers were most entertaining....,
We discovered that Janine's tyre is irreparable to the tune of R750 for a newie. Once again, thanks to Jörg for yet another insight into the hidden joys of our countryside....
Jenny
Can I add something? Perhaps just to emphasise again the beauty of the kloof and the swimming spots. The water may have been a bit cool, but so what, these pools just have to be swum. Even Eleni could not resist and joined us in the water.