Rooi Ivoor (27-29-June-2003)
Again we went to Rooi Ivoor, the hike near Steelport in the Northern Transvaal. But this time it was a proper hike up to the Stamvrugte hut. Well, not such a proper hike, the farmer took our rucksacks up to the hut. And it was up, from 1000m to 1511.
Turnout was very weak, we were only 5: Janine, Frans and the three of us. And because we were so few it was decided to have a communal meal. Just at the time that was suggested I saw this recipe in the STAR for Chicken Chow Mein and it struck me that this would be an ideal communal dinner to make. My suggestion was accepted and Frans bought all the ingredients.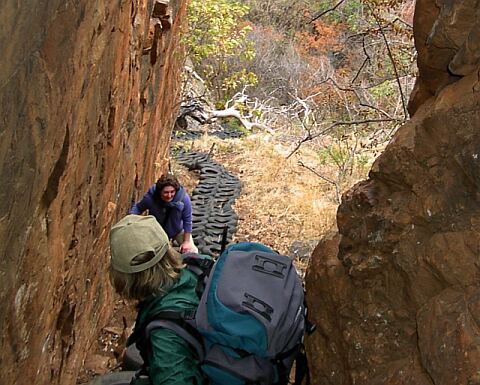 As usual nowadays I took off early on Friday, being a pensioner I can allow myself to do this. And off we went to Middelburg and further north past Roosenekal to Steelpoort. 20 minutes behind us came Frans and Janine.
The hike initially took us along the river; swimming was not on the agenda it was far to cool for that. And then up the mountain to an elevation of around 1500m. A tire ladder was the adventure of the hike. Once up it went fairly easily, we enjoyed some beautiful views down the green valley of the Waterval River.
The overnight hut was great, it is situated on top of the mountain at the head of a valley down towards Lydenburg. Only problem was the cool wind and the temperature. Building a barrier of mattresses around the kitchen area helped considerably. Before it was completely dark we had all the food things chopped up and then put them on the flat pan. We enjoyed a lovely meal. There was enough for breakfast as well. Because of the cold we didn't linger too long and went to bed.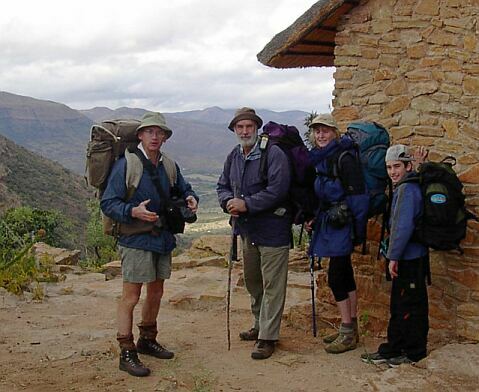 There was some discussion from the sleeping bags about the dangers of deflation of the money, it didn't last long, the warm sleeping bags took their toll.
The walk down and back to the base hut was also nice and relatively short. By 11h30 we were back down and in the car to visit Janine's friends in Steelpoort. After acquiring a piece of Ferrochrome we were off and on our way home.