Ntenjwa Bush Camp (26 - 28/Jan/2001)
Previously we had been here, it was then the Spionskop Dam Camp. The way to get to it was by boat. They have done some privatisation and the camp is now run by a local farmer who has provided a road to get to it. It's not a bad road in normal weather, but when it rains it becomes a mud bath, and this is what happened to us. We were told just follow this road around the shed and you can't miss it. Not far from the house we already started slipping and sliding and eventually got stuck with the car threatening to loose the path coming to a standstill diagonally across. Now what?
The first plan was to walk down to the camp to get help, because Roger, Bev and Jörg were there already. I tried this but found that it was quite far and returned to the car to tell Eleni and Christopher. Just then Tony and Hayley arrived in the RAV 4x4, coming to a sliding halt as he approached our car.
With his help we moved the car somewhat so that he could pass, with the second attempt he managed to queeze past to proceed down to the camp to fetch help.
When Roger and Jörg arrived we managed to get the Venture back onto the track, moving slowly and them walking behind we reached a better surface. Here my problems were over and we managed to get down to the camp without further problems.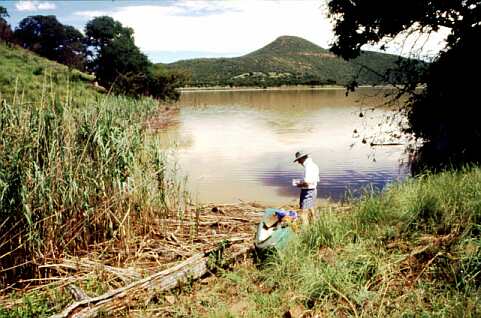 There is not much one can do in this camp, it has a number of canoes and one can go and jump into the dam. Using the canoes some of us crossed the dam to an interesting looking place, which we were going to explore a bit. This led to a hike with Roger selecting a hill that we should climb. With frequent stops under convenient trees (it was hot) we got to the top for a 360° view. Altogether, I think, we did about 8 km, a fair hike.
The rest of the day was swimming and lazing around. That was until it was time for the show of Roger the Magician. That was good fun and good practice for him, some of the tricks didn't work out.
The picture shows Tony who has just emerged from his canoe, the peak in the background is Ntenjwa (1315m). Tony and I climbed this during the previous visit. Our camp is straight over the water, in line with the mountain.
Sunday was paddling and an early start to get back home.