Mweni Pools 9&10 March 2002
Christopher wanted to go on an overnight hike and I thought that Mweni pools would be a good plan. The participants on this journey were Christopher, me, Jörg, Frans and Eric.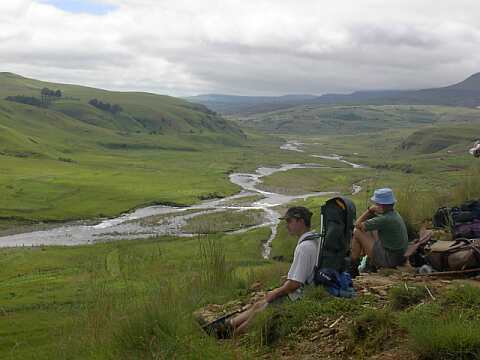 We left early on the Saturday and made our way quickly to Bergville and then towards the mountains, parking the Venture at the Isandwala police station. Having learned from last time when I was there with Jim and knowing that there is a road with taxis going towards the mountain for another 10 km we got out to the road to catch a taxi. The first thing that came along was a bakkie with three friendly policemen, they said 'no problem we'll drop you off at the end of the road'.
That way our hike could begin from the place where Jim bought a bottle of Black Label when we returned from our last hike. Initially it was up, but nothing serious, and over, down towards the Mweni River following a well-trodden path all the way.
Getting to the river at the pools we realised that we had a problem. But first thing was to have a swim. The water was not as pleasant as I had experienced it before, it was just swimmable. Lots of fun was had by jumping from the rock and by floating through the rapids.
Water was flowing quite strongly and we had to cross. The flat spots to put up the tents were on the other side. It took us a while to find a passable crossing and than it still took us a long time because to get the rucksacks over we had to cross in pairs, one with a rucksack and the second person for support.
It was now also time to set up camp and to get comfortable. A large flat sandy spot was very suitable for that purpose.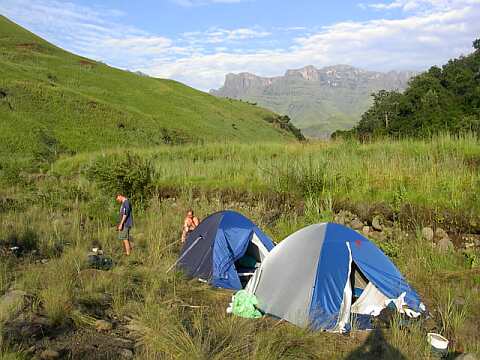 The next morning we whiled away by hiding our rucksacks and going for a walk upstream. Not that we got very far. At the next bend it would have been necessary to cross the river to carry on. Nobody had an inclination to do this. So back we went crossing the river once more with our rucksacks. We decided to try another spot further down stream, this turned out to be more difficult, but we managed.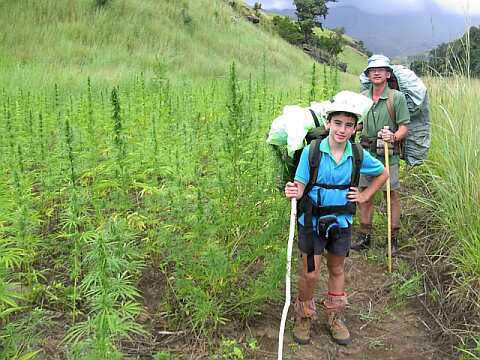 Back through the dagga fields and up the hill and down the hill to the bottle store. Ha, no taxis. So we pushed on for another 2.5 km to Molivas store where I knew would be an accumulation of taxis. I was not mistaken. But they wouldn't take us in a Hi Ace, we were demoted to a bakkie again. No complaints, it cost us R30. Happiness and home we went.