Monk's Cowl (9/12-May-2003)
Monk's Cowl was our starting point for another great hike into the Drakensberge, this time we stayed low down. That was mainly because I have been saying for years to Jim that most of the beauty of the berg is in its lower regions. We hardly got above 2000m. And here we find lovely streams with waterfall and pools, meadows, natural forests, sand stone formations, caves and many other attractions.
Monk's Cowl is the forest station near Champagne Castle south of Cathedral Peak. Jim and I decided to spend a few days in the vicinity and just hike around. Getting there on Friday morning we quickly got the formalities sorted out. Because we are so annoyed about hiking fees we only booked for two days. We just feel that they have no right to charge us for something that has been free all those years and we also declare that these are our mountains anyway, for generations we have hiked them without government interference.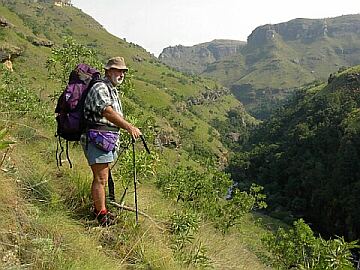 So off we went, down to the river and over it up the other side. But first we had to find the path; things have changed since our map was printed. And then around the Steilberg, sunset overtook us and we had to find a spot in a hurry. The grass was lumpy, so what, it was a place to lay down. Beautiful scenery, overlooking the hotel far below us.
Next day it was up Jacobs Ladder onto the 2000m contour. Our aim was Hospitalspruit cave. The path eluded us and we got pushed down the mountain past Vaalribbokkop. Just as well because on hindsight it would have pushed us hard the next day to get to a place from where we could have completed the hike in the remaining two days. We set up camp next to the Mhlwazini River. It was a job finding a suitable spot for the tent. Eventually I just flattened some meter high grass and had a spot. Over night we got rained on; I had worries that we camped in a wetl and and we would now get swamped. We survived the night without any mishaps.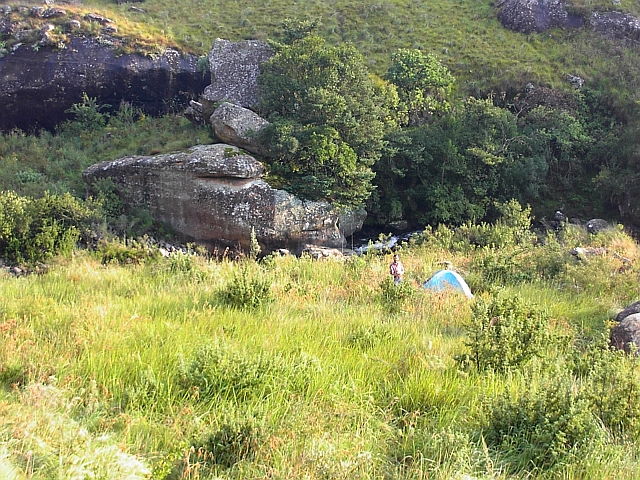 A hard slog up the valley to meet the contour path at 2000m awaited us. It was double hard because we lost the path. Possibly there wasn't a path at all. I think our map was lying. Once on the contour path we started motoring to make up for lost time. We also had to find a camping spot; there was no flat ground to be found. In addition bad weather was looming. Finally at Blind Mans Corner was this perfectly flat area, just the right size for our tent.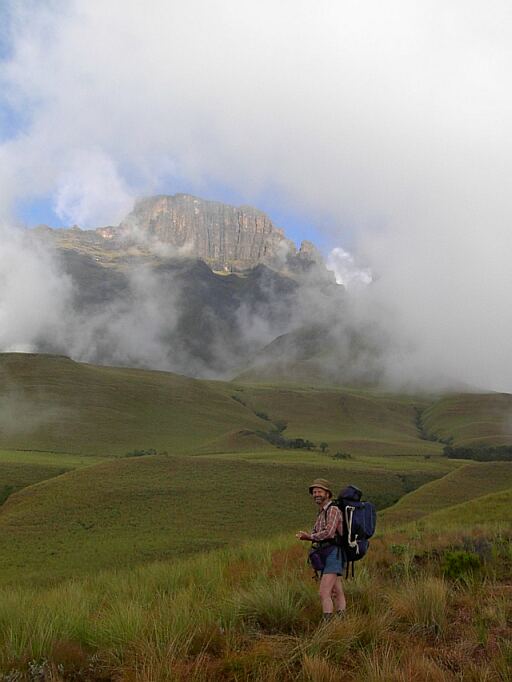 And then the heavens opened, rain, thunder and lighting. Our tent made it through the night without any leakage; good tents these Chinese copies.
In the morning it was down the mountain to the car. Here I crushed my cell phone under the wheels of my car. Lunch we had at the Little Switzerland hotel, very good lunch and not very costly. At least not as costly as the guys higher up on the mountain who charge nearly twice that for a hamburger.