Royal Natal National Park (9&10-Aug-2003)
This was supposed to be a hike through the snow. After the rain Tuesday before, I expected lots of snow up there (Mount Aux Sources). Coming close to the Mountain at Phuthaditjhaba we noticed that there was not a single patch of snow to be seen. At this point we decided that it would be boring to go to the top of Mount Aux Sources without snow. So we went to plan B, that was going around the corner to the Royal Natal National Park. And that was Jim, Jörg, Christopher and I.
At the Mahai campsite we set up our little tents and took a walk to the Witsieshoek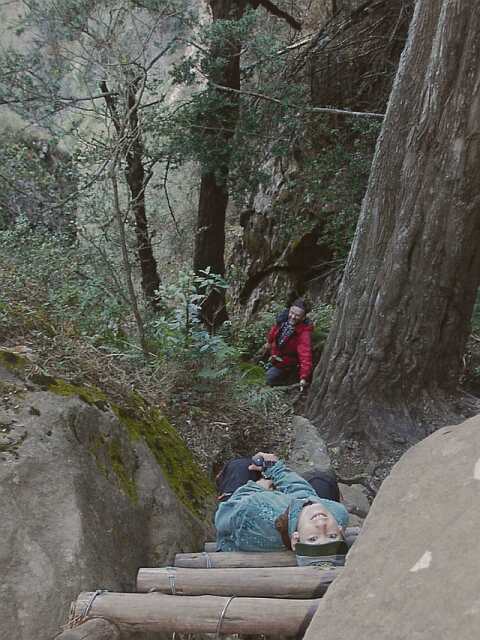 Hotel. That was a hike of 7km one way from 1455m to 2200m. Since we started late we pushed it and got to the hotel by 13h15. Some confusion here: yes we can have food a la card, no we can't, we must have the buffet. That would be at R55 a person, but they will reduce it to R45 for us. I wasn't too impressed, but what could we do? So we had the mediocre buffet at R45. And when we wanted to pay I was going to pay using plastic. No, the machine is broken. Jim had to fork out a bundle of notes.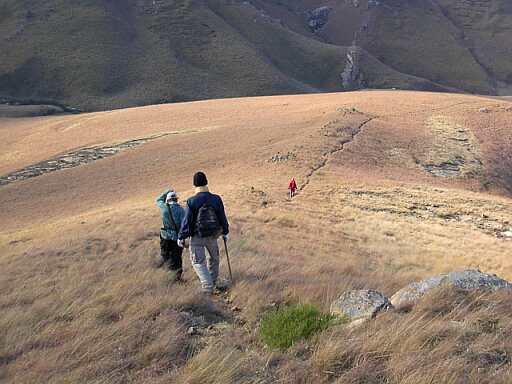 For the return route we selected the path that takes us down the mudslide. It was hard on my knees and we got back to camp at about 17h30.
The next day we rested and took a short hike to the cascades. Climbing up and down rocks, building a dam and throwing down leaves to see where the water goes to that disappears under some rocks finished the morning.
On the return trip we made a stop at the Little Switzerland Hotel. As usual the Lamb Burger was superb and still very cheap. I can certainly recommend this place for lunch.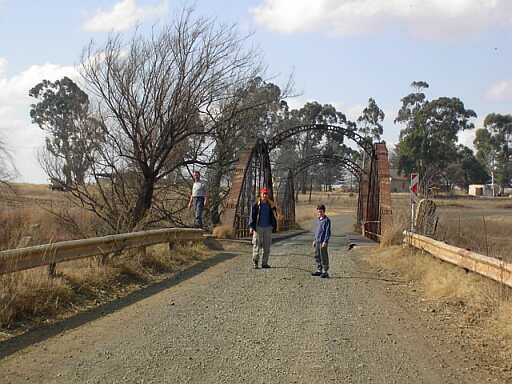 Because I am always looking for shortcuts we/I decided that this time we would be going through Aberfeldy, which cuts out Kestell. It's most likely shorter in km, but not shorter in time. It's all dirt and the road is not in a good condition. One highlight of this 'shortcut' was an attractive rusty old iron bridge over the Elandsrivier.