Kranskloof (Magaliesberg) (28-30 Aug 2003)
Jenny has written something for us. I'll give her the first word and will after that fill in some of the details.

Thanks to Judy and Osc for organising a lovely hike. Perfect weather graced varied hiking in and out of spectacular rocky gorges with the typical Magalies rock formations - not too taxing - just a mild hobble on rising this morning - and lots of happy camaraderie - which included a wobbly rendering of Away in a Manger by the Petzel Brigade vulgarly showing off their expensive toys ( the materialistic values of today.....) and Horst enjoying mass attention when he walked into a log and all but scalped himself (leave it to the professionals).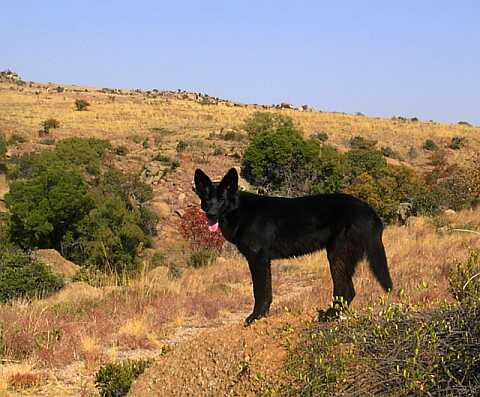 TG as always for Allen and his
box of tricks. No sutures required, but Sue was ready to do the deed with dental floss if necessary. Ducks were fed, black dog Sally walked with us and a nameless visitor raided the kitchen and overloaded on carbohydrate and a bit of protein, and a squirrel and a turquoise headed gecko disported themselves in the trees in the camp....(Couldn't it have been a squirrel in the buns? Those little tooth marks, that small little hole in the plastic box???)
Anyway a happy time was had by all - including The New Man, for all that he destroyed my first night's sleep by rocking the bed violently all night....we shared a bed....(Heh Heh!!).......... vertically.
And sorry the Madeiras bored the non travellers to death - but that is the nature of our happy little group.....I remember The Fish River lot giving the rest of us a hard time too....before AND after - so - no complaints please!!
But thanks again to Judy and Osc, and I hope Sally was OK because she was out like a light when we left - I almost wondered if she hadn't eaten something not-so-kosher?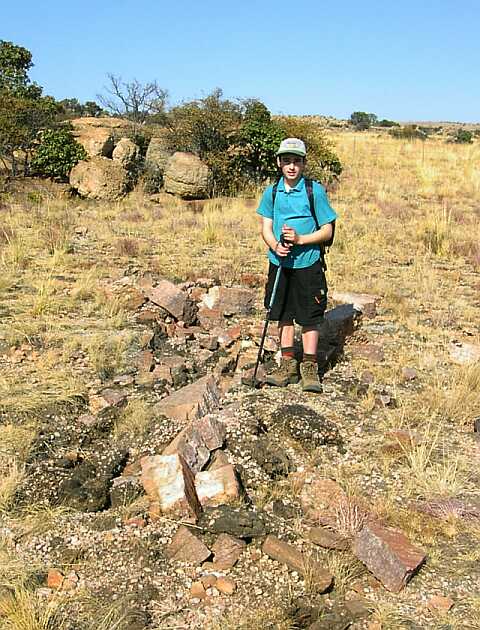 Details: the hike was called 'Kranskloof' and is situated in the Magaliesberg close to the Crystal Waters Hotel. This is not the same Kranskloof as the one earlier in the year. I know the area from doing Grootkloof, a fantastic gorge that has to be entered by abseiling. I must do that again one day.
Mr. Bartlett has built a hut for weekenders and that is where we stayed, to hike on his land as he pointed out to us and if we see any SA Mountain Club people we must chase them away. It sounded like his relation with the mountain club was not very amicable.
Saturday we did the long hike, up the mountain until we looked over the top and then down the mountain through the upper part of Grootkloof and back again. On the way we passed this place with a long strip of soil and rocks all churned up and turned over. Mr.Bartlett told us that this was done by a lightening strike.
Best was the hike through the gorge, initially it was dry and suddenly within meters there was a strong flow of water. Because of our good hiking speed and the relatively short distance of about 8km we were back not long after lunch. On the way through the gorge I lost my spectacles.
Sunday was a short walk accompanied by Sally, the black dog. She even came up the ladder, carried by Eric. This was a nice hike through more and different gorges. And it was here that my skull was ripped open by a passing tree. Not much harm done, my brain stayed inside and I have recovered. First aid was immediately at hand, Allen had his First Aid kit open very quickly and squirted some mutie into my gaping wound.
For the return trip we decided to take the better road around the mountain, but because of road works this took much longer than the shorter and more corrugated road over the top.