Kranskloof (12/13-April-2003)
or an evening of Gospel singing
Why gospel singing? We will come to that. This was a hike that nearly wasn't a hike. Here is the story of the ins and outs well written by Jörg. Originally the hike was booked for 8.
Well in the previous week my Father , Eleni and Christopher were out , then Janine was half out and my Father was back in but Eleni and Christopher were still out ,then Bev and Rog were deciding whether to be in or out and Janine was completely out , then Bev and Rog were also completely out, then Eric was half in and Tiens was also half in , then Charmaine was out, then Tiens was out and Eric was in. But in order for us to get a bungalow to our selves on Saturday night Bev and Rog were actually possibly still in
So you see with all the ins and outs there were only three of us on the hike. Eric, Jörg and I. We all left only on Saturday morning and met at the starting point at just before 9. The first camp, where we should have stayed the previous night, was well built and well equipped. It is situated next to a small dam with a veranda and a large table overlooking the dam. Splendid place for dinner at sunset.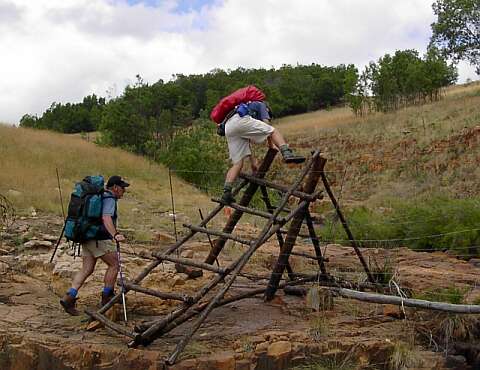 So off we went over fences using or sometimes not using some rickety ladders for crossing the fences. Initially the country was undulating and mostly grass land. Very pleasant to walk through. But eventually we got to the top of a gorge and the path took us down into it. We now had waterfalls, slides and swimming spots. Lunch was organised around one of the swimming pools. The water was cold and we did not get in for very long.
And then around the corner, up a steep slope we got to the hut fairly early in the day. This is where we had our gospel singing evening. On our arrival the camp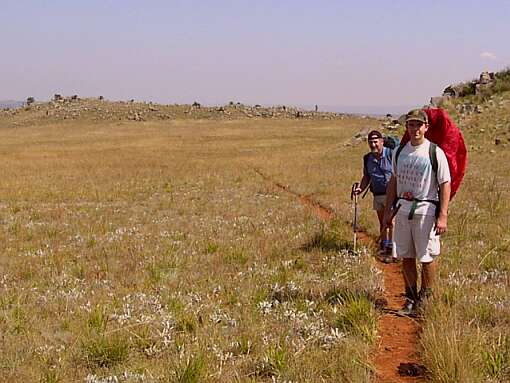 already contained a group of 12 and these were the people that liked to spread the gospel by singing. That happened after dinner, it wasn't bad, I liked some of the tunes, but overall I found it a bit disturbing. Fortunately they belief in going to bed early.
Before all that we went for a swim in the dam nearby. The water was cold here as well, but this was preferred to having a shower, because we would have had to stand in a queue.
We got up just before the other group set off, that way we had the camp to ourselves for breakfast. The return trip was fairly similar, we just went up the other side of the gorge and then hit the flats. By just after one we were back at the starting point and on our way home soon after.