Holhoek (23-25 May 2003)
Or "Don't touch the dogs"-hike
What a fantastic hike. It is designed by Tiaan Strydom, the same person who designed Sporekrans and Sediba. Leaving early on Friday we made our way down to Paul Roux in the Free State. Walking into a little shop in Paul Roux we discovered that that was the head office of Discovery Trails with Tiaan Strydom in attendance. After a nice chat and some final directions we were off onto the dirt road for the last 17km to the hike.

Some of our compatriots had arrived before us, that was: Oscar, Judy, Sue and Steve. Others followed soon. Later in the evening a man with a 45 Colt strapped around his waist came over to us to demand that we sign the indemnity form quickly and 'don't touch the dogs'. That was a command shouted to Kelly who was friendly with his big hunting dog. Apparently they loose their hunting skills when you touch them. This somewhat unpleasant fellow was the owner of the farm, he is an American. If all Americans are like this than I can understand why Putin, Schröder and what's his name - french president didn't want to join Bush's expedition into Iraq.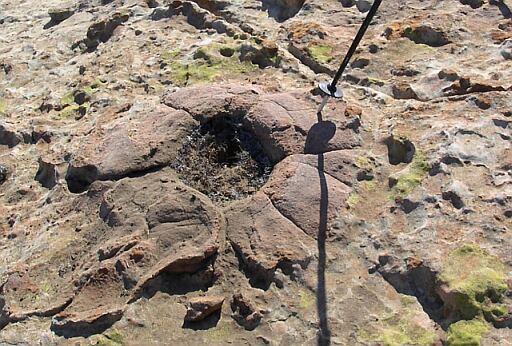 And away they go, that was us in the morning at 8h30 sharp or there around. Up the mountain, along a beautifully laid out trail. First through a donga, than past a water fall and up and along the sand stone cliffs and overhangs of the mountains. Lots of walking under overhangs (called caves by some people), squeezing through and under rocks and negotiating lots of ladders. A most adventurous trail.
One of the interesting observations was to see a 200 million-year-old blowhole. That is where a bubble of gas broke through the muddy surface, have a look at the picture and you can see what I mean.
The final stage was going out on a rock and wondering 'how the hell are we going to get off this rock'. It came suddenly, a set of ladders straight down the mountain.

After supper I set up my battery driven slide projector (because I didn't know that there was electricity) and presented the story of my live as a caver. I think it was well received,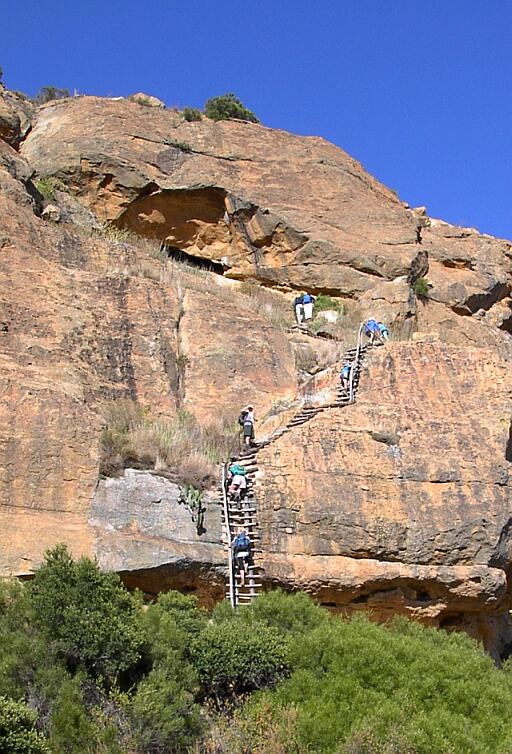 at least that is what my customers told me.

Next day was a shorter hike. First we went up the way we came down the previous afternoon. That was climbing the set of ladders. Higher up we got to a place where Tiaan had taken the route along the outside of a high cliff, one felt very exposed. In fact Eleni had some difficulties moving on. She just wanted to freeze.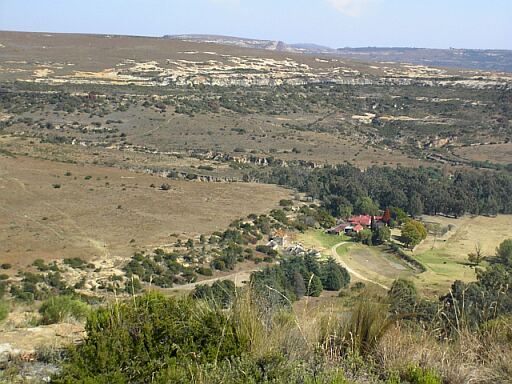 A short stop was at Botha's cave, this apparently was a cave used by PW Botha's (state president before de Klerk) mother during the Boerwar to hide away from the British. It was a nice big overhang.

One of the best parts was the green wall. Here the track was along an overhang with the walls covered in green fern. And another big ladder was next in line. From the top of the ladder the route took us gently down back to camp.