Elandshoogte (22 - 24/Feb/2002)
Nice hike, nice area, the only problems are the tollgates you have to pass. The one at Middelburg charges R22 and at Machadodorp R33. But there is a way around it, as you will see further on.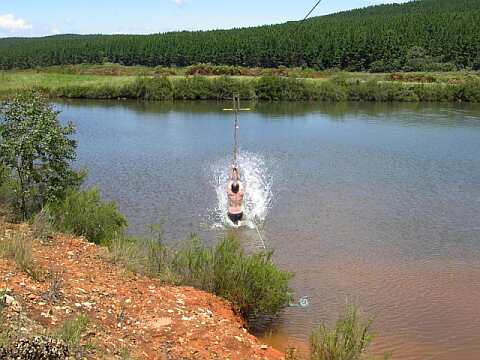 This was Lydia's hike, and everybody attended. Let me see whether I can get all the names together: Lydia, Jenny, Janine, Judith, Frans, Judy, Oscar, me, Eleni, Christopher, Tanya, Allen, Michel, Kelly, Bev, Roger, Eric and Tony (patent). I think that is the lot. It is one of the places on SAPPI's Elandshoogte plantation, they have converted two of the forestry houses into hiking huts.
To get there we left early in the afternoon and paid all the toll fees. That map we had was good and there was no getting lost. Our quarters for the night were the Loopfontein hiking house. From that place there are two day hikes, the Ezikungwini route and the Loopfontein route. We did them both, the longer 17km Ezikungwini on Saturday and a somewhat shortened Loopfontein on Sunday. Some of us got excited over the number of mushrooms that were around, some of them certainly edible. One of them pointed out to us by Tanya was a Pine Rings (Lactarius deliciosus), I didn't trust it since I grew up with the indoctrination that all mushrooms with lamellae are suspect and should best be left alone. My book later convinced me that I could have picked them. But there was no need for that anyway, we found plenty including Steinpilz or Cep (Boletus edulis), Pine Bolete (Suillus bellinii), Granular Stalk Bolete (Suillus granulatus) and the Slippery Jack (Suillus luteus).
And so we walked through veld and forest and finally got to the dam. It was warm and the dam invited to a swim. And what was even better there was a functional pfuffyslide. I am not sure about the spelling, it's a word we are unlikely going to find in any dictionary. So what is a pfuffyslide? Instead of long explanations just look at the pictures showing Eric entering the water and having his pants pulled down.
Further on we had two waterfalls and more pine forests and grassland. All very beautiful.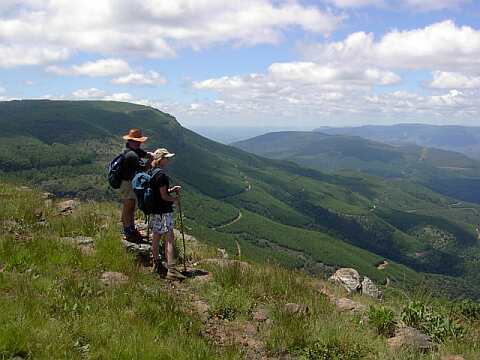 On Sunday we took the shortened Loopfontein route. Within a few minutes from the start we got to a point overlooking a gorge and a waterfall. For a long stretch the route was along the top of the mountain giving us fantastic views over the Elandsriver valley. We had a splinter group that wanted to move faster and they marched off at great speed, but they got off the path and found themselves doing a long detour and only got to camp just before us.
On the return trip we decided to miss the toll gate and to take the route over Mareskop (2815m) to connect to the Dullstroom - Belfast road. The road was not very good at places, but with the Venture not a problem. And it took us through country we had not seen before.