Bermanzi (23-25/June/2004)
An area well known to us being near Machadodorp, Carolina and Badplaas, here we had done the Kalkoen, Suikerbosfontein, Hebron, Kranskloof, Badplaas and Sycomore trails. The Bermanzi hiking trail is on the road between Machadodorp and Badplaas and more or less follows the Bankspruit. The main attraction is the waterfall; I don't know how high exactly, I would say at least 60m straight down into the gorge.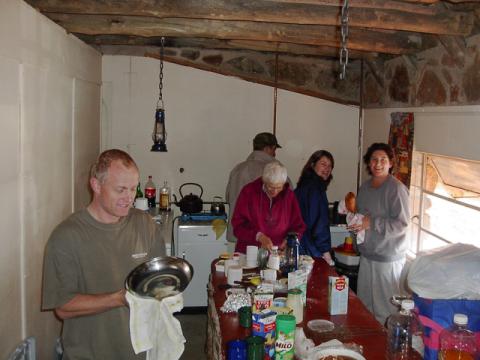 Most of us attended and arrived on Friday night. Our special guests this time were Judy and Robert plus kids. In fact we had a fair number of kids, Joany, Kelly, Christopher, Sean, Robert and Micheal. The accommodation is a bit crowded for 21 people, especially when it is cold and everybody wants to be inside where the coal stove is.
Saturday morning and it was difficult to get our things together to get going. It was only 9h00 when we marched off. The hike started very well by going between two rock walls to what looked like the end of a cul-de-sac only to find a gap to the left and out we were. The hike took us down into the valley through grass and bush.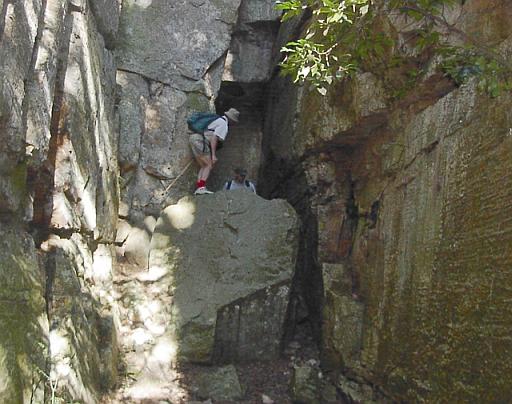 Crossing the river we now went past some old kraals which we identified as those of the Dravidians, remember the guys from the Suikerbosfontein hike? These were people from the southern part of India who came here many years ago to dig for gold. Well, at least this is our theory; we did notice some remainders of terraces. Something, which the local tribes didn't do. The brochure actually calls it a Pedi village. It was nice down there we crossed the river a few times until finally we left it just before the waterfall. On the way out we did get a good look at it from below. And now to climb all the way to the top, approximately 200m up, it wasn't so bad.
At the top was another opportunity to see the fall in its full glory and than homewards we went. A big fire was ordered in the morning, Oscar bought plenty of wood. This fire was a success and kept the cold away until we were ready to get into bed, I think it was 21h30 when the last turned in.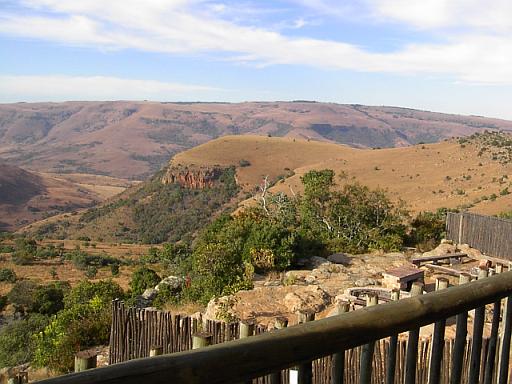 The big discussion was what to do on Sunday. Most people felt that the hike had been done and the Sunday hike would just be a variation of the Saturday hike, covering hardly any new ground. The hot springs of nearby Badplaas beckoned. Most of us went that way but not everybody actually made it in, the price was the problem: R25 per car, R45 per adult and R35 per kid, and to get into the indoor pool another R17. And thrown into that deal was some loud music and some announcer at the pool. When I demanded that he stops playing the music I was told that this is his living and he is getting paid to play music, my case crumbled in view of those economic arguments. All I could have done would be to offer him money to stop, I wasn't prepared to fork out any money for such an undertaking. It was not all bad; a choir from some school in Jo'burg arrived to sing a few songs at the pool. And this I enjoyed.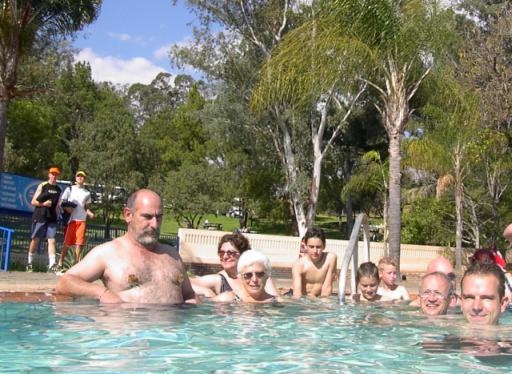 After lounging in the warm water for a few hours we had lunch and drove off. We went back the bottom route through Bethal, Kinros, Nigel. And it was here that I observed again why our road accident rates are so high and what is wrong with our drivers. There is too much impatience on the road, a few near misses were observed when drivers had to pass a slower vehicle at all costs (even lifes).