Wisp Will cottages(27-29/August/2013)
This is where we stayed for the weekend. The place is near Arlington, just north-west of Bethlehem. The farm is called Wisp Will cottages an abbreviation of Whispering Willows, I presume, of which there are plenty along the spruit. It is not a hiking camp, rather a hunting camp, but hiking can be laid on. The farmer Llewellyn Angus is very accommodating and keen to see his guests enjoying themselves. The accommodation is excellent.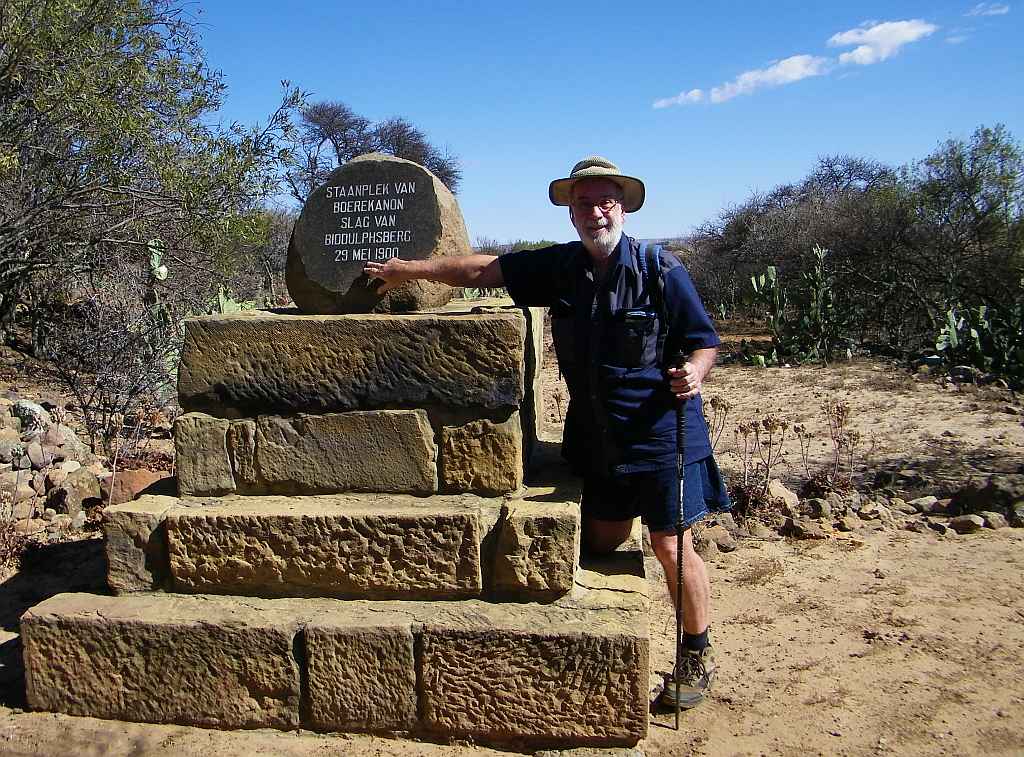 Who was there? Me, Eleni, Christopher, Tania, Allen, Michael, Judy, Lydia, Jenny, Jörg and Janine. Frans and Judith had been on the list but had to cancel at short notice when Frans landed in hospital with some to date unknown illness which he may have picked up in Mozambique. Everybody arrived at the cottages during Friday afternoon. We had two chalets, all fully equipped with kitchen utensils, beds with bedding, braai areas (note plural), numerous toilets and showers and even a bar with TV, which was used by some to watch the rugby and Miss World.
Llewellyn came in the morning to fetch us to the hike, this was at the Biddulphsberg about 20km away. It was the site of a well known battle between the British and the Boers on the 29 May 1900 (my birthday), check the battle of Biddulphsberg. The mountain can be seen in the background in the picture at the bottom of the page
The route took us around the mountain on some higher level, of interest here was the monument to the battle, some sandstone and lots of broken pottery, there were signs of earlier habitation by stone age people. For some reason we never made it to the top, next time. Got back fairly early and spent time just lazying around.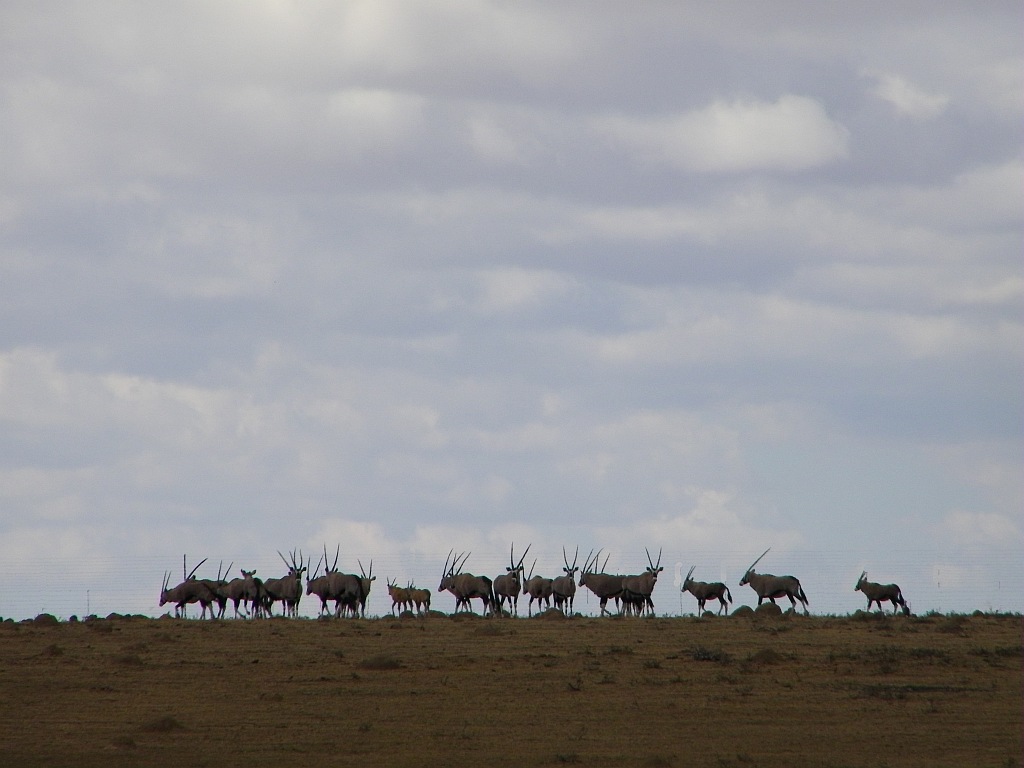 For the Sunday morning hike Llewellyn took us along his spruit down to the Sandriver, the same river at which the Sandriver convention was signed. That was in 1852 at the same river north of Winburg.
Initially I thought this to be a stroll in the bleak and dry veld, but it turned out to be very interesting. The walking was easy, no major ups or downs. Stopping at many places to observe the game, to look at some rocks, one of them was thought to be a fossil of a fish. And than we found the remains of a bird, a large one, opinions differed on what it was. After taking a wing back to camp and looking at my bird book I thought it could have been a Secretary Bird, have to wonder what killed it. The sand river still had running water and some swimming spots were identified for when we come back in summer.