I am fortunate in that I can relax right now, Jenny has undertaken to write the story. So here it is.
Wag a Bietjie(24-26/January/2014)
12 of us reported for duty (after some interesting detours because of the discrepancy re map Route 30 as opposed to signboard Route 205, round the Orkney area) and found the place quite changed from when we were there 10 years ago! The old ossewa garage was still there, (our bunk-bedded dormitory) as was the shed next door, (now a dining room/bedroom as mattresses were dragged in to be in a cooler place)
The place has now been spaciously converted into a function venue with big thatched lapa with lots of places for braaing and comfortable furniture, screen for presentations which we didn't know, as could have had a long awaited glimpse of Jorg's Trinidad trip - and a kitchen with all mod cons plus crockery and cutlery etc supplied.(If we had known we would have taken microwave grub!!).
From the ed: just as well Jenny because the microwave didn't work. I tried to switch it on to heat my potatoes and first noticed that the plate didn't turn and then there was this big flash and panic stricken I switched off. I forgot to mention this to the farmer, but better late than never. Piet, if you read this, the microwave is stukkend.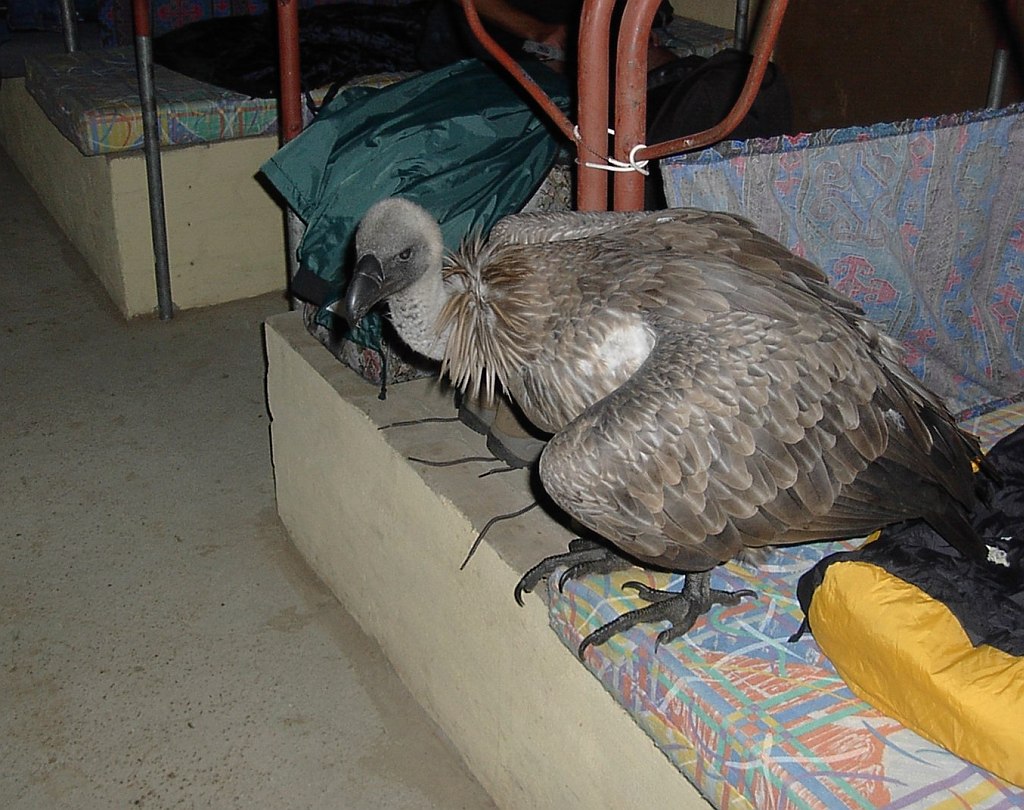 The big memory from last time was 'Knersers' the vulture who has subsequently been 'knersed' by some wild-cat creature. This time we had One Eye and Two Eyes, two Australian Cattle Dogs, one with a ringtail lemur tail.
From the ed: going down memory lane, here is the picture of Knerses when he thought he must go to bed with us. The picture was taken just before he shat on my sleeping bag.

We started the hike at our leisure next day in spite of anticipation of great heat, (farmer suggested 06h00 - ho ho ho) which didn't actually materialise, and the hike was fairly flat - pleasant way to start the year, to remind the legs what they are there for - and the features were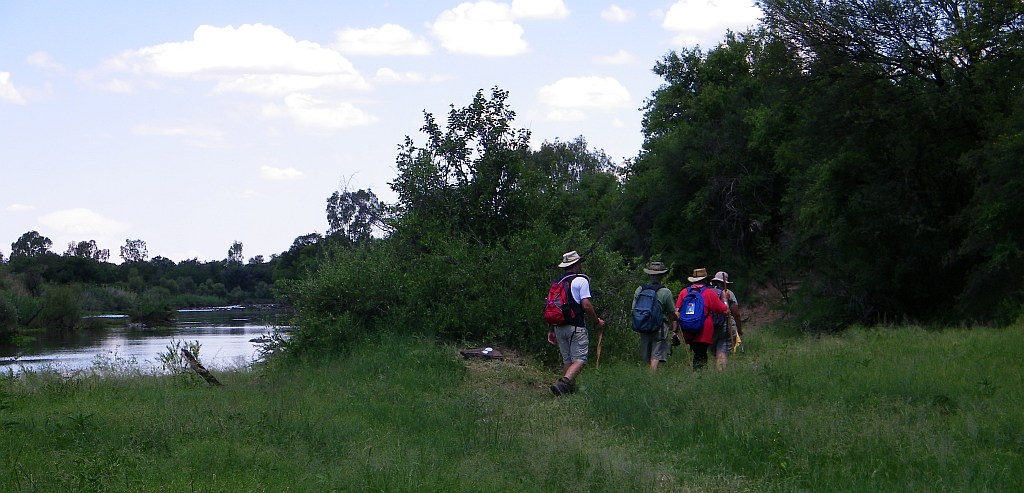 a) the Big Tree - bluegum - which had some huge branches (each like a tree in its own right) broken and hanging in a rather ramshackle fashion (getting old I suppose) and b) the beautiful gold snake that some of us came upon, see Horst's pics, which we agreed was our best sighting ever. Very calm and regal, slowly cruising through the brown leaves (dappled sun making flashes of gold as he went) and down the hill, followed by the papparazzi!! MORE than 2 m long!!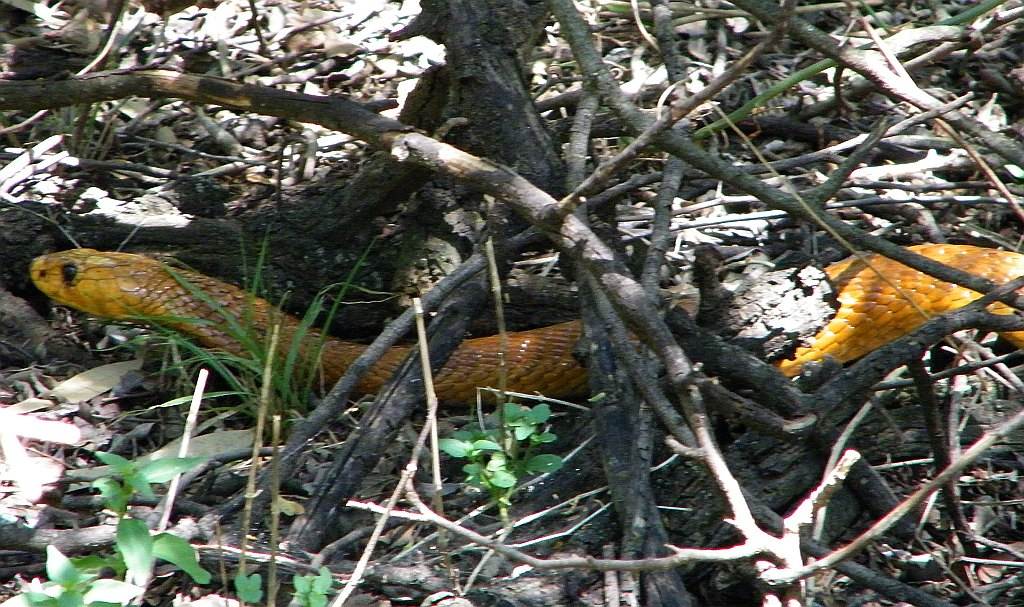 From the ed: initially thought to have been a Cape Cobra, but subsequent attempts to identify the snake from the pictures made it more likely that this was a Mole Snake, its not poisonous. But its not the end, Jenny is getting some expert to look at the pictures to tell us what it is. Looks like we should sharpen up on our snake identification knowledge, but this, of course, is a major challenge, there are hundreds of them.

The Herwegs and the Robinsons and Janine, went ahead at great pace, and Judith and Frans got themselves gloriously lost for quite a long time, while the loiterers (3 Müllers and I) had a whale of a time dawdling by the river, and eventually wading in fully clothed and floating down in the current etc.The walk along the river in the shade, crossing many gullies with well constructed little bridges was very relaxing, but.... we were saving our energies for the next day!!! :)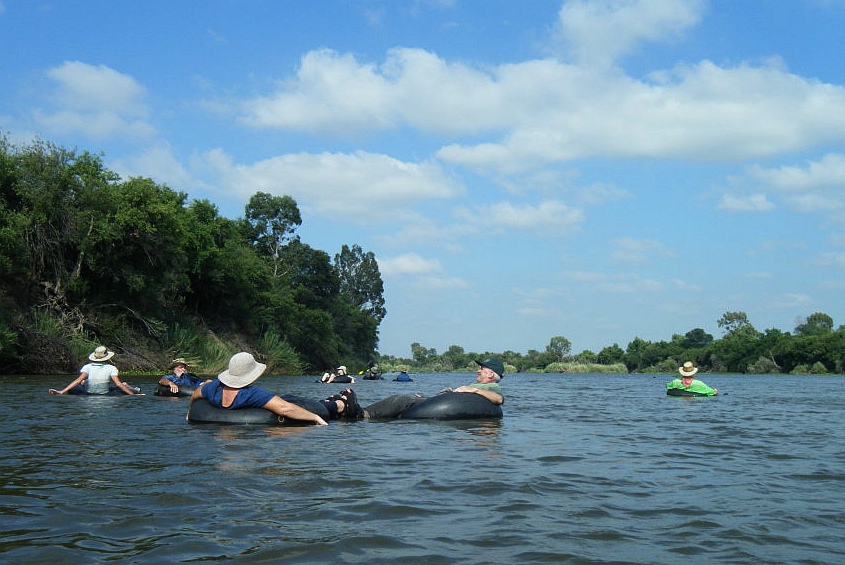 There was some trepidation as to the level of the river, as it was low, and tube riding for the next day looked as though it could be a bumpy ride over the exposed rocks. HOWever...Someone Up There smiled on us, the sluice gates were opened and when we got down to the river next day, all carrying our own big truck tubes, it was flowing most satisfactorily. (I estimated at a walking pace). We launched ourselves without further ado and spent a most marvellous few hours floating 'merrily merrily merrily, gently down the stream'. Lots of bird life (Goliath heron, sacred ibi -plural of ibis?? - geese etc.) and the occasional little tiny rapid for moments of pulsating excitement...Little patches of hyacinth floating along, hats and towels held up to catch the odd gust of breeze, a little upset as BOTH the Herwegs 'mingled informally ' with the water... All very fun...we were able to just dump the tubes for the farmer to fetch later, and we walked home through the fields of waving white grass. Absolutely Fabulous.

The swimming pool provided a cool spot for little circles of talking heads, Jörg and Kristoffel went fishing twice - one caught and released and otherwise the usual fishermen's' stories about the one that got away.... We had a most professional presentation by those who have just done a Survival Course (Alan, Jörg and The Girls) on how to light a fire from scratch (No NOT a match) using chemicals, and lip ice, and wax, and cotton wool and various other esoteric items - the rubbing of a stick was not high on the list.... We explored the nearby old stone house (build 1917) and the cemetery (Oldest grave - 18something) (Ed: that was Jacobus Abraham Marais, born 6.6.1838, died 3.1.1935, he could have been a trek baby.) snoozed and just generally pottered around in a most pleasurable fashion...so that at the end of this lovely weekend, we all felt MOST relaxed...except for the Robinson's who left early, before the tubing, due to Robert's indisposition.

All in all a LOVELY outing, and thanks to Jörg for being so cleverly pro-active and on the ball.. And thanks to Kristoffel for picking out the prickly pear thorns for me.