The Venstervalle trail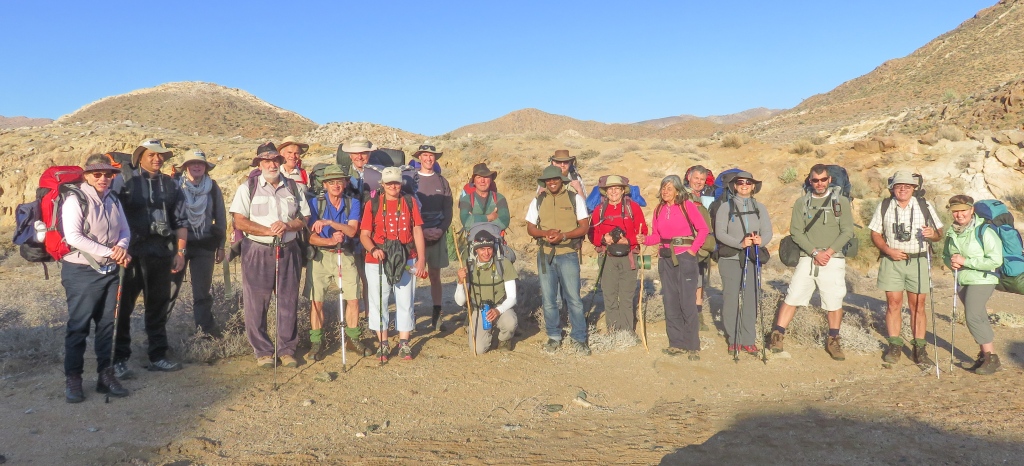 Venstervalle, translated window falls, is a 4-day hike in the Richtersveld National Park. This park is in the furthest North-West corner of the country, close to the sea. We had a large group of hikers, 19, I think, of people from all over the country and even one from France. This was actually a special hike organised by Dave Raulstone catering for botanical interests. There was Andrew from the Walter Sisulu Botanical Garden in Roodepoort, Adam from Kirstenbosch in Cape Town, Alison from the plant science department in Pietermaritzburg, Carol from the Worcester Succulent garden (she was our girl from France, doing an internship at the garden) and many more, sorry I can't mention everyone. Something I noticed on this hike: 'botanists have more fun' I was inspired by their enthusiasm and knowledge, constantly looking for new plants to the area, or even a new species. The hike leader, provided by the park was Pieter van Wyk, one of those people with an immense thirst for knowledge. He is still very young (by my standards), 28, his knowledge of the flora, fauna, geology, history is very impressive. He has no formal education in any of those fields (not yet), the highest formal education level he has achieved is a Diploma in Theology.
Day -1 (19 Aug 16)
The adventure started the day before when we got to Sendelingsdrift. Here we had to sign in and haggle about the price. We came right (after some confusing and complicated negotiations by Dave, the group organiser) and off we went into the park down the 65 km to the hikers camp at Hakkiesdoring. Nice camp with everything working and even a special tank filled with drinkable water. The normal supply is from a bore hole and that is very brackish (salty) and used for washing and bathing only.
Day 1 (20 Aug)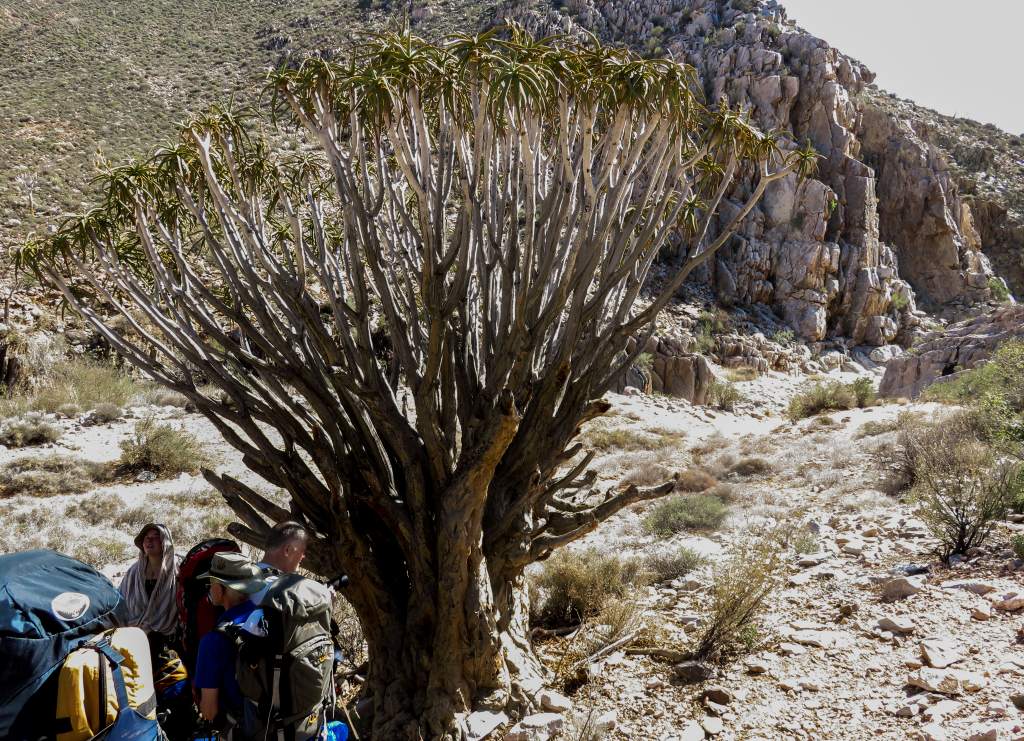 Got going very early, around 07h30, by all of us jumping into some vehicle to cut off about 3km from the trail. The vehicles were parked there waiting for our return. Following the dry river bed of the Gannakouriep, going was very slow, not so much due to the terrain but mainly because of the botanists wanting to stop and have a conference at every bush and flower. Not to worry, it gave me a chance to cope with the hike at a slow pace, being the only septuagenarian in the group. Of interest en route (to me) was a big Kokerboom (Aloe dichotoma) that had sucked up some rocks and an old inscription on one of the branches 'Zebrakloof'. Also of note was a small vein of copper ore in different oxidation states: brown, blue and azure.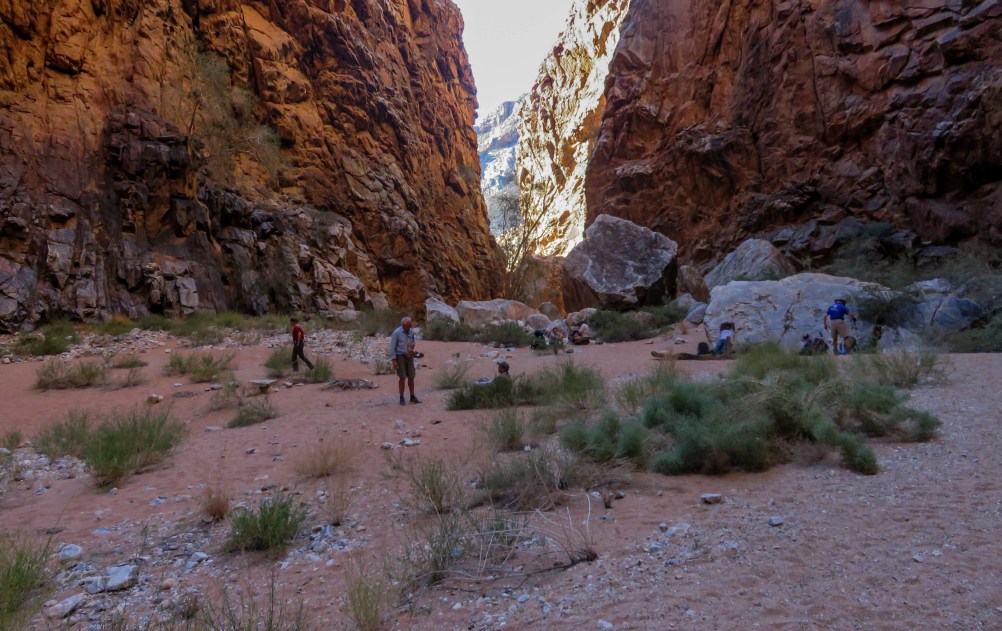 A long lunch at Zebra fountains, but there was no fountain, Pieter went up the kloof to fetch some water for the night camp. This was followed by a short march up to the amphitheater. What a place! Our 'bedroom' was about 50 by 50 meters, semicircular with mostly sandy floor. We were able to spread out all over the place. It was a beautiful place, in wet weather there would be two water falls entering. The night was comfortable, only interrupted by occasional gusts of cold wind coming over our sleeping bags.
Day 2 (21 Aug)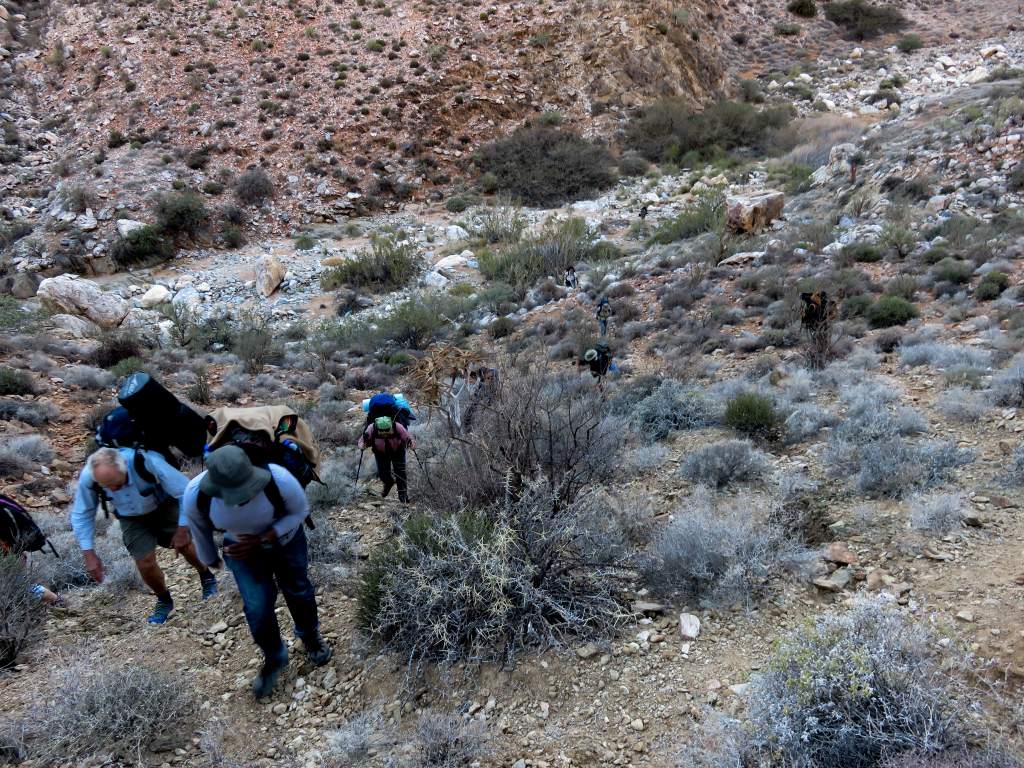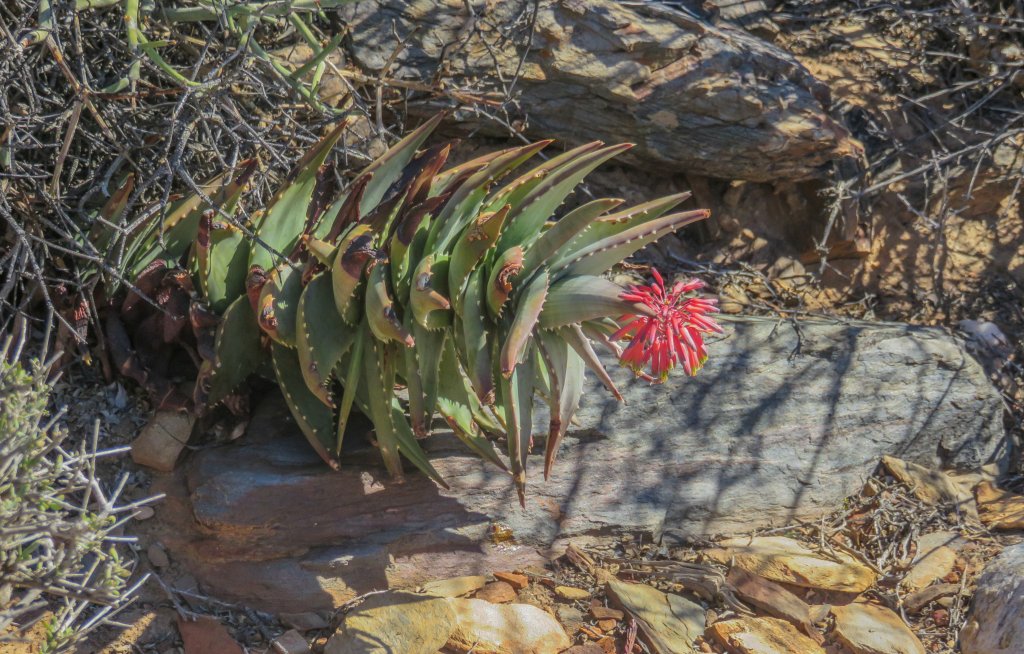 Managed to get up early and after a quick breakfast we were on our way. Initially retracing our steps and than turning toward the mountain, we went up and up from 530 m to an altitude of 930m over a distance of 1.5 km. At the highest point we had a long stop. The botanists got very excited, there was a specimen of Aloe meyeri in flower, something that has not been seen in this area ever. Down the mountain into a river bed. Following that we came to Modderfontein (mud fountain), it's a misnomer because the water was crystal clear and of good taste. This was a superb place for a lunch break.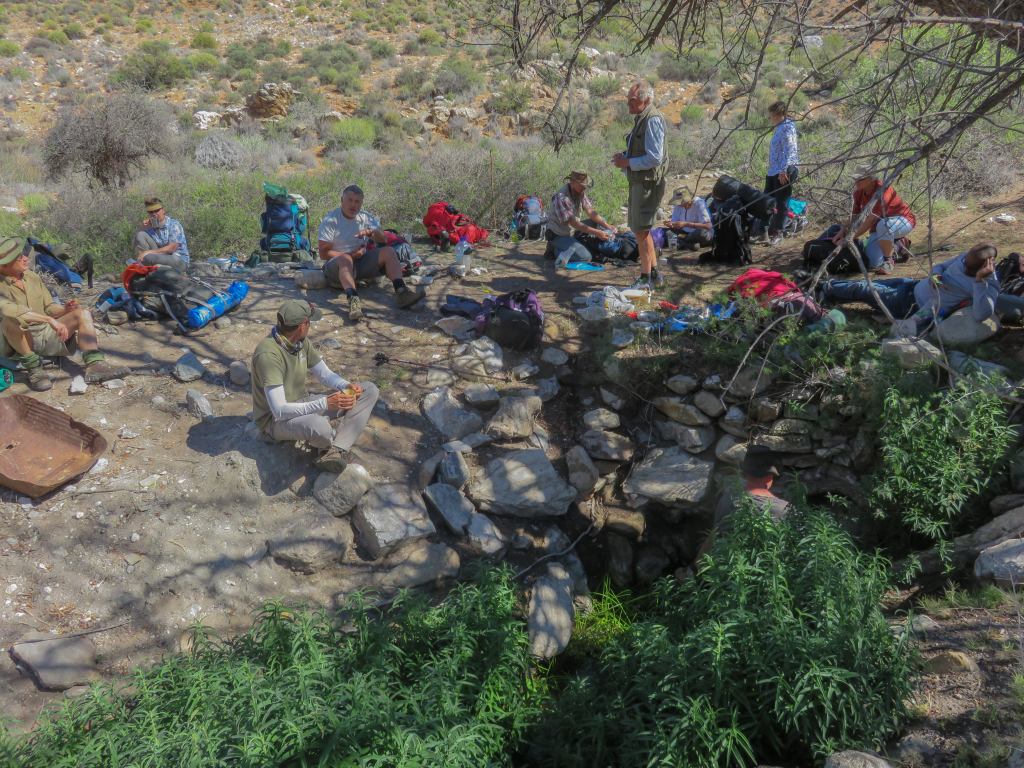 The weather started to cool down and even threatened to rain, and gusts of wind pushing us around. This was going to be an uncomfortable night. Our overnight spot was at the Venstervalle. Sleeping space was a bit tricky.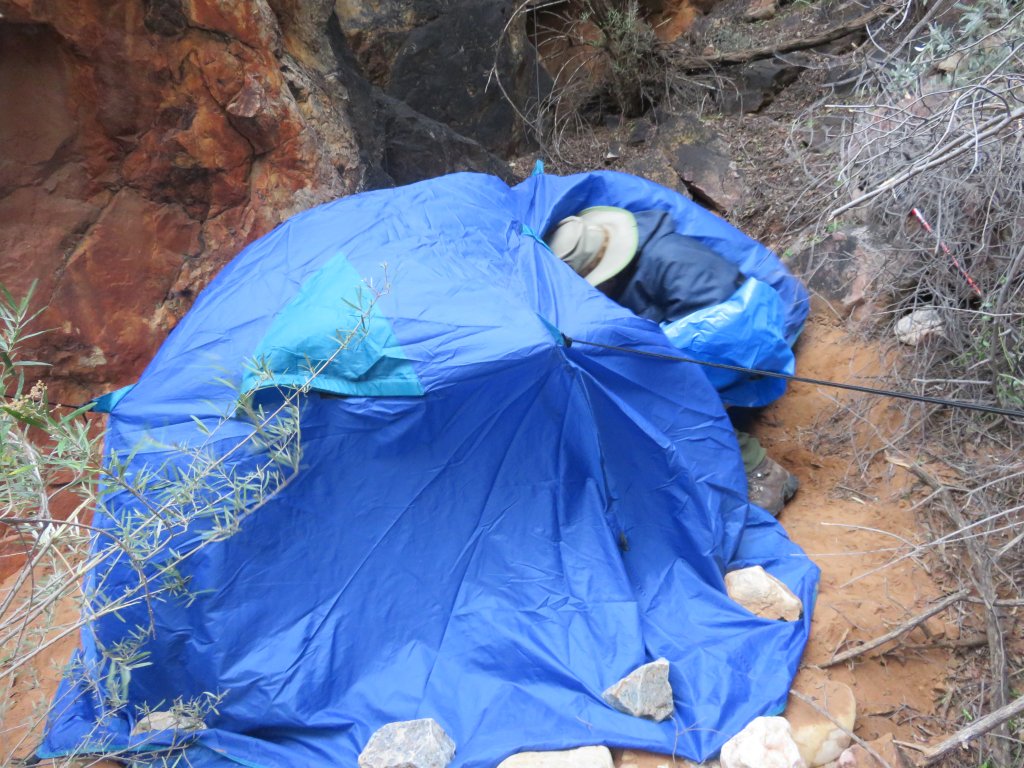 Those with tents could stay just outside, others got under the overhang and Frans and I carved ourselves a terrace in the sand under a tree, conveniently used to hang up our flysheet. We managed to establish a sleeping area fairly well protected. Only problem was the flysheet collected moisture on the inside and our sleeping bags became somewhat damp. We survived the rain of the night and got up in good spirits.
Day 3 (22 Aug)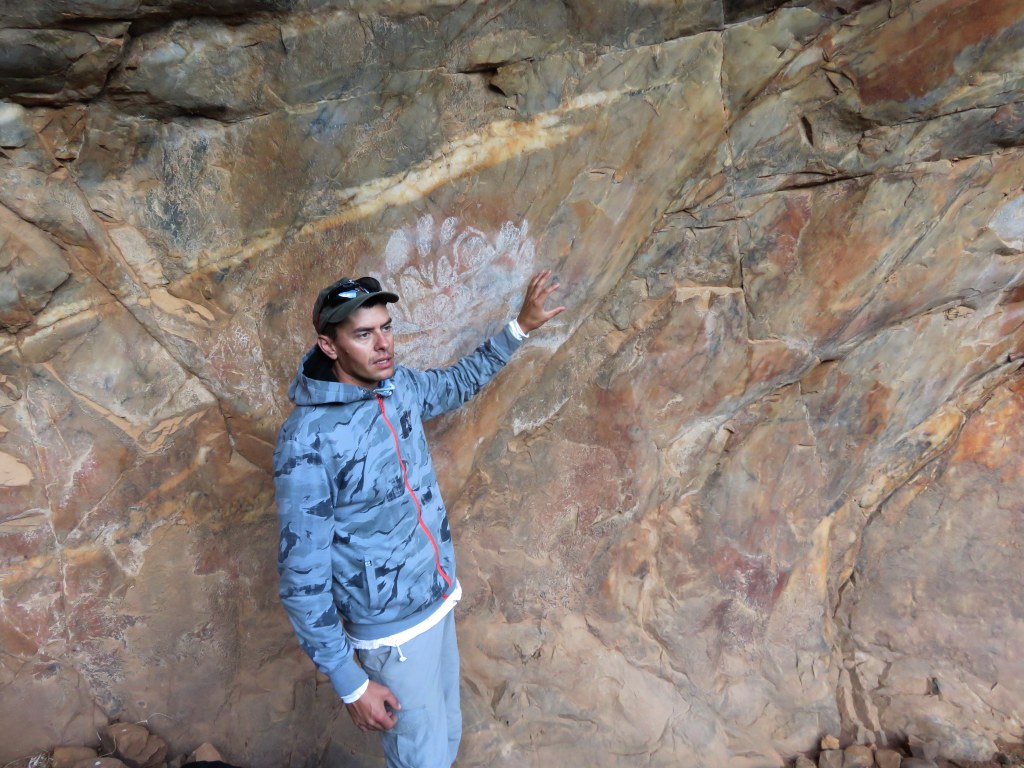 At the overhang were some rock paintings in fact two sets, one in black and one in white. The white one was explained to us by Pieter as having to do with fertility rite. Once a girl starts menstruating she is accepted into womanhood by the women of the tribe, and this is a ritual carried out at this place.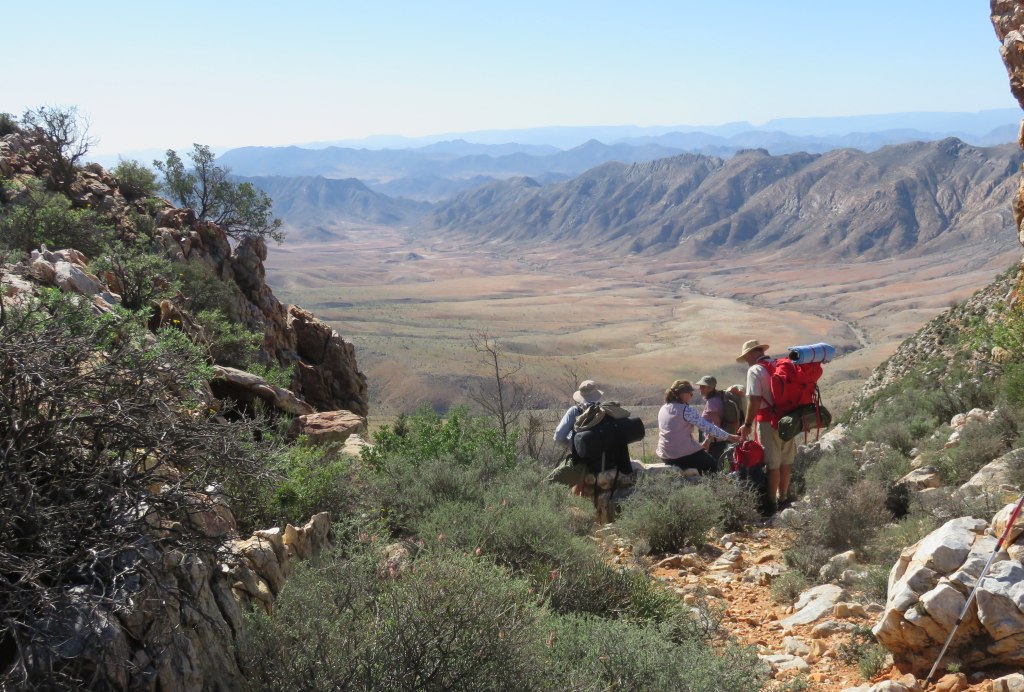 The weather had calmed down, no wind and not very cold. It started by going mostly up and along to the Bababaddens (baby bath), a series of pools (water filled). A longer stop was called here, some of us even took a welcome bath in the cold water. Next stop was on top, overlooking the Armans valley (poor mans valley). Its called that because of one farmer that moved in there with plenty of livestock to sustain him, but left with hardly any stock because of some poisonous plant that killed his herd.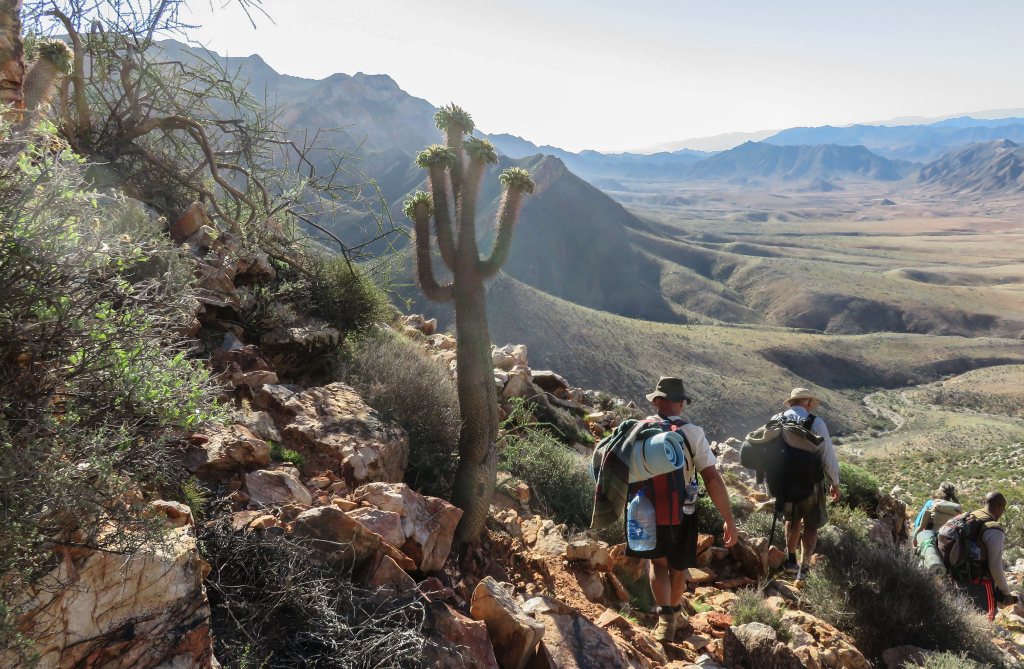 And than the bone breaking down, from 953m to about 400m, this has certainly brought me a step closer to knee replacement. On this downhill we came across a colony of half mens trees (Pachypodium namaquanum) in flower at this time.
We stayed for the night at the bottom. Nothing special this night, all went well.
Day 4 (23 Aug)
Its going home time, we had an early wakeup call at 06h10 because today will be the longest day with about 15km to cover. Fortunately not much up, I measured 600m at the crest, coming from 400m and down the rest of the way.
There are many more pictures I could include, but space is a problem. I have also produced a AV (Audio Visual) converted to a YouTube video.