Tierfontein (24-26/Nov/06)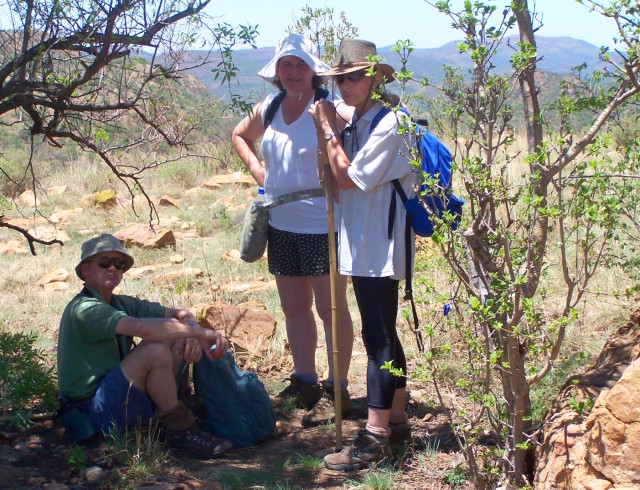 There is something wrong with this spelling, on the topographic map the name of the farm is given as Tygerfontein, meaning Tiger fountain. But then checking in a dictionary I see that tier is Afrikaans and tyger is hollands. So there you are, but then what is a tiger doing in Africa, they belong to India and places like that? Mystery! Could it be a case of mistaken identity?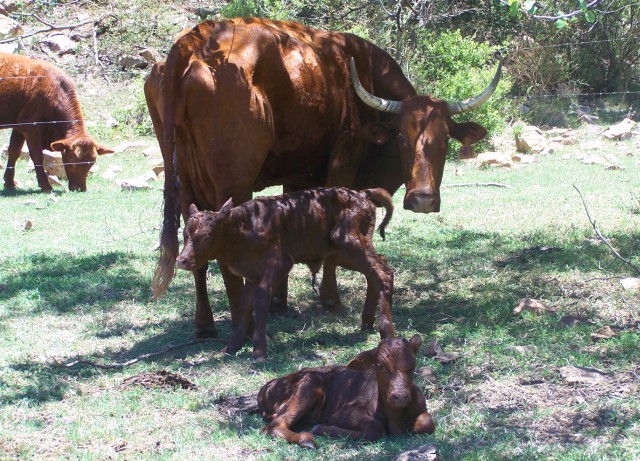 Everybody was there including the not so common participants: Bev and Roger, Dalita, William and the twins. The place is near home, just out our backdoor, in the Vredeford ring near Parys, about ½ an hour drive. The camp we stayed at for the weekend was the Boplaas camp, its basic, has no electricity, but is comfortable enough and there is a swimming pool.
The long hike of Saturday followed the crest of the mountain up to a place called Baken on the map. It was also the highest point, 1612m. From here it went down hill to the windpomp. Our hope of finding fresh running water at the pump was in vain. It was hot, very hot and a fresh stream of water to splash us with would have been very welcome. The windpomp was also a maternity ward for cows, the birth of a calf was witnessed, all happened without human help.
At the Oudewerf, which is another hikers camp, we found functioning showers and used that to cool our over-heating bodies. From now on it was up the mountain and over the top back to camp.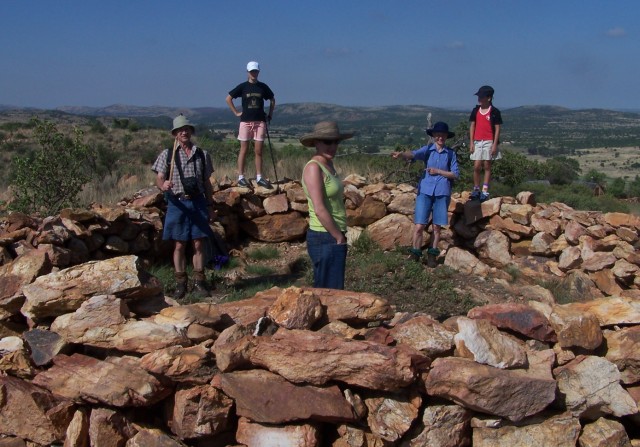 Sunday we were supposed to go to the other hike, some old kraals and with a bit of luck some stone age tools to be found. We decided otherwise and went to the mine.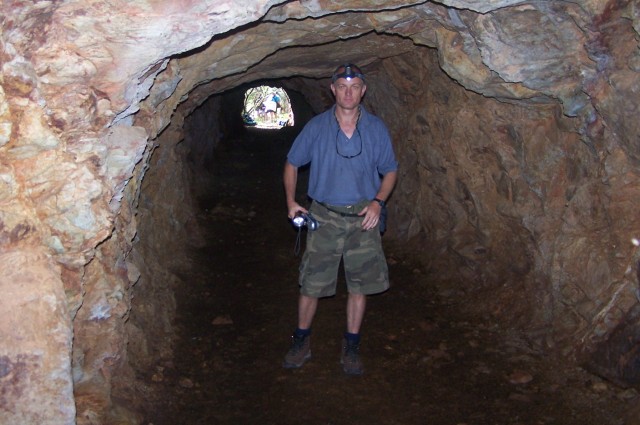 An old gold mine is situated just over the hill, I knew about it from the time when Colin and I surveyed the place some years ago. At that stage the name of the mine was still written on the rock on one of the entrances, it was called Leopardsmine. The inscription or the rock has disappeared. We did both adits, east and west watching millions of bats flying in and out at one of the sections.
On the way we went through a British fort, erected during the Boer war to, most likely, protect the gold mine and to prevent the Boers from working the mine, which could have bought them more war material.