Themeda Hills (8-10/Aug/2009)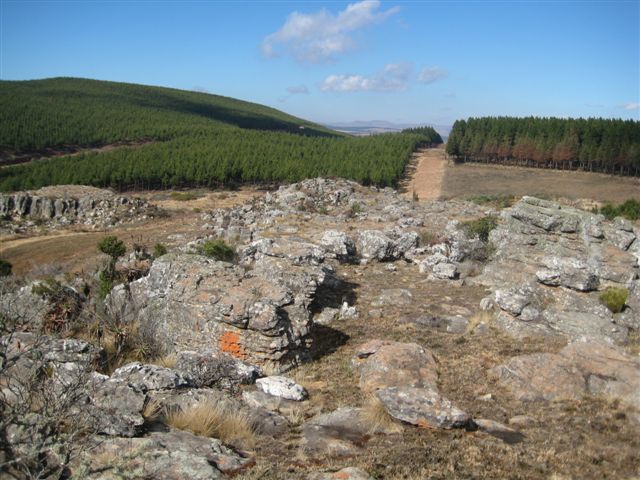 We had a very enjoyable and busy time at THEMEDA HILL, (near Pilgrim's Rest), Mpumalanga.
Who was there?
the Ramwell family
Judy & Oscar
Judith & Frans
& me
It was good travelling up on a Saturday morning, away from the usual Friday evening traffic chaos.
The eight rondavels at Themeda are situated high on a hilltop and the views breathtaking, especially at sunrise! Pink horizon and heavy mist lingering in valley below........
Saturday afternoon, we did a "recce" of our surrounds and then wasted no time taking advantage of our Crystal Springs (timeshare about 8 km from Themeda) permit and went to "wallow". (Horst, aren't you envious?) There was a choice of an indoor jacuzzi, heated pool, steam room & sauna. The only thing is that they do not permit under 16s into the swimming area so Samantha and Alyssa had to miss out as they are only 13. But, that night, they had 3 birthdays in quick succession and, the next day, they were let in!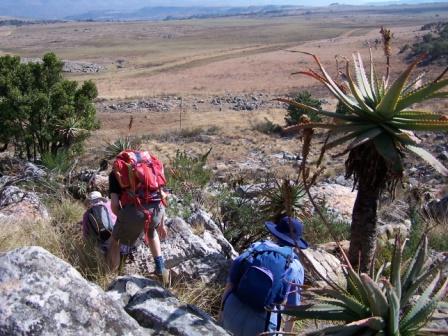 On Sunday, we decided to hike along the Prospector's Trail which travelled right past the bottom of our camp. Trail scenery - pine trees, aloes, wonderful rocks, grassland, and a duiker. We followed the path as far as the Excelsior overnight hut. After inspecting & resting, we walked up, up, up a steep road - good for the heart. We were home by lunchtime but we had already munched our lunch on the way.
So...good.....we had the afternoon to "rondloop". Most of us went down to Pilgrim's Rest (a bit too crowded for my liking but gratifying to see the tourists flocking) and then we drove up the twisty mountain pass to Graskop. Visited the famous Harrie's Pancake Place and I had a delicious pancake stuffed with bananas & ice-cream. While we were doing the touristy bit, Judith & Frans bravely went on a cycle ride, through the plantation of pine trees, from Themeda Hill to Crystal S.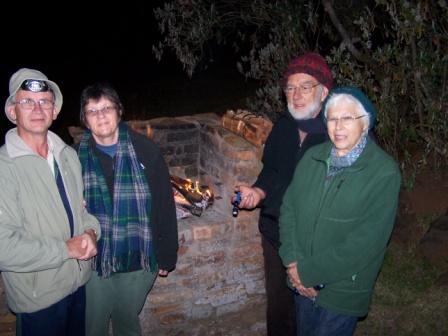 On our last day, Monday, some of us were still energetic. William suggested walking in the indigenous forests around the Mount Sheba Hotel which was tempting but the hikes offered by Crystal Springs got the nod. Any excuse to go back there. I imagined the walks would be easy strolls for the rich and famous but, boy, was I wrong. We chose the 5 km Kudu Trail. We had about an 8 km drive on a dirt road to get to the start. The hike was a tough 3 hours but very scenic and the best part was that we were walking amongst game - giraffe, zebra, warthogs, and there were kudu - 2 different sightings.
Then time to return home. Luckily advanced warning from both Judy and Dalita of traffic jams & queues at the toll gates alerted Frans to take the back roads, past places such as Stofberg and Tonteldoes!
Many thanks Judy & Oscar for organising the weekend and for persevering with the booking, despite Jan, the manager, only having a dodgy cellphone link. We were dismayed to hear that Themeda has been sold to someone in Joburg who is going to modernise the place. While it may be convenient to have electricity installed etc, I'm afraid that it will lose the charm that it's had for the last 32 years!
Lydia