Sedgefield 6 to 16-July-2007
We had a holiday in Sedgefield at the invitation from Tania, staying in her parets holiday house. For those not in the know, its down on the coast between George and Knysna. That was a tour of 10 days. We didn't want to do the whole trip in one day and broke the joyrney in Nieu Bethesda on the way down and in Colesberg on the way up.
In order to get some structure into the story I'll break it up into major pieces, here it goes:
1. Nieu Bethesda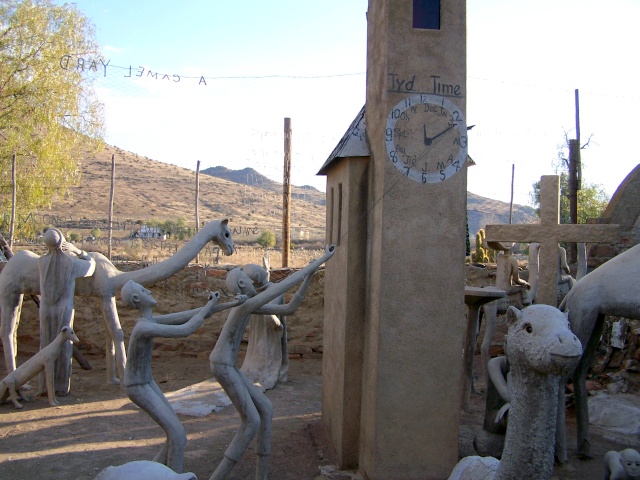 Situated between Middelburg and Graaf Reinet, somewhat off the mainroad (N9), in fact 26km dirt road to the west. Here we find a little dorp in the Karoo called Nieu Bethesda. Its major claim to fame is the Owlhouse. Once the home of its creator, Helen Martins. This off-beat cement and glass fantasy world is now a museum. The house and garden are full of creations, mostly cement figures. Jim's comment on the scene was 'I would bring in the bulldozer'. He was right in a way, I also didn't think much of this art. But the writing at the entrance to the garden says it all 'This is my World', I can accept that. Leave it alone, as long as I don't have to stay next door to it.
Overnight we stayed at the backpackers for cheap, it's run by a Swiss woman, very neat and very old, not the woman, the house. Other points of interest there is the fossil trail (quick tour through the dry river bed looking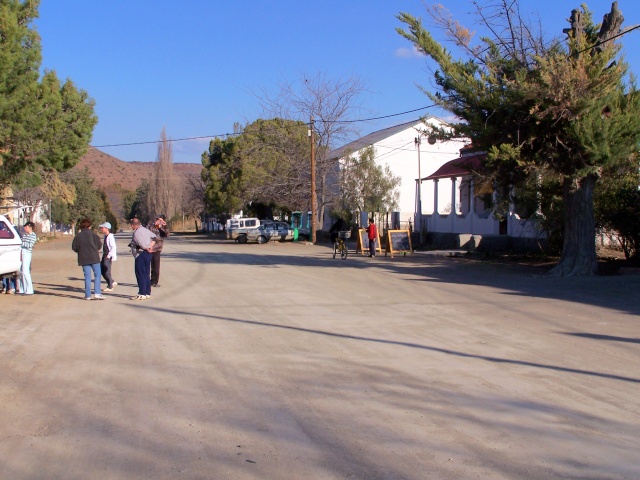 at old bones and foot prints), the book shops, the cemetry (graves going back to 17something and the town itself. The mostly new inhabitants are trying to make this into a sort of Clarens type village. Most of the whites living here have moved from the big centres, there are 71 altogether.
For dinner the backpacker lady's husband cooked us a stew, lamb stew from Karoo lamb. We had a good time sitting in the kitchen/restaurant/reception with two dogs and a cat. I even tasted the local beer, some lager made by somebody nearby, it was not bad

.
2. Millwood and Jubilee Creek gold mines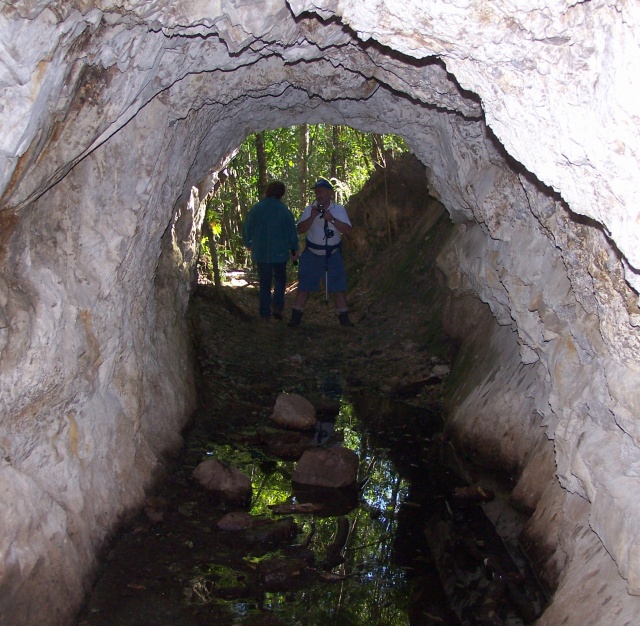 Until not so long ago I wasn't aware of gold having been found near Knysna. There was actually a gold rush in 1880. So what is so strange about this? Nothing realy, just that I brought this in connection with the gold that has been found in Terra del Fuego (bottom tip of South America).
South America at one stage was attached to us and according to one map I saw such that Terra del Fuego would be just off Knysna. Later on I had to revise this when I saw more up to date maps and noticed that there was a big gap which was filled in by the Falkland plate, remember that island in the South Atlantic which caused all the shit between Britain and Argentina.
To save my theory I had to predict that there would be gold in the Falklands. And look what I found in the Internet, there is a company doing prospecting in the Falklands and what did they come up with? Here is an extract from one of the reports of the 'Falkland Gold and Minerals Limited': 'Exploration work conducted before and after the formation of FGML has established the presence of alluvial gold in several drainage systems as well as establishing the presence of diamond indicator minerals and titanium rich gravel.' http://www.minesite.com/companies/comp_single/company/falkland-gold-and-minerals-ltd.html So there you are, this proves my theory.
Otherwise a nice hike, a bit barren because I expected big trees. Some of the adits are still open and available to venture into, which we did.
3. Robberg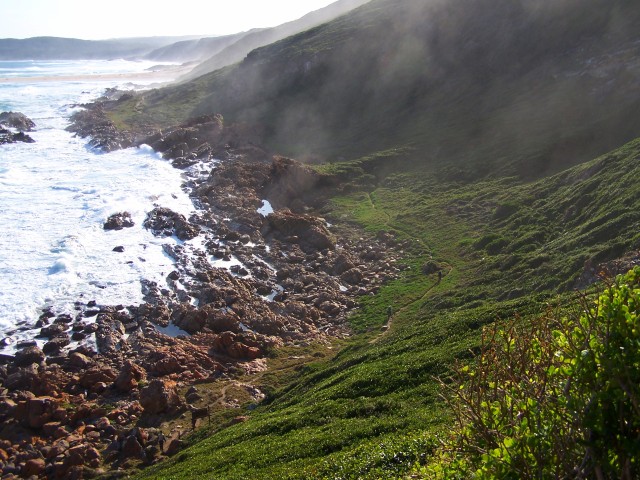 That is this piece of land sticking out from Plettenberg Bay. It is part of a nature reserve and an entrance fee is required, it is worth it. Around the peninsula it is a hike of about 10km. Not much up and down but partly a bit rough on the feet.
We saw plenty of seals, what a stench, and took a long break at the furthest point. Here is a overnight hut, I would love to sleep there one day, or even two nights. The sea at this point is rough and spectacular.
4.Steam Train ride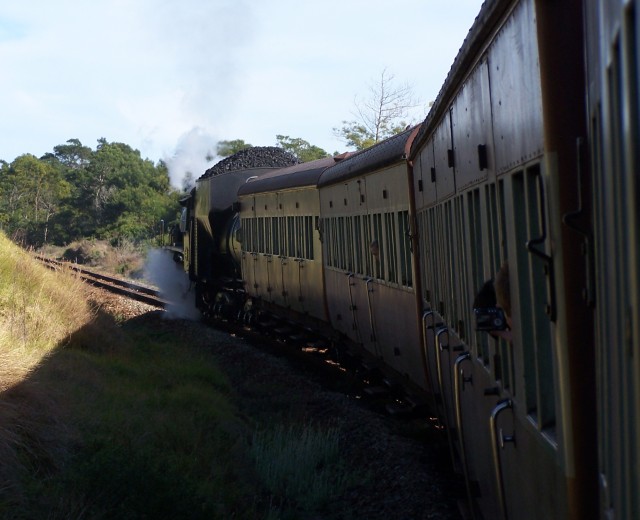 The steam train used to go between Knysna and George, but because of some recent landslides which blocked the line, this has now been transferred to do the line between George and Mosselbay. The tour starts at the railway museum in George, all very nice and off we went to get ash into our hair. One cannot ride a steam train without looking out the window.
In Mosselbay we had a look at the Vasco de Gama museum and nearly didn't have enough time to have our lunch, in fact they took such a long time to prepare it that we had to convert it to a take away and eat it on the train.
5. Canopy tour
There is a place near Plettenberg Bay where we went to do the tree canopy tour. It's fairly expensive, R350 a shot, and for that one hangs in a harness and slides down the numerous steel ropes from tree to tree. It was fun and enjoyed by everyone involved.