Day 16 (Sunday, 2-8-98)
Had a good breakfast, packed and stored our rucksacks in the hotels store room and hit town. What is there to hit? Nothing as far as I am concerned. Its all buildings and one just walks around looking at them. We had virtually the whole day to kill and decided that the main event should be a show at the planetarium where they were showing in Omnimax. That is the system where the film is shown against the spherical ceiling of the dome and one gets the feeling of sitting in the middle of the scenery. We selected to see 'Mt. Everest' and something on the Mir space station, that was DKr 68 and 60. After buying the tickets had a walk around town, saw some old buildings and then had lunch in the restaurant next to the planetarium, the Cassiopeeo Restaurant. The dish we both selected was some herring plater, it was actually one of the cheaper lunches at DKr 68 each. For that money we got a few pieces of herring, it was very tasty and with the bread thrown in filling enough.
The Omnimax shows were fantastic and well worth the money we spent on it. The surround affect at times actually caused me to close my eyes, because I got dizzy from the scene happening around me.
From there we made our way back to the hotel and then to the airport. And than onto Glasgow, with a quick touch down at Edinburgh.
Arriving in Glasgow at 20h30 was a problem, no more trains to Fort Williams. We resigned ourselves to the fact that we had to spend another night in a hotel. No problem, from one of Jim's newspapers I had collected a cutting: 'come and stay in any of the Garden Inns for only £25 a night'. Inquiring at the airport about the whereabouts of this hotel, she just pointed out the door and there is was, just across the street. Problem: I hadn't read the small print, normal price is £60 and only by booking well in advance could one get it for £25. But the receptionist felt sorry for us weary travelers and gave us a special for £32.50 each. So we moved in. Watched some TV, dried some cloth, went to bed and it was still raining.
Day 17 (Monday, 3-8-98)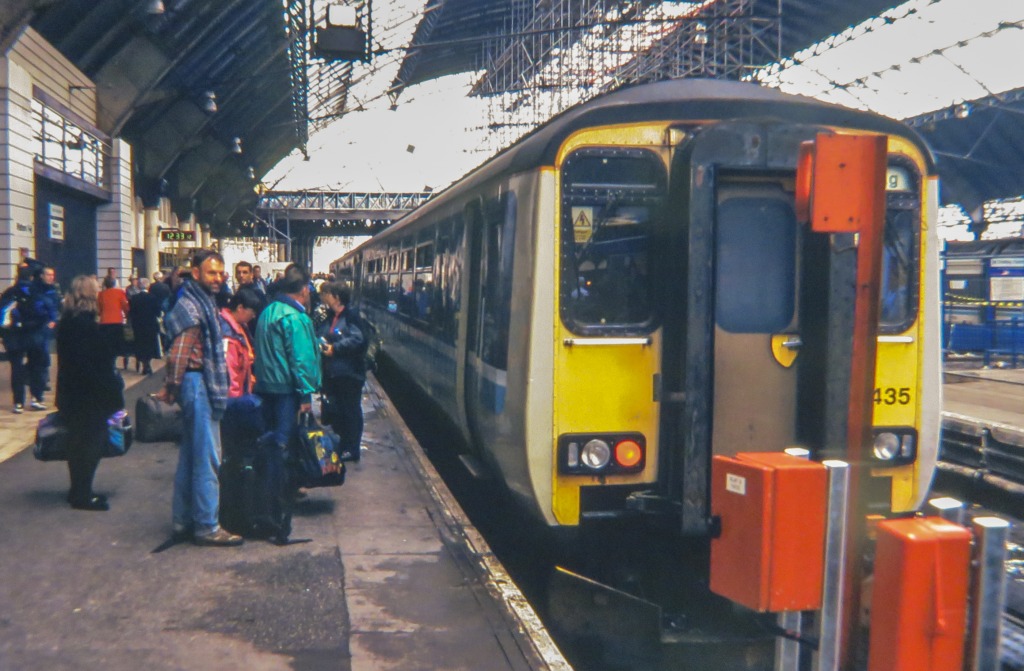 Breakfast was included in the price, so we had it and moved off, taking a bus into town to get out at Queen street station. We had missed the first train and the next one was at 12h40. A walk through town was the only thing to do. Put our rucksacks in a locker and paid £4.40 (the mind boggles when one converts this into Rand).
We bought some food, some methylated spirit (which, by the way, we could only obtain at the chemist and I had to sign the poison register for it) for my cooker and also a new fuel bottle. I had to buy a new one because the swines in Narsarsuaq airport most likely confiscated my fuel bottle because it still had some fuel in it. And I also got my watch strap repaired for £1 so that I could wear my watch again and not have to carry it in my pocket.
The train ride to Fort Williams went through some very pleasant and beautiful scenery making me look forward to the hike.
When we arrived in Fort William Jim insisted that we start walking straight away. I only managed to get one short shopping stop out of him, I needed some more cheese. I hadn't found any in Glasgow. And here I remember Colin P. telling me about the huge selection of cheeses one finds in the shops. Well mate not in Scotland, possibly in Exeter. I found nothing and had to do with some Stilton cheese.
A few kilometers out of town we got to the Ben Nevis camp site, it was full, but the receptionist said that for hikers they always make room, so they did. It cost us £8.40 and 20p to have a hot shower.
Day 18 (Tuesday, 4-8-98)
When we woke up it was 6h45, which means we overslept, our aim had been to be out hiking by 6h00. There was no time for anything, crabbed a few things and off we went on our way to climb the highest mountain in Britain, Ben Nevis, 1344m.
It was a long slog of more or less continuous uphill. The top of the mountain was sticking into the cloud and couldn't be seen. Just as well, I may otherwise have given up before getting to the top. It was just going on and on, all I could do was count the number of zig-zags, knowing that there should be four zigs and three zags. 3 hours and 45 minutes later the weary hikers stumbled onto the top and into the hut provided for us by the mountain club. The weather was miserable: cold, windy, misty, drizzling, just shit. Even in the hut it was uncomfortable, but we lasted long enough in it to have cub of coffee. Nobody else was up there, which made Jim comment on the fact that at this stage we were the highest people in Britain.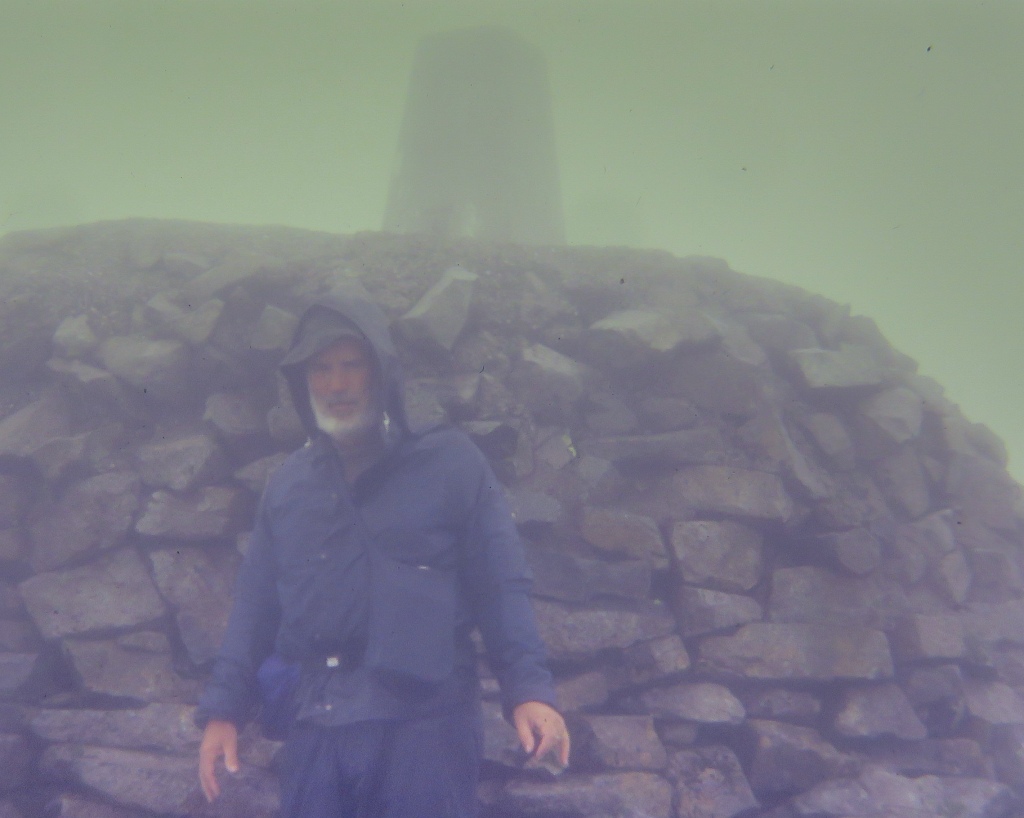 There used to be an astronomical observatory, the ruins are still to be seen. I am not surprised its not in use anymore, they couldn't see a thing with all that mist and rain around there.
Coming down was easy and done in one go without stopping. I certainly was happy to steer downwards, it meant getting away from the cold wind and mist. And here we congratulated ourselves on having done the trip so early in the morning. People came streaming up the mountain, the first group we met about 10 minutes off the top. By the time we got to bottom we reckon that about 300 to 400 people had passed us going up the mountain.
After a bit of lunch and some hesitation, because it was raining we packed and hit the road out away from Fort Williams, following the river called 'Water of Nevis' (who was Nevis?). Not long after starting we came to this place selling coffee and cake, and they were especially inviting hikers. We could not resist and stopped to have a sit down and to purchase these items.
Carrying on we soon got to this sign:'No camping for the next 2½ miles'. Well no problem, at this stage, we were going to walk that distance anyway. At the end of the 2½ miles I started looking around for a place, no luck, another sign:'No camping for the next 2 miles'. That was getting a bit much, but what could we do, just carry on walking. At the end of the 2 miles the road also ended and we were in a narrow gorge, very beautiful, but no place to erect a tent.
Eventually I went on strike, there was this place between and under rocks that we could have made habitable. As we were discussing this possibility some passing hikers informed us of the valley opening up only a few steps further on. And so it did, and it didn't take long for us to find a place.
It was still raining and now also the wind was blowing at a hell of a rate. It kept on pushing the tent in, but by now I accepted this as one of the design features of the tent. We stayed dry inside, despite the fact that this carried on the whole night.
Day 19 (Wednesday, 5-8-98)
The bad weather lasted through the night and was still going on when it was time to get up. I announced to Jim:'I am not getting up until the rain has stopped'. So we stayed in and only got going by 10h00. It had stopped raining for a bit.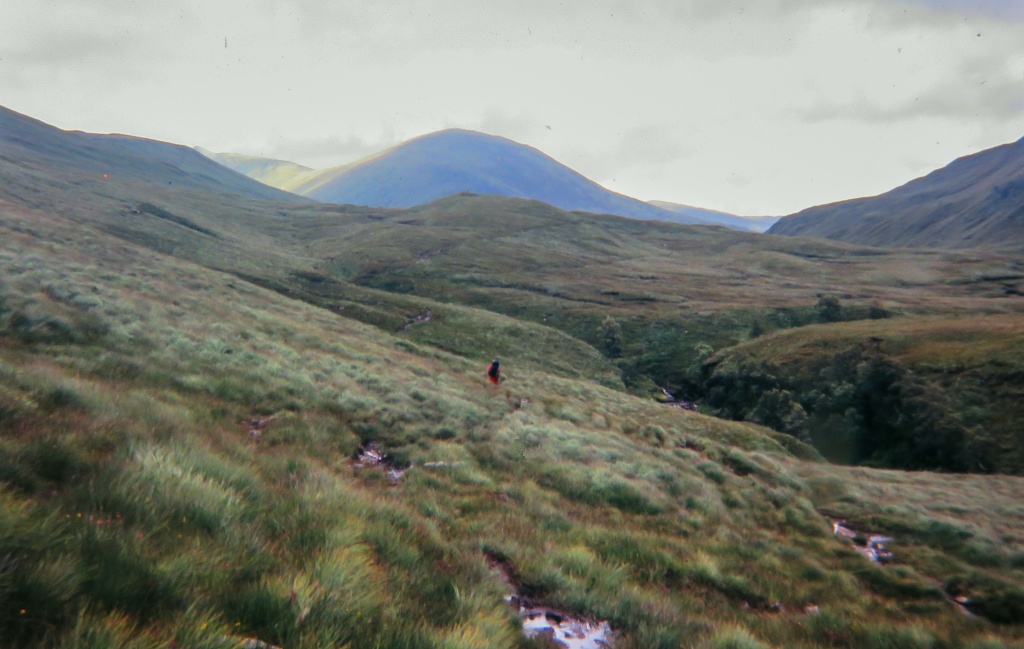 The first stretch, up the valley, was described in one of Jim's references as the 'wettest part of Scotland'. Yes, I can belief that, everything is mud and water, keeping the boots dry and clean is impossible. Once over the watershed and into the next valley things improved. Looking back I noticed how that valley actually hangs onto the rain. It was raining there, but not in our valley, it somehow didn't dare come over into the next valley. The river forming this valley was Abheinn Rath. It led us to Loch Treig and from there the path went along the shores of the Loch around to the railway line. That was the same line that brought us in.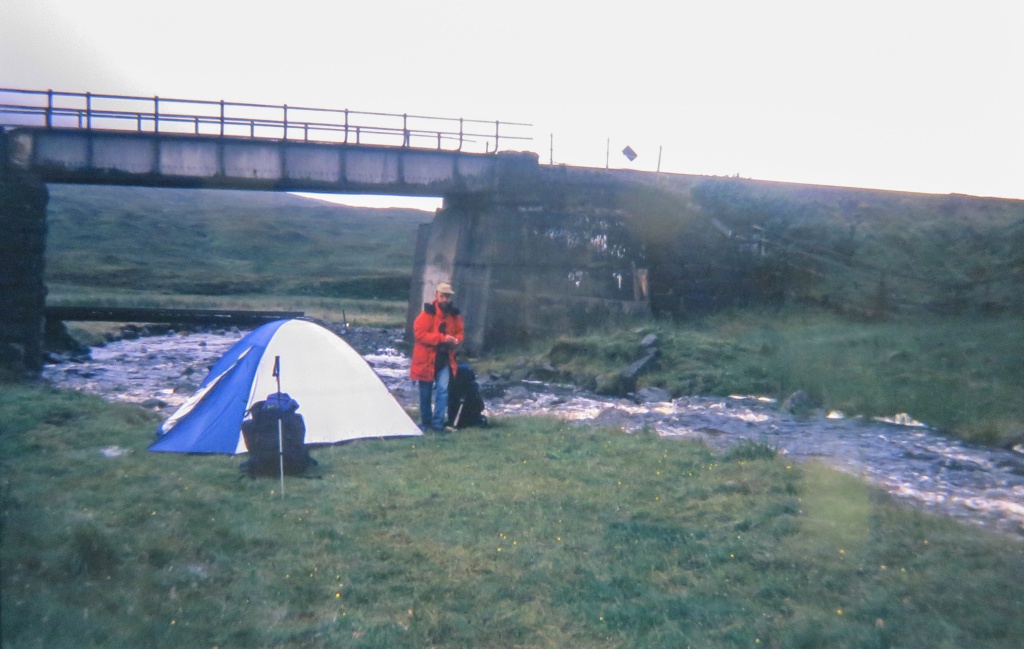 Going uphill parallel to the rail away from the Loch I was hoping to get to the Karroo station. When we passed through by train I noticed a bunk house at the station. Now, what is a bunk house. I am not sure, but I think it's a sort of Youth Hostel for people more advanced in age. But the hill took it out of us (me) and it would also have been a bit of a detour. So we stopped at a bridge and put up tent under it on an island formed by two forks of a stream.
As we settled in it started raining heavily. And it carried on and on, so much so that in the middle of the night I got up to check the state of the streams. And guess what, it wasn't raining at all, it was the sound of the stream that gave me the impression of heavy rain.
Day 20 (Thursday, 6-8-98)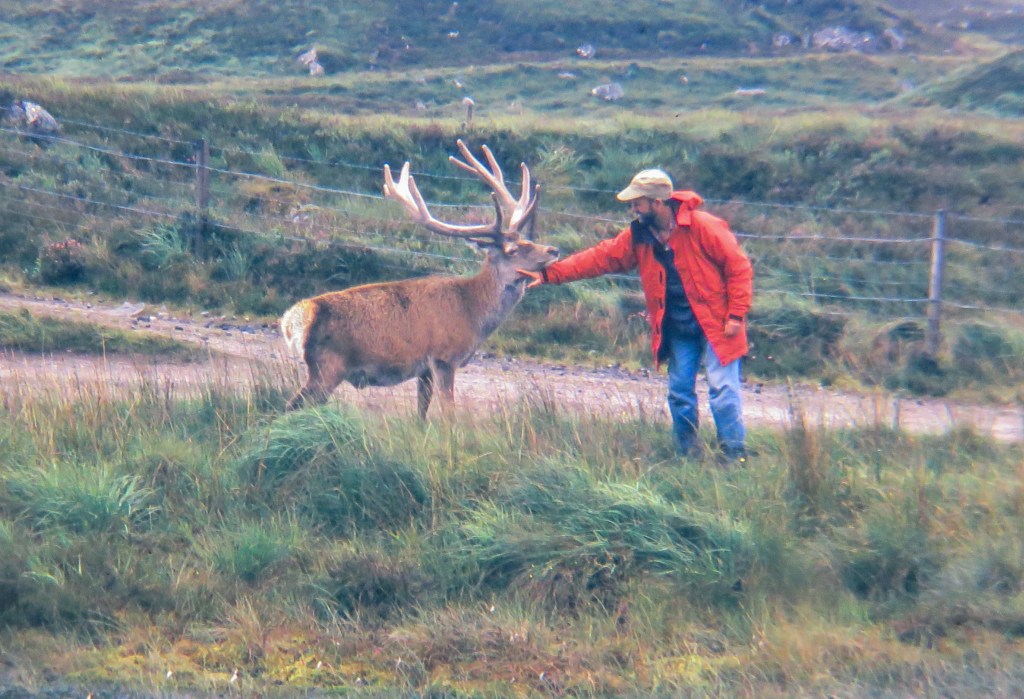 The river had risen a bit, that was from the rain earlier in the evening. And in fact it had risen so much that we had problems getting off our island without getting our feet wet. That will teach us to camp on an island. Picking up the road to Loch Ossian we soon reached the Youth Hostel at its shores. They keep reindeer around there, creeping up to them to take a picture we noticed that they were tame and even allowed themselves to be touched.
Going along the side of the Loch was easy and the road led us through some beautiful forest with blueberries.
Our easy hike along the lake had to come to an end and it was up some valley and over into the next. And here we hit another mud bath., but the rain fortunately kept away (mostly). On the way up we met another group of hikers, these guys looked tough. They had been out for a few days to bag a few wee peaks. We were impressed, they certainly were equipped, mean and lean.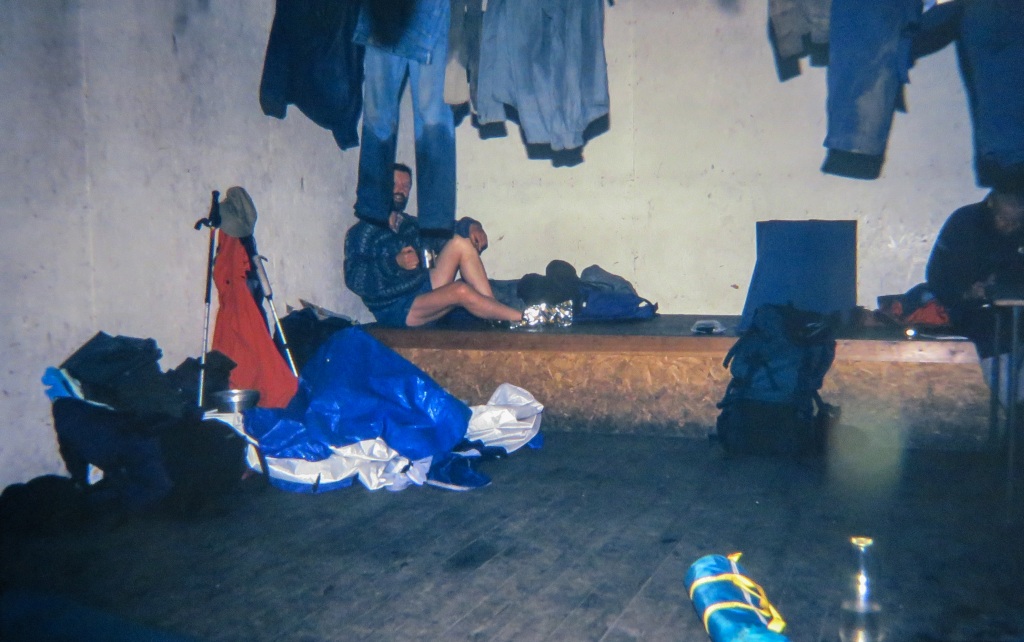 Once over, the path improved tremendously and only started hitting mud again much lower down. Pieces of aircraft wreckage drew our attention at the head of the valley. We were later informed by a knowledgeable person that these were pieces from a Wellington bomber that crashed there on a training flight during the war. Apparently they were bringing in Whisky from Kingussie.
Near Loch Padocks is a bothy. What is a bothy? It's a farmhouse that has been donated to the hikers. Most of them are very basic, just the walls and roof, ours didn't even have a toilet. No fee is to be paid, they are free to use by any hiker, all that is ask is to leave it the way you found it, i.e. clean and tidy. We found two people in it and decided to join them. The fire was going already and the room was pleasantly warm.
Two more hikers, John and Richard, joined later on and we had reasonably good company.
next page
return to home page