Day 21 (Friday, 7-8-98)
The later two arrivals, John and Richard, slept in the same room and had to get up at 5h00 in order to catch some bus in Dalwhinnie. At 5h05 I decided that they were arseholes, because this getting up also got Jim going and he started nagging. Why they couldn't have slept in another room and given us peace in the morning is beyond me. Eventually I gave up and by 6h00 started making breakfast.
So off we hiked at great speed leaving behind Loch Pattack and onto the shores of Loch Ericht. Through some lovely forest, collecting Steinpilze (Boletus edulis), these are the kings of the mushrooms. And no rain, my boots actually started to dry.
At the station in Dalwhinnie we established that the next train to Kingussie would leave at 14h07. That was two hours to wait. That time was killed easily by sitting in a café eating some lunch and drinking a big pot of coffee.
Dalwhinnie is not much of a town. It's at the downstream end of Loch Ericht. Apart from the railway station it has a few houses which includes a hotel and a pub catering mostly for passing traffic.
We couldn't buy our train tickets at the station, so a notice informed us, we must get from the conductor on the train. The conductor never came and two stations on we had to get out, this was now Kingussie. No problem we just buy a ticket retrospectively at the station here. No such luck, no ticket office. Jim was still going to go to the police station to report us, but, I think, I persuaded him that this is too much shit stirring.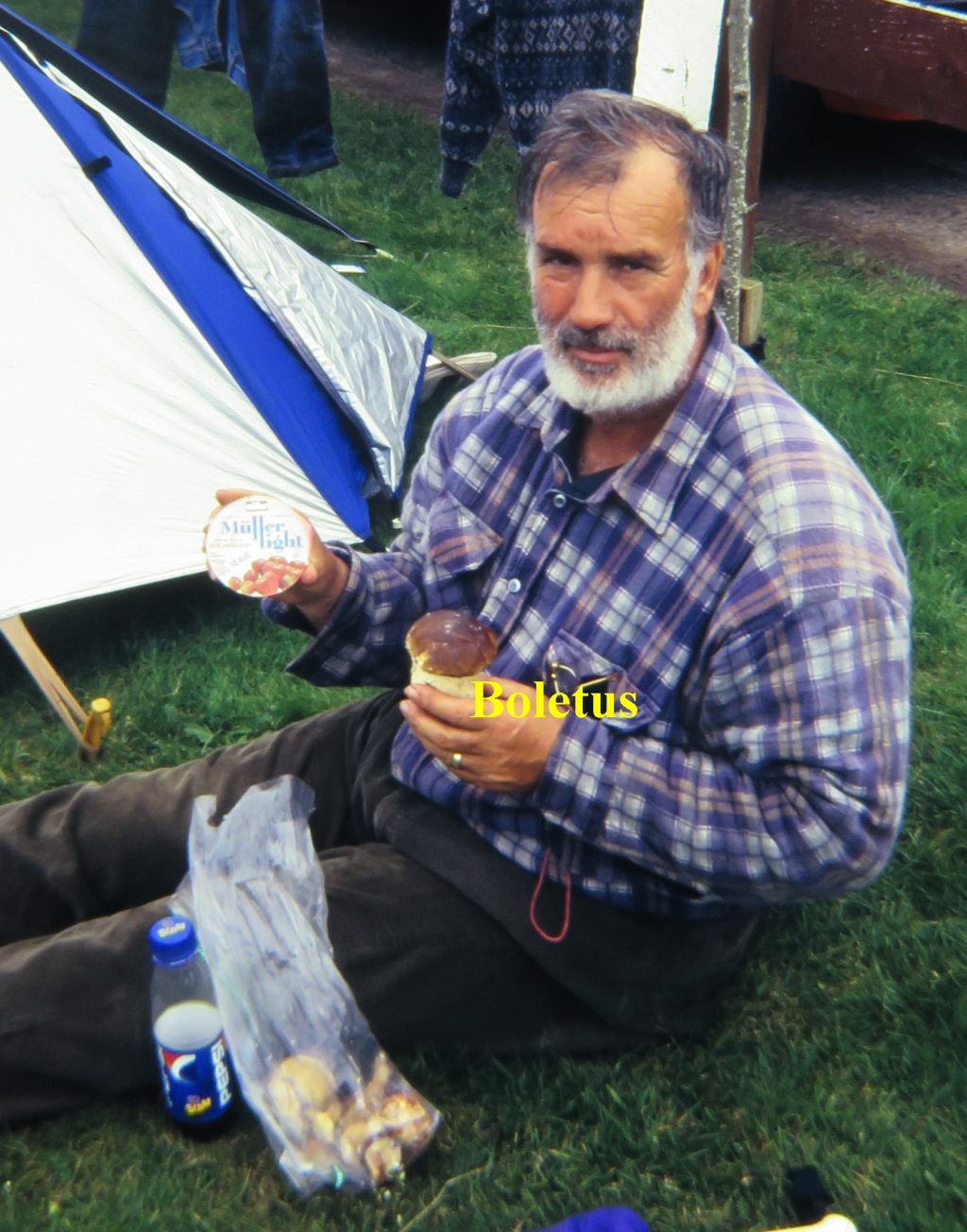 We were sent off to the golf course for camping, £6 for the lot, plus hot showers and proper toillets.
Kingussie is a nice little town, I presume a typical Scottish town full of Scottish people, with a mainstreet and most of the shops situated there. Naturally it also has a whisky distillery, I belief every Scottish town has got one, even a little dorp like Dalwhinnie. When planning this trip I actually anticipated that Jim would drag me to at least one of them, he didn't. I would find the process, most likely, very interesting, but it's the tasting afterwards that would cause my stomach to somersault. It's just not used to drinking that Schnaps.
In the evening Jim invited me to a pub dinner. When we came back it was raining and there was a river running under the tent. Being too lazy to do anything about, still we stayed dry inside the tent. In the middle of the night Jim couldn't sleep and he went off to the laundry to wash and dry some cloth. He even had a go at my dirty green pants with good success.
Day 22 (Saturday, 8-8-98)
It stopped raining and we survived the night with only minor water damage, i.e. my roll of toilet paper was totally soaked and I had to throw it away. Acquiring some replacement from the local abolition block.
Off we hiked out of town, just stopping once to buy some luxuries (blueberry cheesecake). A km or two from the town is a ruin which used to be a garrison (Rutven barracks) containing English soldiers until 1746 when it was destroyed by some Scottish rebels. Something interesting about Brittan is that they don't pull down their ruins, because even in the 18th century they must have realised that this would become a tourist attraction in the 20th century.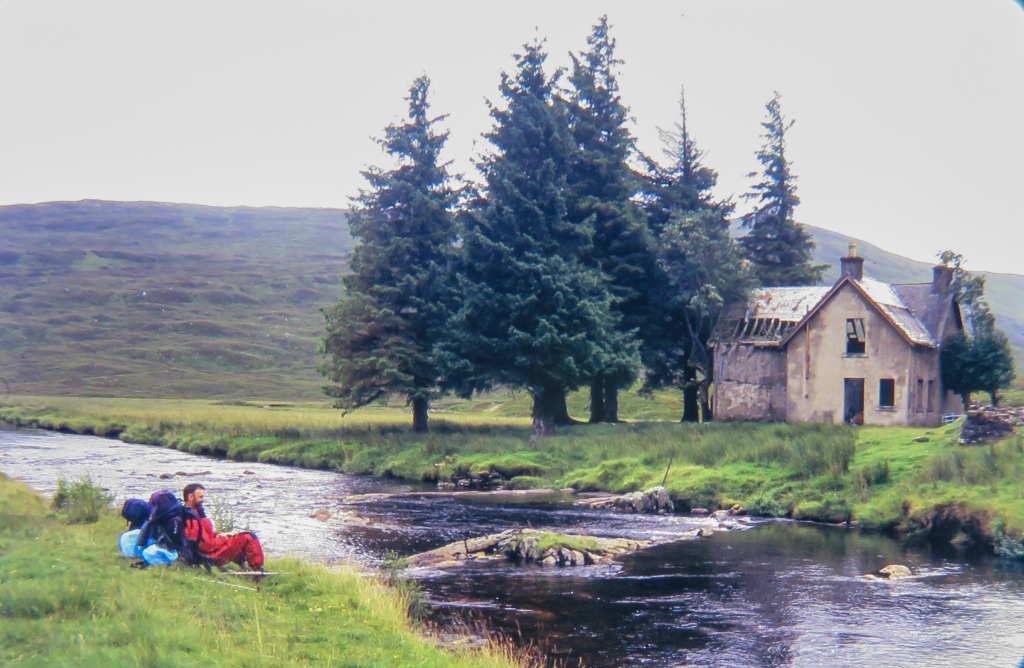 Our aim was to follow some 13th century road, which doesn't exist nowadays. It possibly hasn't been used for 500 years and we must have been the first since it was abandoned. Well, not quite true, its described in one of Jim's references, so the author of that must at least have done it. Initially the road is marked by some stakes, obviously some interested historian must have done the effort to mark the road. Later on it disappeared and we would go by compass and only occasionally find signs of an old road. Most of the time we were walking through fields of heather and noticed that it was burned in patches, obviously some control measure to give the grouse a better chance to find food. This is Grouse hunting area and one is supposed to keep out of it when it is hunting season.
On our way we passed Peggie's cairn and added a stone or two. Something that one is supposed to do. She was killed by some very nasty person a few hundred years ago. This person was the duke or something like this and he was a sexual pervert. He, for instance, demanded that all the woman should be working naked in his fields when he came back from wherever he was. Later on somebody knocked him off because of the way he was behaving.
The weather was nice for a change, the sun was out. It made us stop early (about 16h00) giving our things a chance to dry out a bit.
Day 23 (Sunday, 9-8-98)
The clouds moved in over us during the night and it stayed that way the whole day, fortunately no rain. This was most likely the longest day of hiking we have had on the trip. It was up and down, over hills and through valleys. First up the hill to get to Loch on t-Seilich and then past Gaick Lodge into the valley of Allt Gharbh-Gaick, don't ask me what these names mean, they are completely foreign to me. Memorable is the Blueberry hill, so named by me, it was one of the major ups which we negotiated relatively quickly. I ascribed that to the full load of blueberries that we consumed just before tackling it.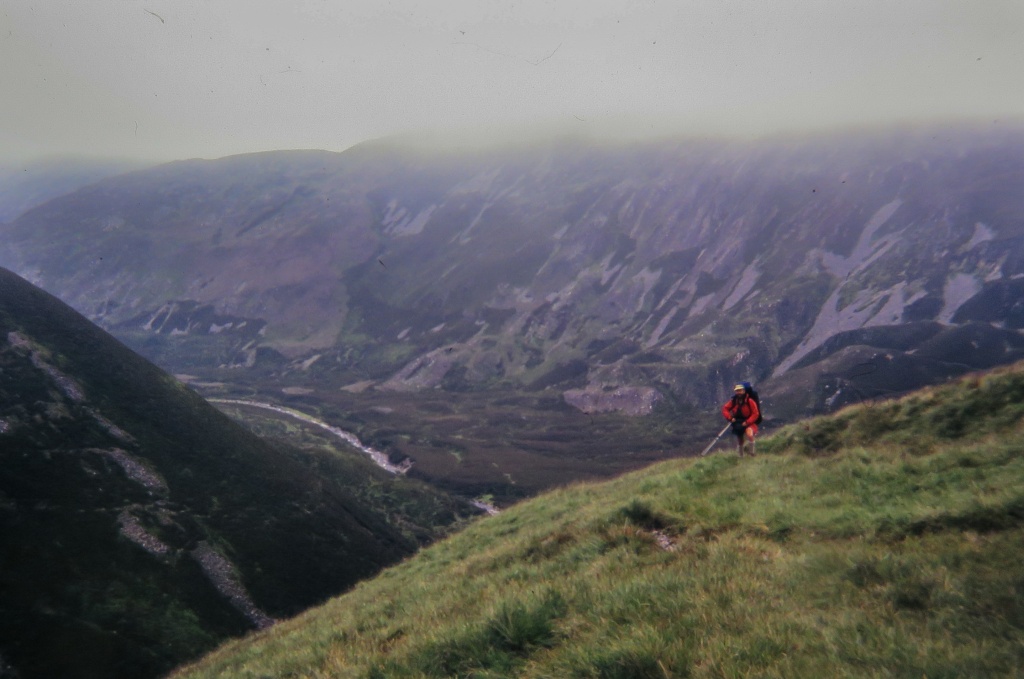 The highest point of the hike was eventually reached, the 816m Srôn a Chleirich. At that stage we were in mist and I must admit Jim's navigation by compass was superb, our line of approach was only about 20m off the beacon marking the peak. And from here it was downhill all the way to some old shielings, these are the ruins of some cottages of tenants on the large estate of the Duke of Blair Atholl. Jim counted about a dozen, so it must have been more like a small village. How long ago the inhabitants left is unknown to us, it was at least a few hundred year ago.
Day 24 (Monday, 10-8-98)
No sunshine today, a bit of rain and overcast. This was the day to get back to civilisation, that is the caravan site in Fascaldy near Pitlochry. Most of the time was spent on farm roads, with only one short cross over to connect between two roads. On the way we had look at another bothy, that one obviously was not so well looked after and there was a fair amount of rubbish around. All this land belongs to the Duke of Atholl, some guy that lives in Tzaneen on a banana plantation. And because he lives there we couldn't really ask for permission to pick his mushrooms, we did it anyway. Again we found some beautiful Boletus edulis, the king of the edible mushrooms, I said this before, didn't I. A coffee stop was at the Rumbling Bridge, so called because of the rumblings of the rocks under the bridge one can hear when the river is in flood. It's an old arch construction build of dry stones and still in use today.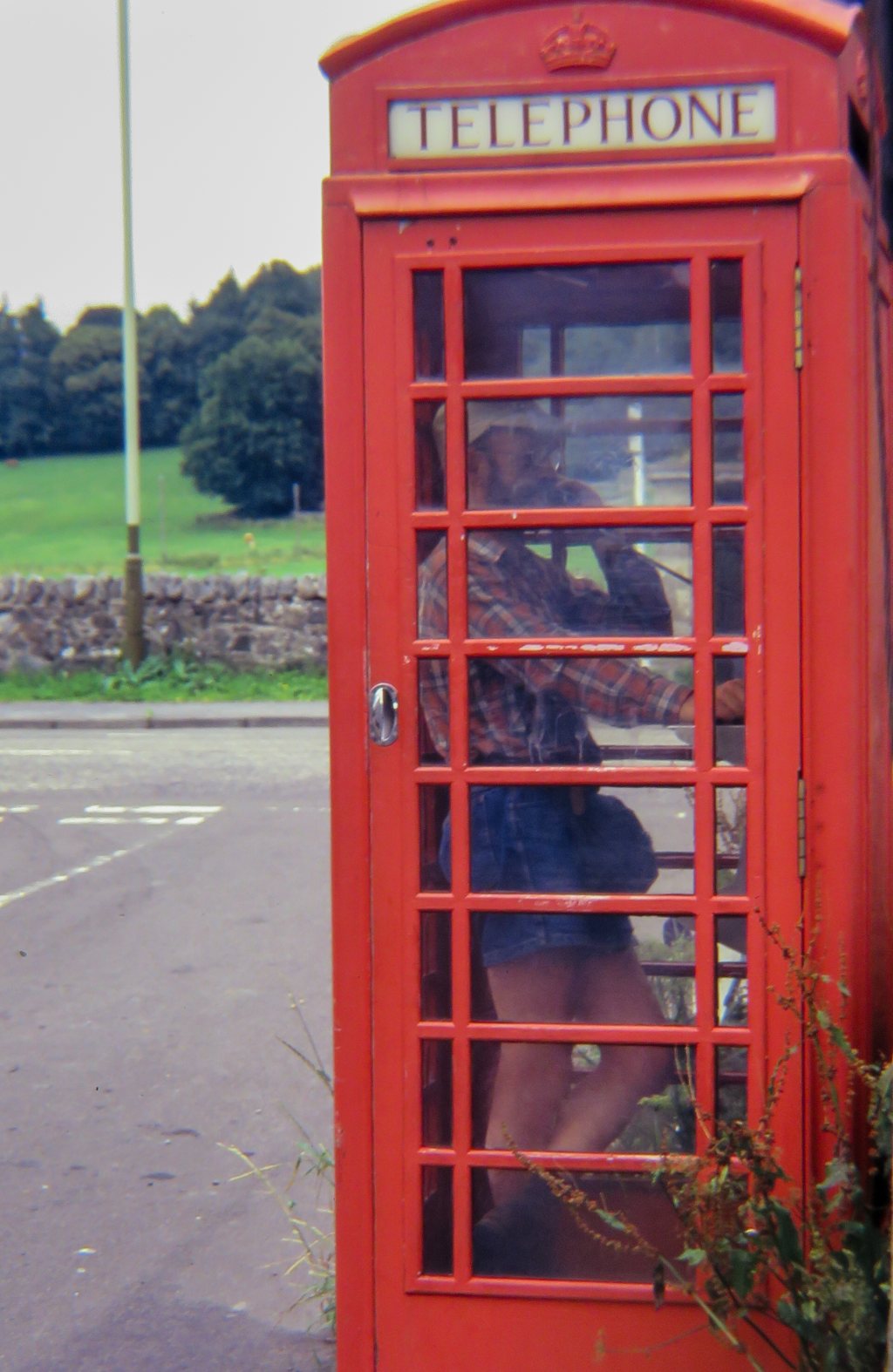 At the duke's castle we paid £5.50 each to have a look at the inside and the collection of all sorts of historical things. The Duke of Blair Atholl actually doesn't own the place, that is the one in Tzaneen. When he was told that he is the new Duke, he told them to stuff it, he is not interested. The situation now is that he is still the Duke but in title only, the property has gone into a trust. An interesting thing is that he is the only Duke who can still raise a private army.
On we marched, we had to complete the hike today. Only 7 km left to get to Jim's sister sitting in the caravan in Fascaldy. There is a hiking route from Blair Atholl to Pitlochry, but we somehow missed the starting point and found ourselves on the road. And this was difficult, because there was no space for pedestrians and the traffic kept on coming. We knew that the trail is on the other side of the river and at the next road bridge we climbed up and went over. At this stage there was a quick panic, I had lost my purse. It meant walking back to the village hoping that I would find it again. Pannic over, it was stuck in my shirt pocket, where it should not have been, its traditional place is in the bum bag. The walk along the river Garry was lovely, at Killiecrankie we crossed over again and walked past the Soldier's Leap. A place where some British soldier leaped over the river in order to escape from some wild Scottish rebels after the battle of Killiecrankie in order to save his skin. It's a huge jump (5.5m) over the river onto some rough rocks on the side, we dind't try it.
The sight of the first caravans was very welcome and we were greeted by Jim's sister Jenifer and her son Ben.
Day 25 (Tuesday, 11-8-98)
The morning was taken up by doing laundry, cleaning and unpacking in general. For breakfast we had the Steinpilze we had collected the previous day, plus some eggs and bacon. Our legs still felt the need for a good walk and it was therefore decide that we should do a local hike and the Clunie walk was selected. This is a 11½ km hike to the south west of Pitlochry through forest and heather. Altogether we most likely did 18 km, counting the return trip from the town to the caravan site.
It was a nice hike with mixed weather, some sunshine some rain, especially on the return we got soaked. The first coffee stop was a bit of a problem, because I wasn't carrying any water and the water in between the heather looked like tea. But Jim assured me that it was perfectly drinkable, and he should know, he comes from there. That is most likely what the old Scots used to drink anyway when they couldn't get hold of whisky. So I used some of that concentrated humic acid and enjoyed my coffee.
Couldn't find too many blueberries, but lots of Raspberries and some Steinpilze. Overall a very nice hike, mainly due to the fact that we din't have to carry any rucksacks. On our return we went to have swim in the indoor pool at the camp site, it cost us £1.50 to spend an hour in the water. For dinner we had a specially ordered rump steak with onions and chips.
Day 26 (Wednesday, 12-8-98)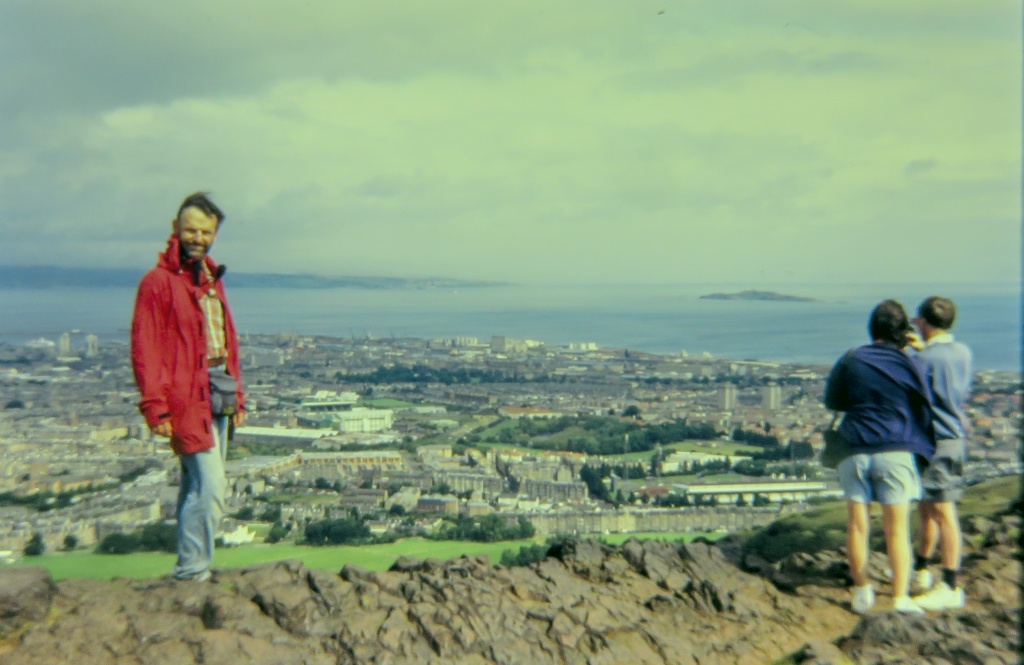 We were going to go to Edinburgh today. After breakfast and packing we were off, down the road through Perth to Edinburgh and final destination, Haddington. Haddington is a small town a few miles out of Edinburgh and it is the place where Jim comes from. At Perth we stopped at the glass works where one can observe the manufacture of various glass articles. They are mainly known for their paper weights. It's a lump of glass with different patterns on the inside, very beautiful. I was tempted to buy one, but then thought 'it's just another piece of junk that will clutters up my desk', and it also cost £10+.
In Haddington we went to Jim's mom and had a walk around town. One of the stops was some church, which I insisted we should have a look inside, it actually had a little shop and a place to sit and drink tea. Initially I didn't know that, it was revealed that this was the church that Jim and his sisters attended every Sunday during many years of his childhood. He was able to point out a few of the interesting facts. One was how some of the church got destroyed in some war in the 18th century. Again they never bothered with the ruined part until in the 1980th when it was decided to rebuild it, Jim's dad opposed it then, he was an elder in the organisation. Why? Because the church as it stood was big enough for the purpose considering the shrinking church going population and one should rather spend the money on a more worthy cause.
It was decided that we should stay with Jennifer in Edinburgh rather then out in the sticks. Jenifer lives in one of those typical semi attached houses, I think I am using the wrong term, semi means half, this one is completely attached on both sides. Her previous husband had done quite a nice job fitting out the loft which made the place spacious by British standards.
Day 27 (Thursday, 13-8-98)
Near Jenifer's place is the "Science Shop". This is a shop that keeps all these scientific and technical toys. I wanted to buy something for Christopher, he got a candle making set and a prism so that he can study the composition of light. It was a very interesting shop, I could have bought most things in the shop.
After that we went to Haddington to have lunch with Jim's mom in a local restaurant called 'Peter Potters'. A nice little place next to the river attached to a arty place (gallery) and run by some charity organisation of which Jim's mom is a member or contributor. I got the impression that this charity thing is fairly wide spread in Britain. Is it possible that these British people are more socialistic then Jim would want me to belief.
After lunch, paid for by Jim's mom, we were out for a walk, we needed it. It took us around town, looking at some other church ruin and the cemetery. On returning back to the house we were forced to eat some more food, I didn't complain.
Day 28 (Friday, 14-8-98)
A day to ourselves, which we used to climb up to the top of Arthur's Chair, it is the highest hill in Edinburgh. The wind was blowing strong on top, one had to brace in order not to get blown off the mountain. From there along the Golden Mile up to the castle. Stopping at a museum (free entrance) of how people used to live. It was obviously politically tainted, it showed how badly people used to live and how all this was changed by government intervention. Another free museum was the Museum of Children Toys. Very interesting the section of model railways, and also the working model of a steam engine driving a little generator, I always wanted one. Has anyone got one of those sitting in the attic, I'll be a buyer. Also had a light lunch for £3.50 and some coffee. Another interesting shop was a huge second hand bookshop. But, they knew their prices, whatever I picked up and found interesting was priced accordingly, so I didn't buy anything. At the castle the entrance fee was £6.50 which I refused to pay, so we didn't look inside it. In the evening it was the Edinburgh Tato, the 49th to be precise. I enjoyed that very much, especially the mass band of pipers.
Day 29 (Saturday, 15-8-98)
Jim was going to his mom where he would also meet his other sister, Lindsey, and I went to see Ruth. On the way to the station I made a detour through the Botanical Garden. More specific I was interested in the hothouses. Due to lack of time I only managed to get through two of them. Some areas in the hothouses I felt at home because of the Southern African plants they kept there. The garden as a whole is very well laid out and copiously labelled, so its very educational.
I took the train from Waverly Station over the big bridge that spans the Firth of Forth to Kicaldy. Ruth initially gave me instructions to use the bus, I refused, I much more like to ride the train and I wasn't disappointed. I think, that was also an education for Ruth, because she hadn't realised that the train was cheaper then her bus, I paid £5. in Kicaldy on the other side.
She had an other friend there as well, Barbara, who had gone to school with her in Salisbury and now lives in Glasgow.
After taking us home to her mom and Aunt Betty she took us to lunch at a small restaurant in Kicaldy. After that a short hike down to some old ruined (another ruin) castle and along the beach for a while. The beach was interesting in that it was full of washed rocks of all types, shapes and sizes. I picked up some sea coal to add to my collection.
After tea and scones we walked to the station through the towns shopping mall and I caught the train back to Waverkey to be picked up by Jennifer and off to Haddington for dinner to honour Jim's mom for her 80th birthday which was coming up soon. The whole family was there both the sisters, Jim and Lindsey's husband, Colin, and son. It was a nice restaurant and good company.
Day 30 (Lastday, 16-8-98)
Breakfast, into the car and off to the airport. We had to catch a plane to Zürich. In Zürich we had a few hours waiting time which we used for a walk through town. This time we made sure we got into 2nd class of the train to the Hauptbahnhof.
Our walk took us down Bahnhofstrasse past Paradeplatz to the lake and over the bridge to Bellvueplatz. Here I showed Jim the café where Lenin used to hang out when he was staying in Zürich. And then into the old town of Niederdorf back to the station. It was a lovely walk.
One small incident was a beggar that ask me for money, his line was 'please give me SFr5, I need the money to buy drink, I am an alcoholic and I need the stuff'. How could I argue with that sort of honesty and I gave him SFr2. Not sure what he could have bought with this, certainly not a drink.
The train that we took back left from a different platform then the one we had come in on. And it was only now that I could see what they had done to the station. I remembered it as a single level station with about 20 platforms, they have now gone 3 dimensional and put in more platform underneath, the whole complex is very impressive, at least to me. After that it was home boys, to the airport onto the plane and back to our families. This was a great holiday, the greatest that I have ever had.
return to home page