Rooikrans (27/29-May-2005)
Rooikrans is one of the new hikes of Discovery trails. Very well laid out and reasonably tough. But not really, the first day is 13 km and with a bit of up and down one feels at the end of the day that this was a good hike. And doing 10km the next day, also with an up and down is a killer, at least that is what happened to me. But it could have been my new (cheap) hiking boots.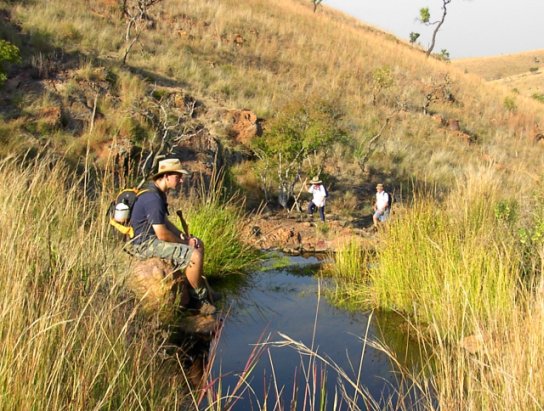 Where is the hike? Up there near the Loskopdam, we went up through Bronkhorstspruit and got there after dark. The park itself is fairly big and we were driving around there for some time before we got to the hiking huts. We were the only customers for the night. Nice, that way we didn't need to share anything. Just as well, the hut is very basic, the kitchen very small, not enough space to swing a cat around. In the morning we first went to reception to settle our bill and to have a look which hike to do. There is a new hike, recently been opened, the Penduka trail. It took us through open grassland with some game, through riverine forest and rocks. Eh, what is happening here? Suddenly I am talking about Ezemvelo, some shift in my memory. Let's rather carry on with Rooikrans.
We also got there after dark, but had no problems getting down to the hut. Here we were not alone, another group of 18 had already taken up position. Not a problem, as usual us hikers can get on with each other.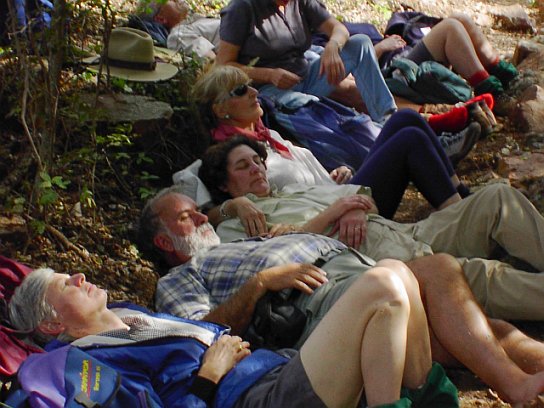 Setting off in the morning we came across this group of bird ringers (not their neck, the feet). Had a long stop to chat and find out about their hobby. And then came the first hill, up we went with gusto, over the top and down again. Following a valley to its source was our next up and over. From here it was mostly downhill back to camp.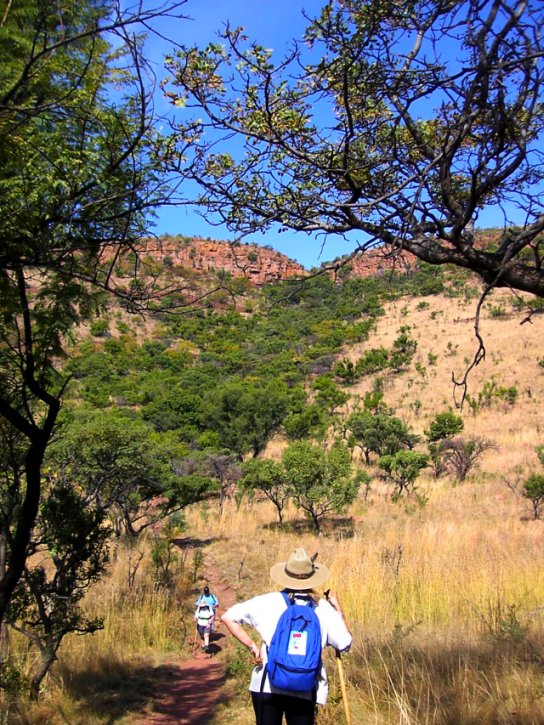 The trail is well laid out and as one can see still brand new, well done to Tiaan Strydom and his team.
In the evening we had a presentation by me about my hometown which didn't go too well because the DVD player went on partial strike. I couldn't hold the slides for long, it would go in a freeze and I had to kick start the whole series again. The pictures had to move on automatically, which gave me 3 seconds to say something to each picture.
In the morning some of us went for another hike in a somewhat different direction. Across the valley and up the mountain and down again. A nice hike, but my cheap hiking boots didn't make life easy for me. Sore footed we (I) returned to the camp to pack and go home.