Pyrenees 6 to 20-Sept-2007
9-Sept-2007
We should call this hike the 'Bon Jour' hike. There were loads of hikers coming down from the mountain as we went up and everyone has to be greeted with a Bon Jour.
We had left Andorra after breakfast and just stopped at the border to pick up some booze. Its less than half price here, thus Gareth took his full allocation of whiskey along. €9 for a liter bottle of the stuff sounded cheap to me as well, we would be paying well over R200 for such a bottle here.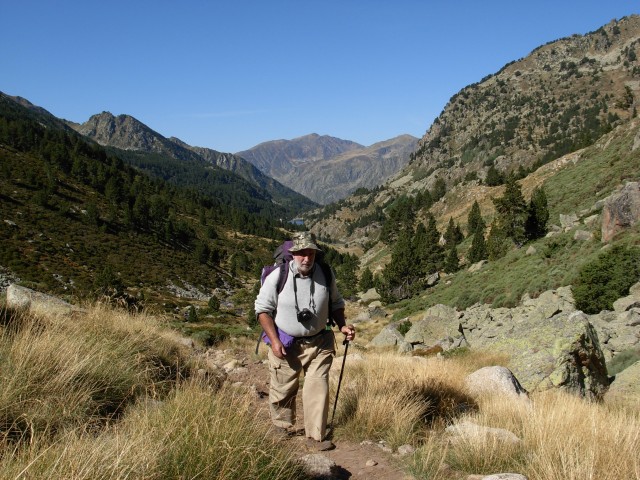 A few kilometers down the road Gareth stopped and told us to get off and start hiking. The place he picked was not the actual GR10 but the GR107 which would take us to the GR10. "Just get through these mountains and you'll get to it" he said. The reason for dropping us off here was that we would not loose so much height. We were at 1500m whilst the starting point in Merence-les-Vals would be at 1100m, thus 400m saved. These things are important.
Both our GPS's were playing up initially, but it looked like the problem was that they had last been used about 8000km away from this place thus they needed some time to find themselves.
This first stage was not that difficult and all we had to do was get up to 1900m to the Etang des Besines, that is a dam. We found a place near the water to put up our tent and had a leisurely late afternoon.
10-Sept-2007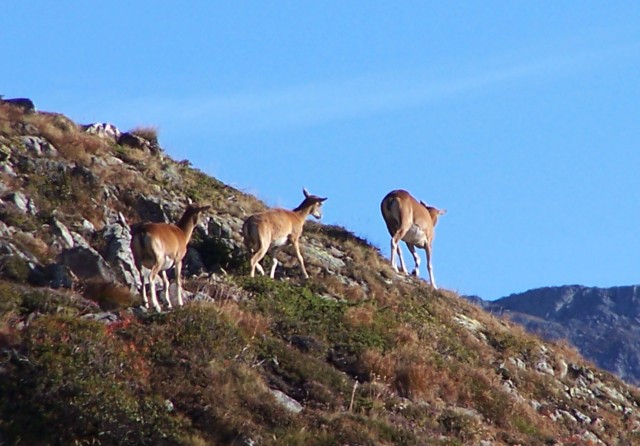 We got started fairly late because nobody bothered to look at their watch. The morning was cold, washing that I had hung out to dry was frozen stiff. And then there was the fly-by of the French Army Helicopters. They came so close over the lake that we could wish them bon jour and invited them for coffee. They didn't want to stop.
A short stop at the Refuge des Besines cost us €4.80 for a coke and a cup of coffee. At this point we were at 2080m and still had to climb to 2483 to get over the col de la Coma d'Anyell. This took us a long time, because I was slow, this going uphill all the time took it out of me.
Eventually it was over and our fleeting steps took us down to Etang de Lanous, another beautiful lake which did invite to put up camp on its shore. Evening entertainment was a herd of Pyrenees mountain goats passing by, see picture.
11-Sept-2007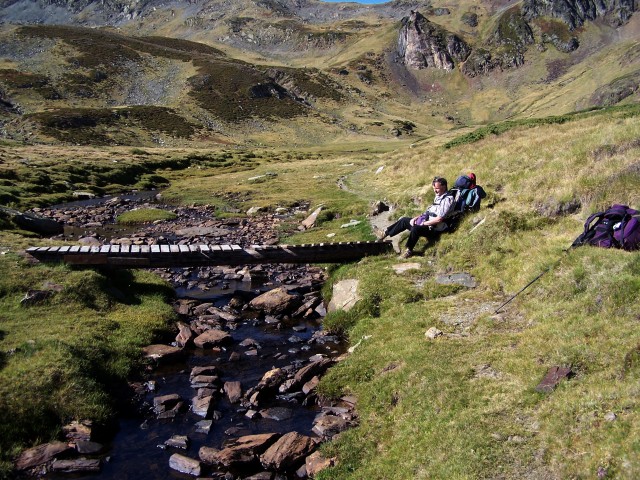 The day had to start with going up to the Portella de la Grava (2426m), another col to go over. A quick photo stop was all we allowed ourselves. We wanted to get down to the little lake for a rucksack-off-break, and this is where we are sitting now. The little lake is called l'Estanyol and is at 2297m.
From here all the way down hill to Lac des Bouillouses, it's not a lake but a dam. Below the dam wall there was some fiddling around because we had lost the GR10. Soon to be found again, that was after studying the map. We should have filled up at the lake because we hit a stretch of dry land with no source of water. Only an hour or so later did we come to Estanyde la Pradella and we could fill up again.
From now on it was looking for a camping spot, which we found way down hill on a lovely flat piece of grass covered ground in the middle of the forest.
12-Sept-2007
Today we hit the villages and my first aim was to get to a telephone to phone home. These attempts were repelled by the fact that the telephone booth only accepted cards which are only available from the post office and the post office was shut for long lunch.
Lunchtime seems to be a big thing here, everything comes to a standstill. Fortunately a friendly shop keeper re-opened his shop when he saw us coming. I bought two cokes and two cheeses which turned out to be not very interesting. In Planes, the last village on this route, we managed to convince the lady in the hostel to let me use her cell phone to phone home. She initially didn't think it was possible to phone South Africa from her cell phone. The short call home cost me €5, which was actually a voluntary contribution to her troubles.
And from here it was up and up, too late did we notice that this side of the mountain was devoid of any liquid water. Our supplies were running low. A fellow hiker informed us that there was water about one hour ahead and still inquired whether we had water purification pills. We didn't, but acknowledged the risk and carried on past a perfect camping spot, but not without water.
Down the hill we found the fountain. Jim had to climb down a few meters to fill up all our bottles while I picked raspberries for our enjoyment.
Finding a campsite on these steep mountains will be a problem, but eventually we found one at a fork camping on the hardly used path entering the GR10. And that was the end of the day.