Pilgrims Rest (28 Feb - 4 March/2007)
This is Jim's story, I just fill in here in there with some more details.
28 Feb 2007 - Coffee with Eleni then off east in the Venture via ColinRS' cattle ranch printing workplace. Roadside snack on Belfast back road, Lydenburg and Robbers Pass to Pilgrims Rest campsite. Drove through town and up-Blyde by TGME gold-works then ate in (empty) camp before reading and early night. Discussed daily news, agreed government is rubbish.
That was the 'new' campsite; it was established sometimes in the 80th as competition to the private Ponykranz campsite higher up on the road from Graskop. Unfortunately things have changed somewhat since the personnel has been 'transformed' (for my overseas friends, this is politically correct speech for kick out all the whites and replace them with blacks). The results can clearly be seen by the lack of proper maintenance.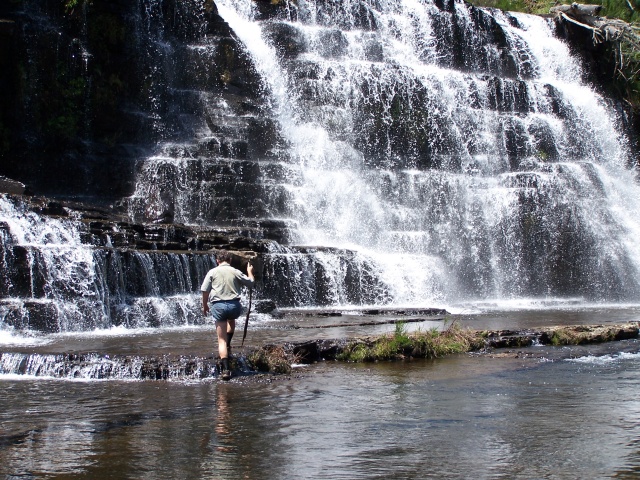 1 March - Coffee and papers in Graskop then to Berlin Falls. Asmal/Kasrils ecovandal make-workers 'for water' (I call them tree fascists) had killed many beautiful hillside conifers so down sloping was slow and scratchy. Swam below falls and in various downstream pools. Upsloped almost twice (mislaid specs, these were my expensive specs which I left laying next to the swimming pool) on (or falling off) steep superlogway. Grand burger salad with Zamarak (Black Label) and coffee in Graskop then read by campfire/headlight. Government still rubbish.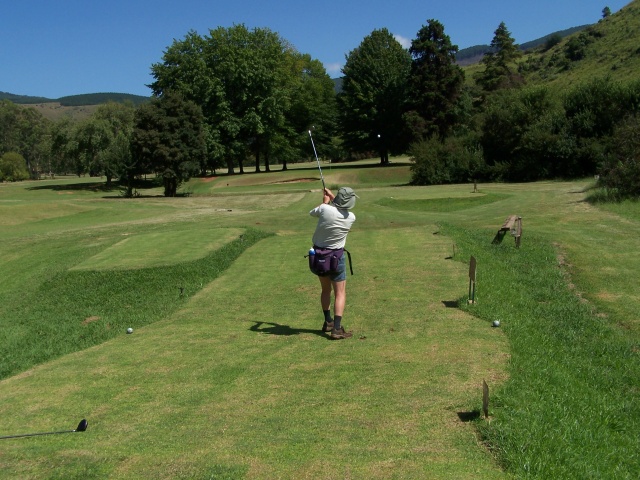 2 March - Nine glorious holes of P'Rest golf. Cheesy camp lunch, then swam and read papers below Lisbon Falls. Ostrich neck potjie and salad at The (bodorp) Vine. British author Peter Hitchens reckons Walkman rock music and various drugs provided easy euphoria leaving this generation with colourless amoral lives lacking motivation to scale mountains and swim streams for exhilaration. Leaving mountains and streams emptier for our enjoyment (as would WW5, global warming or asteroid impact) . This hypothesis contradicts Freakonomics' idea that abortions after Roe vs. Wade reduced unwanted bad-parented kids hence US crime fell. SA's stuffed either way (poor local rock music but potent Lesotho Gold and millions of unparented criminals).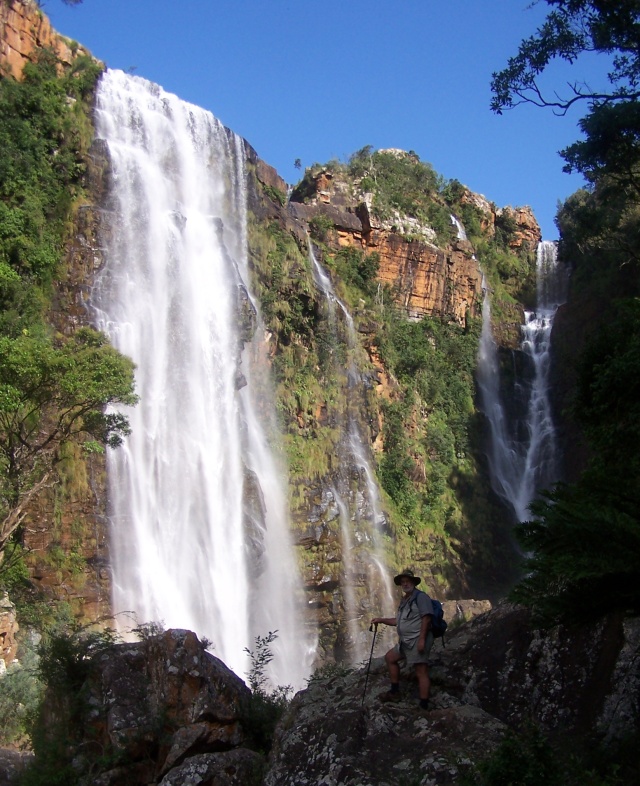 3 March - Walked up old rail track and overgrown concrete sluit (this is something we used to do to get up to the Iota Mine, at one stage they were clearing the tracks in order to have a tourist train running up and down, there is nothing left of that) until barred by too-dense thorns from reaching Sleeping Beauty. Shopped and lunched (trout salad) in Graskop then swam and read papers above Lisbon Falls. Back in camp. ate braaied ostrich steaks and tomatoes with Smash wallpaper paste and Zamaraks. Observed lunar eclipse and deduced that Earth diameter four times Moon's - may publish (cheaply at Colin's).
4 March - Drove through P'Rest township then up over forest tracks via Graskop Forest office to Bonnet. Left Venture door open for part-trip to Forest Falls. Saw Maria (d.1875) Shirer falls and (permit needed) Klipkraal dam, in outlet pool of which swam Scot-free. Admired mainland-Chinese ex-one-container hypershop in Sabie, drove over Long Tom Pass. Enjoyed spinach and feta pancake, Zamarak and good coffee in Dullstroom's Casa Portuguesa. Didn't enjoy Radebe's increased R31 (Middleburg) and R10 (Grasmere) road tolls. Enjoyed nuther whole great outoppie experience. Jim