Northern Cape-places we have touched
Not actually a hike, we, that is Judith, Frans and I, did a tour of the Northern Cape whilst on our way to and from the Richtersveld to do the Venstervalle hike. With this compulsion of writing it all down I had to put this somewhere, and this is here. I go through the days as quick as possible, just to have a record.
day 1 (16 Aug 16)
Today was just drive, drive drive, all the way to Kakamas. We had lunch in Kuruman at the Eye. I used to like Kuruman and the stop at the Eye, not anymore. We knew we have to pay if we go to the Eye, we just wanted to have our lunch in the parking area. No this is not allowed, we have to pay R15 per person to do that. So we left and went over to the other side of the Eye, some municipal area, and lunched there undisturbed by officialdom. The only disturbance was a sudden gust of wind that blew sand and debris into my coffee, that cut our lunch break short. Just as well because we found the town unfriendly and very dirty, possibly the dirtiest town en route.
After 800 and something kilometers we arrived at our destination for the night, Kakamas, we stayed in the Meerkat compount.
Day 2 (17 Aug)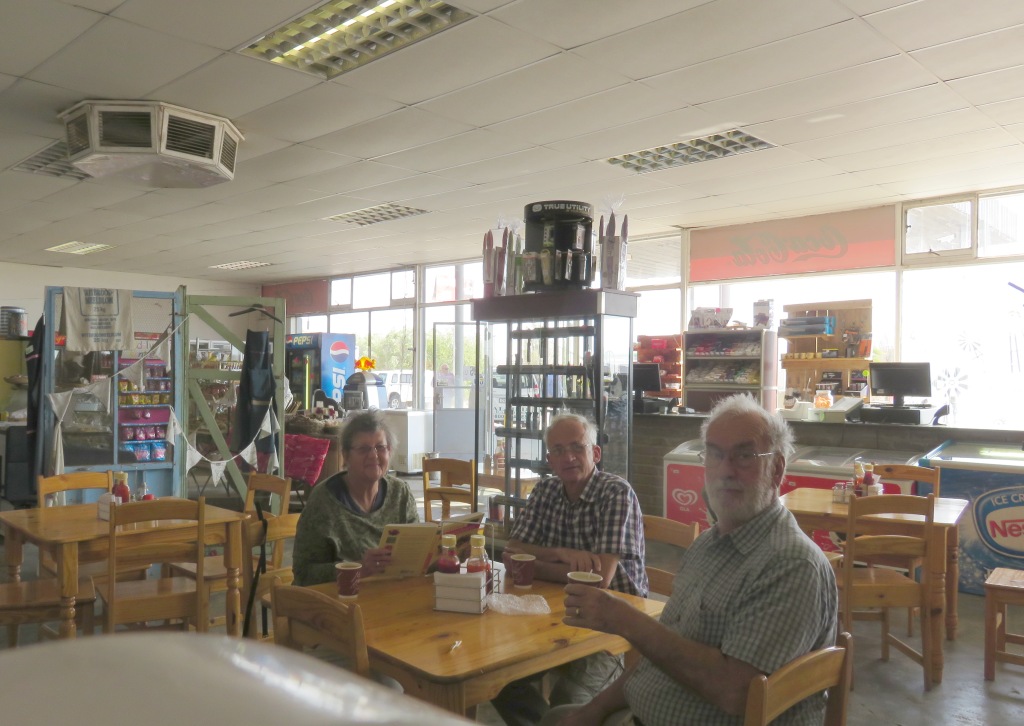 It is 142km to Pofadder through basically empty landscape with few people living there and than an even more empty country of 168km all the way to Springbok. OK, there are a couple of places like Pella and Aggeneys, but they are off to the side and one doesn't pass through them. The coffee from a machine at the garage in Pofadder was not the best I have had, but it was cheap.
We were hoping to see some flowers in Springbok, that is why we stayed the night in the Goegap Nature Reserve. But there were no flowers. The security guard at the gate when asked by Judith about where the flowers are said in his Namaqua accent:'ja mevrou, kyk na hier die blomme', pointing at some flowers at the gate, 'ek het hulle hier geplant, dit is die enigste blomme wat je sal seen hier'. Translation:'look at these flowers, I have planted them, these are the only flowers you will see here'. I like people with a sense of humour.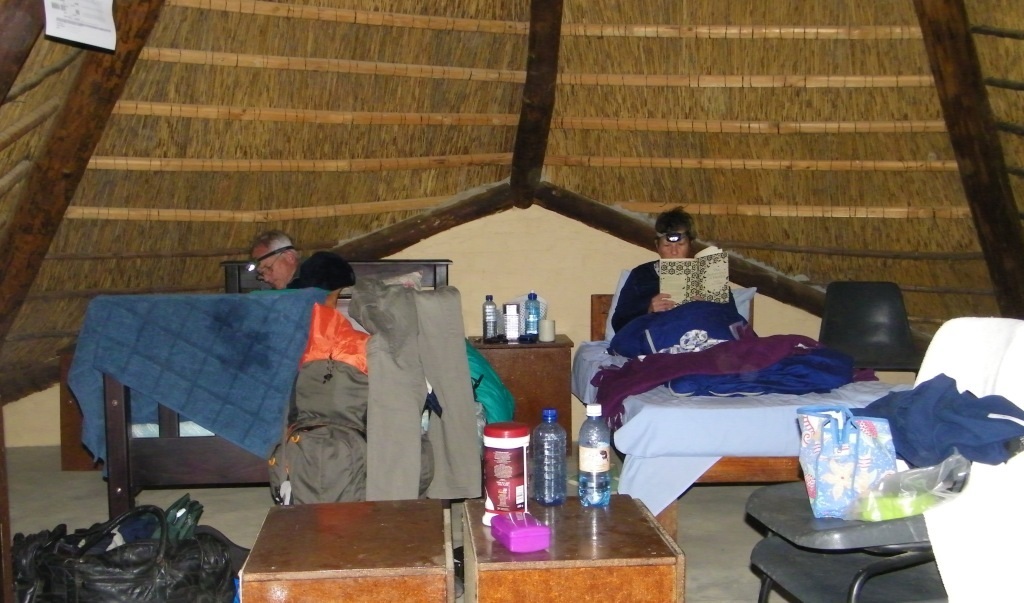 And so it was no flower, but good accommodation, although very basic. We had a room with four beds, a few chairs, a sink, no table and a braai unit outside. Ablutions were in a separate building a few meters away.
Day 3 (18 Aug)
No flowers, just as well Frans had decided early in the planning stage that we would only stay there for one night. We took the scenic route down to Kleinzee and cut across to Port Nolloth when the GPS told us so. Unfortunately that landed us in the middle of a diamond mine. The road did carry on from there but it had been churned up a bit and the miners advice was to rather go up to Kleinzee and then to take a right turn to get to Port Nolloth. Lunch was consumed sitting next to that road.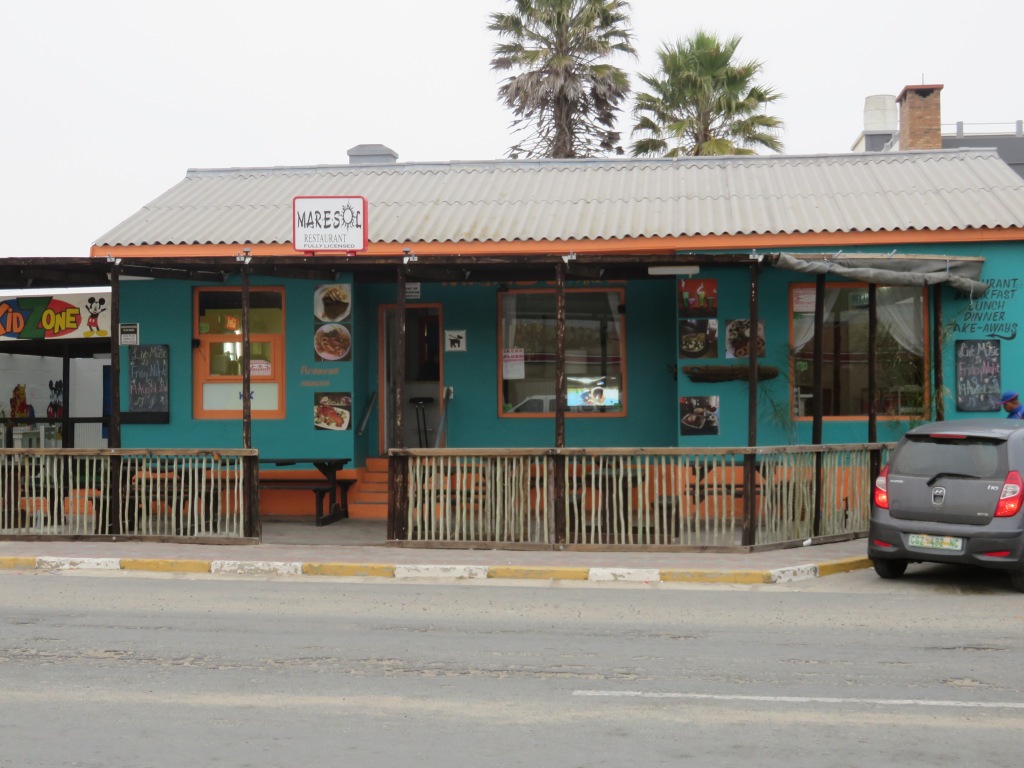 We booked into some chalet, it was not great but good enough and cheap. This being at the sea, we had to go for a beach walk to get this out of the system. There is also a little museum, but that unfortunately was closed. We went to eat out. The restaurant Mar e sol, on the road into town, was recommended to us. It was not a disappointment, I had fish and chips (its compulsory to eat this at the sea side) and it was good and value for money.
Day 4 (19 Aug)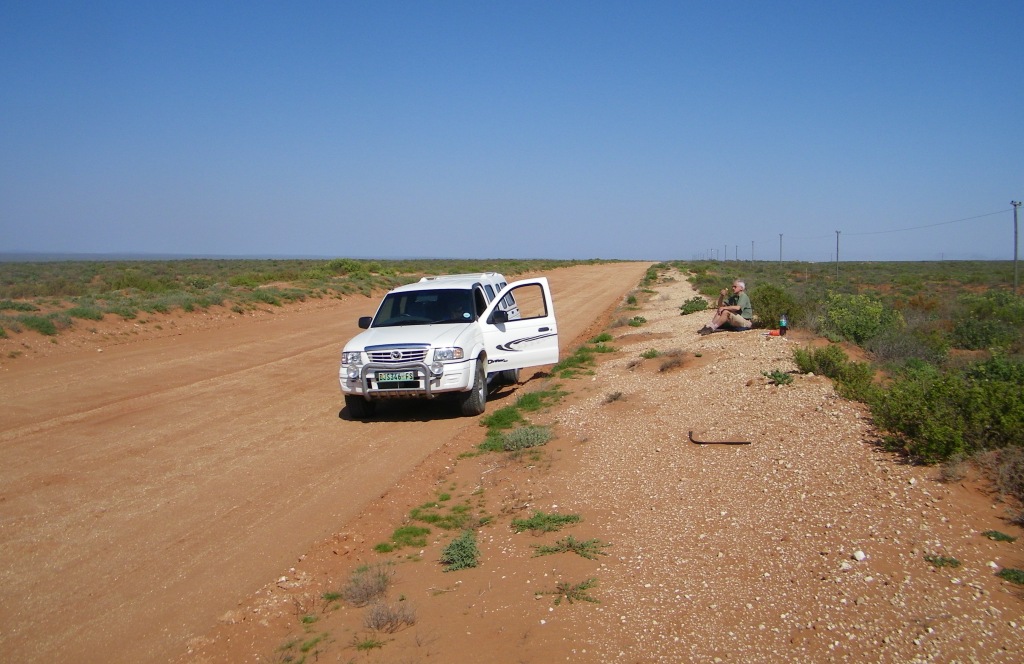 The road we took to get to Sendelingsdrif in the Richtersveld was not the shortest, but the easiest. Tar all the way to Alexander Bay and then good dirt road to Sendelingsdrif. This was basically following the Orange River from its mouth at Alexander Bay going upstream to meet it again at Sendelingsdrif. Here we were going to meet the rest of the hiking group and to organise the entrance fees. All that was done and off we went into the park down to Hakkiesdoring, the hikers camp. It took us about 3½ hours to get there, an indication that the road is rough.
We got ourselves organised at the camp. It is well equipped with ablution facilities, kitchen and beds. The water from the bore hole is brackish and to be used for washing only. There is a separate tank of potable water, to be used for drinking water only.
We are now getting into the hike, which is reported on separately and there will be a gap here until we get out.
Day 9 (24 Aug)
Today was the day to depart from the park. But first Pieter wants to take us to Paradise Valley. This is a place on the way out over Helskloof Pass. It is a lovely gorge with steep sides and we actually found water at the lowest point we went to. But the real claim to fame is that this is the only known place where this specific plant is growing, Amaryllis Paradiscola. Unfortunately we came at the wrong time, it was just leaves and no flowers.
This took us so long that we were running out of time to make it to our over night camp at Vioolsdrift. And we had to rush down the road, the original plan of going through Eksteenfontein had to be abandoned, because that would have meant taking the road from Eksteenfontein to the Orange river in the dark, and this is not the best of roads. So on we went the long way down through Lekkersing, Steinkopf to Vioolsdrift and got to Growcery Camp at about 21h00. This is a place going about 20km west from Vioolsdrift on the Orange River. It offers accommodation, camping and huts.
Day 10 (25 Aug)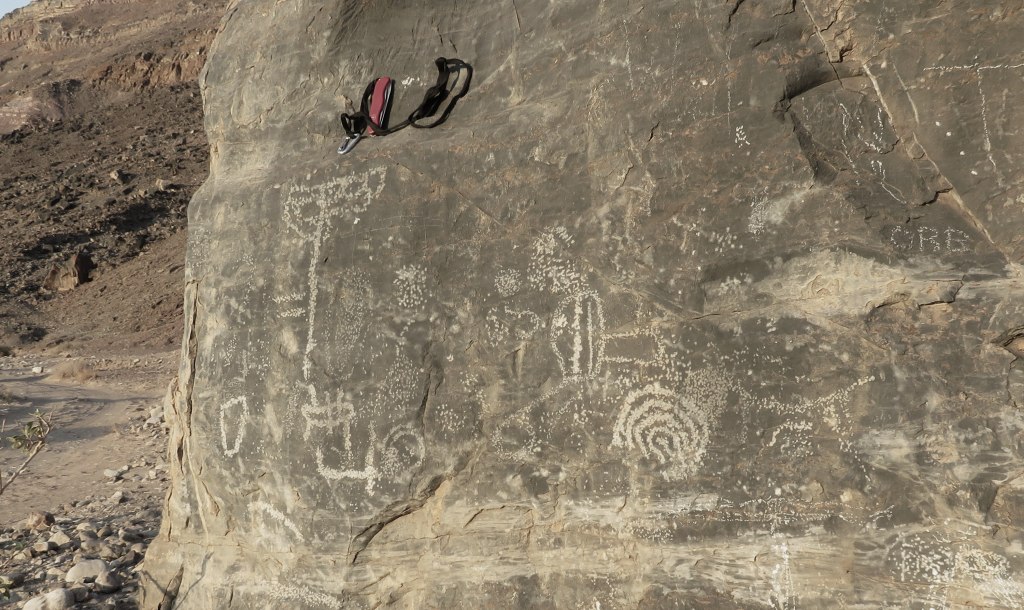 Strange situation at Growcery Camp, my cell phone suddenly started roaming and told me that to phone home is an international call. What was going on here? At the river there is no SA cell phone signal but well a strong one from Namibia.
We had a rest day, spent lazying about, doing a bit of swimming in the Orange River and doing some paddling in a boat. Later in the afternoon we were off to see some Petroglyphs, these were on the road along the river going west on the way to Eksteenfontein. Unfortunately thoughtless people have scribbled over some of the ancient markings and sometimes it is difficult to make out what is original and what is modern graffiti.

Day 12 (26 Aug)
Had some fun at Vioolsdrift when I went onto the bridge, which is the international border to Namibia, without asking the immigration officer. The cops had given me permission without any formalities. 'Nobody goes onto that bridge without my permission' were her words. I took a few pictures.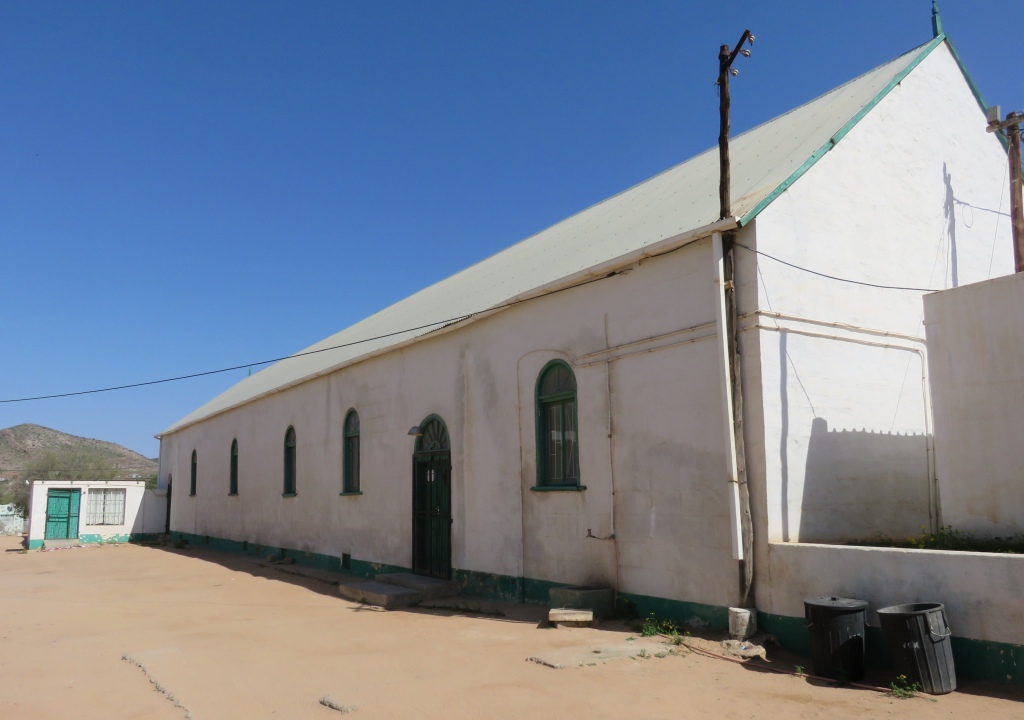 Next stop was Steinkopf, here we had a look at the NG church, it used to be the sendings kerk. And went to the bottle store to buy some wine, attracted by the price I also took a bottle. Frans liked it, my taste buds totally rejected it. Well, it was cheap.
Further down the road we had a stop over at Pella, it is a catholic mission station going back to the late 19th century. We were lucky, a tour group had just managed to get the church opened and we could have a look inside. The museum was also made available. I decided to include this in my rural exploration website, thus I don't need to provide any more information here, just go to www.ruralexploration.co.za .
The night we spent in Pofadder, nice little place. Took a stroll and some pictures in town.
Day 13 (27 Aug)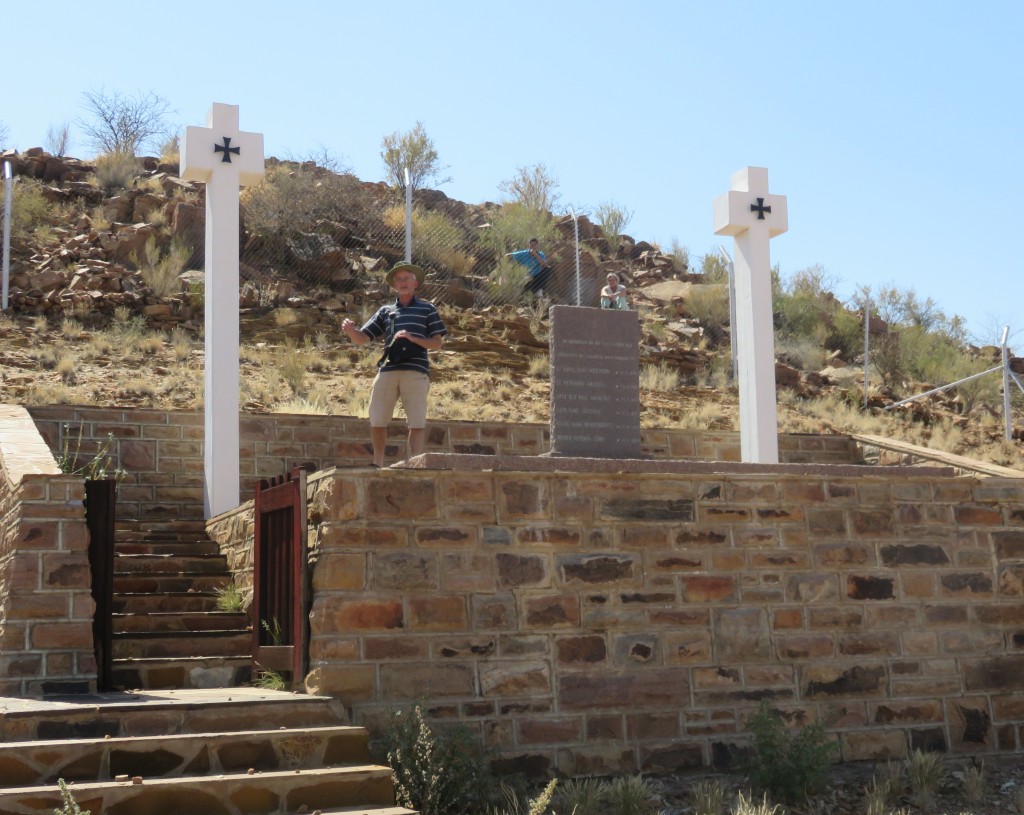 Went over to the Niemöller shop to talk to Luise Niemöller who is the local history expert. I got plenty of material and will put Pofadder on my web page. Next stop was a coffee shop in Kakamas where we obtained directions on how to get to the German war graves, yes correct German war graves. This intrigued me a lot and I did get the full story to be included in the Kakamas website of ruralexploration when I get around to it.
The night we stayed in Upington, at the Fish Eagle B&B, it was nice.
Day 11 (26 Aug)
And home we go, nothing special to report, just drive, drive, drive. That is except for the soft serve ice cream from the Kathu KFC.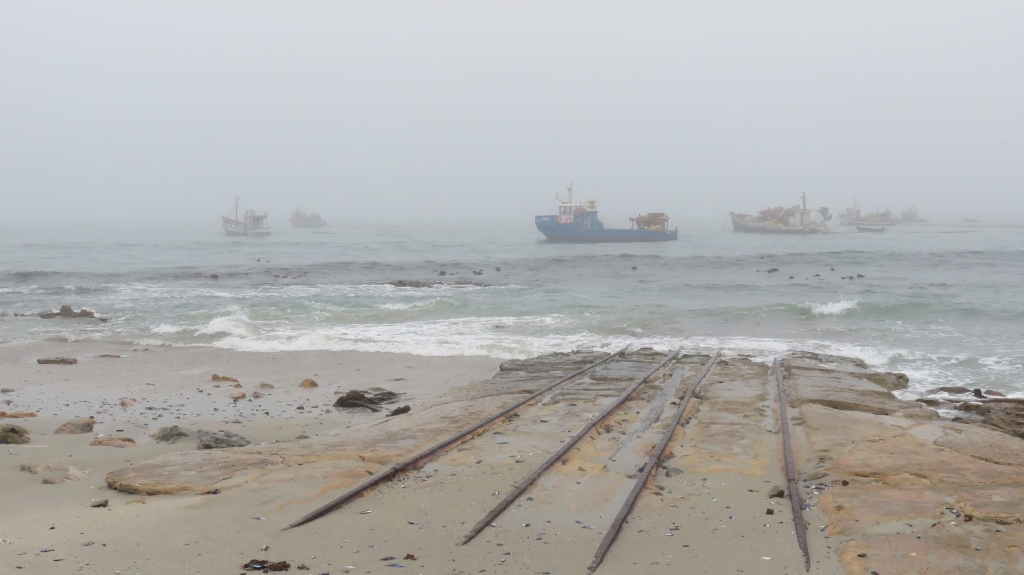 And here a last picture, of which I am fairly pleased with. I couldn't fit it in under Port Nolloth, so here it is, Diamond boats in the misty harbour, these are the boats that go out sucking up the sea floor for diamonds.