Malolotja Nature Reserve (27-April to 1-May-07)
For those not in the know Malolotja is in Swaziland. Just through the border at Oshoek and turn left. It's a wonderful place, very similar to the lower berg of the Drakensberge.
First we have to get there. Taking the route Nigel, Leandra, Bethal, Ermelo and Chrissimeer. Here we stopped for lunch at a local lodge. Hamburgers and sandwiches were ordered from the next-door café, it took more than an hour to get our meal, no idea what the hold up was. The interim was whiled away by looking at the paintings in the lodge and the adjacent farmyard with the usual animals. All is well that ends well and we finally got our meal and after that had to face the border.
This being a long weekend there was chaos. No information on how to tackle the crossing. Standing in the passport queue I noticed people holding little white pieces of paper, enquiring what these are all about we were told 'you have to go over there first and collect this piece of paper, without it they are not going to look at your passport'. Right! One delegation off to that other window, with the remainder holding our position in the passport queue. And finally back into the car over to the other side, this went very slow, because they only allowed us through once parking had become available at the other side. The Swazis were better organised, the passport officer also gave us the white slip of paper and after paying road tax (R50) we were released into the Kingdom of Swaziland.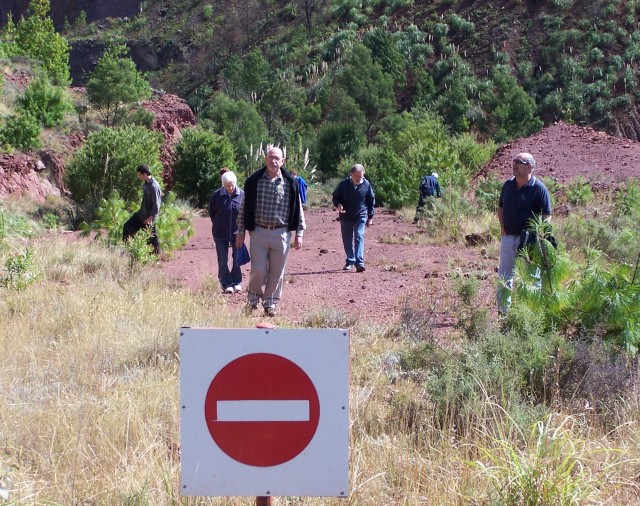 Just through the border, they have a nice new Autobahn, and turn left a few km down and 20km up to the Malolotja gate. A pleasant surprise waited for us. The reserve had a block booking for the whole camp site which meant there was no room for us, instead we were offered two huts with enough room for all of us. And for the same price as camping. Thus the tents remained packed away. It turned out to be cold, windy and rainy over night and sleeping inside the solid structures was that much better.
Let us just do a quick roll call of who was there: me, Eleni, Christopher, Eric, Tiens, Tania, Alan, Michael (not Kelly, she was dancing somewhere), Judith, Oscar, Judy and Frans.
In the morning it was still cold, windy and rainy, nobody felt like going on a hike so we went to places by car. First down to the iron ore mine. It's a mine that was operated from 1964 to 1977, I don't know where the ore was taken to. Also in the mining area is the oldest hematite mine dating back 43000 years. Haematite is the iron mineral most likely mined for the red colour.
Next stop was the glass factory en route back from the mine. I didn't buy anything, mainly because I didn't like their prices, a simple coffee mug (with a fancy handle) was R150. A few years ago I bought a coffee mug here for R20. Some of us stayed for lunch whilst others thought that they must go deeper into Swaziland to have a bite, some cultural place they were aiming at.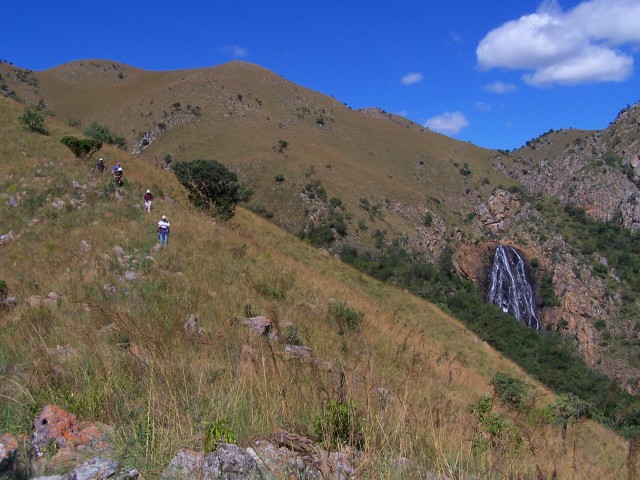 The real hike took place the next day, all off to the Logwaja starting point and down the mountain, and down, …and down, until we had a mutiny. Some people thinking about the way back up didn't feel like descending any lower. So it was Tania, Alan, me and Frans who pushed on down the mountain to get to the stream.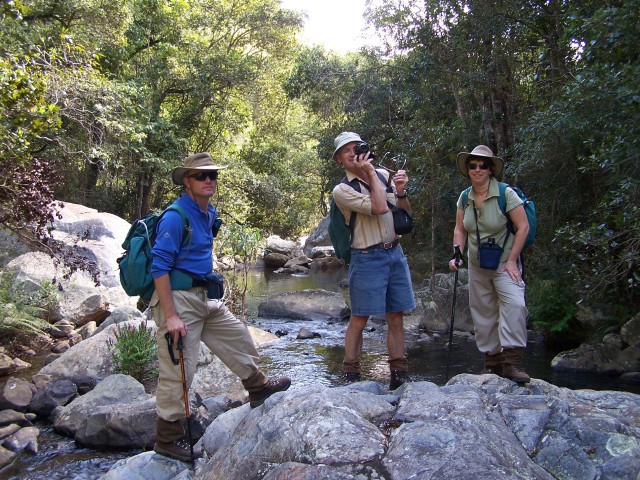 We were hoping that we could walk back up the stream to the Malolotja waterfall, vegetation and rocks prevented us from doing so, and thus we carried on along the river going down stream. What a nice place, water, rocks, trees and easy walking. Note was taken of the camping spots, to be utilised one day by a well prepared team of tough hikers.
The uphill slog was never ending, 650 meters of altitude had to be tackled. At the end it went fairly quick, possibly due to Alan's announcement that in his military carrier he had never left a man behind, which could have been me.
After such a heavy hike we thought we should take it easy. The Forbes Reef mine was selected as a target. By car we went to the Education Center where we were well received and information provided about the forthcoming hike. First stop was the dam, we thought of doing some bird watching. Oscar had an accident here when he fell onto some rocks and got a cut on his face and hand. Fortunately, so he says, he didn't have his camera, because that one would certainly have been smashed. So you see there is always a bright side to an event.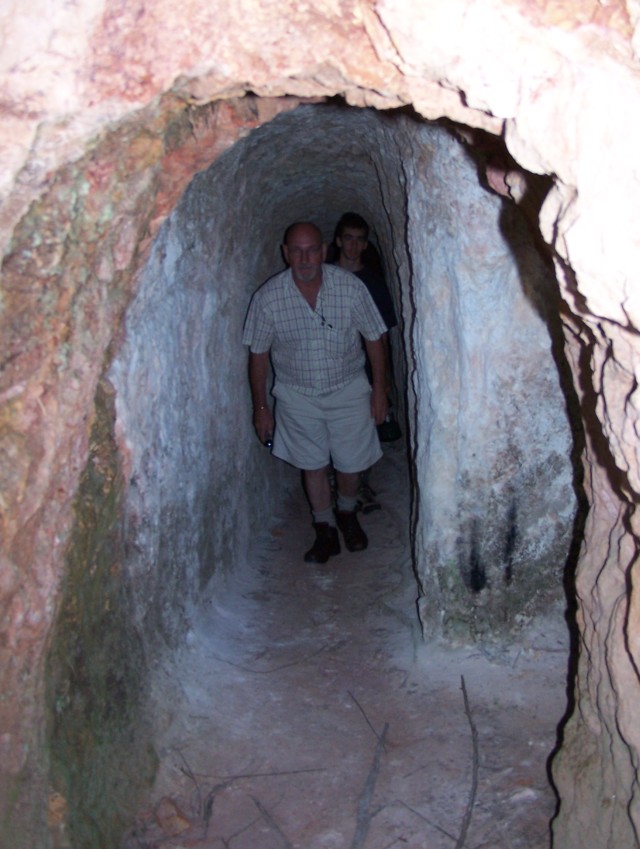 The mine is a big hole, but there are some adidts which were promptly penetrated by all. They are in very soft rock and just end after some meters, makes me wonder what they were all about. At one place there is a breakthrough to the surface, which after some searching was found in between the trees.
And this is the story, we still visited the big rock on the way back, didn't manage to get to the top. And then packed our things and left everyone going their own way, Eric and Tiens wanted to get down to Golela, Frans and Judith to the Kruger Park and Oscar and Judy to Pretoria via Pigs Peak. The border was not much of a restriction on the way back, nice lunch at Maxi's in Bethal and home.