Magoebaskloof (29 July - 1 Aug 2019)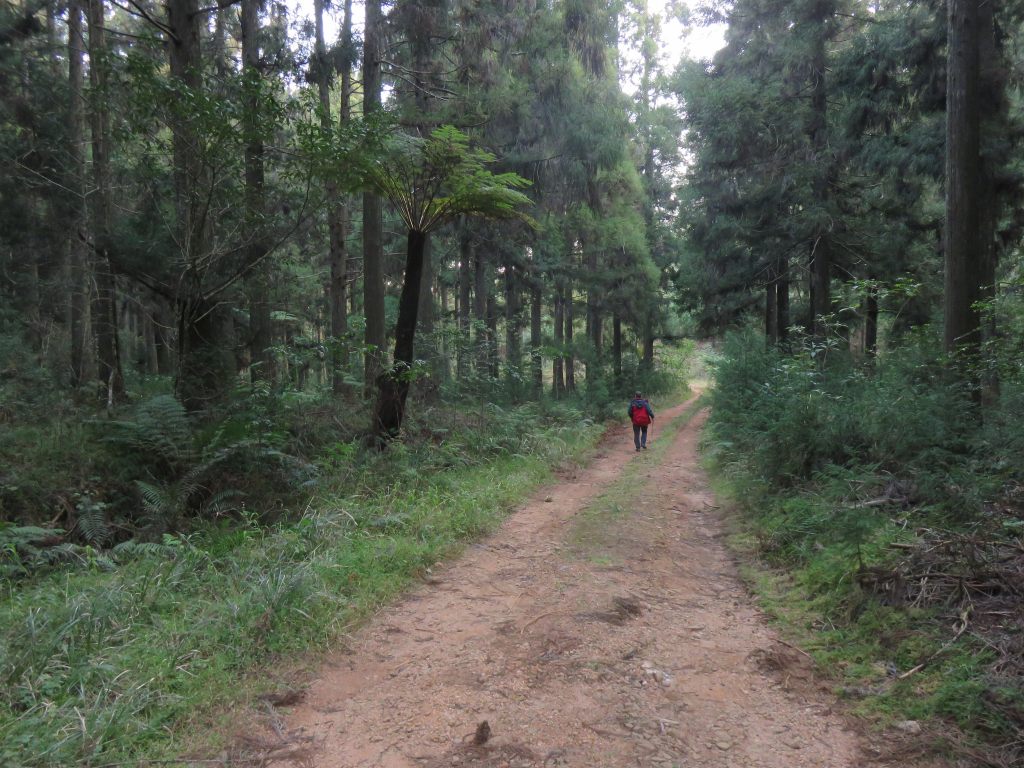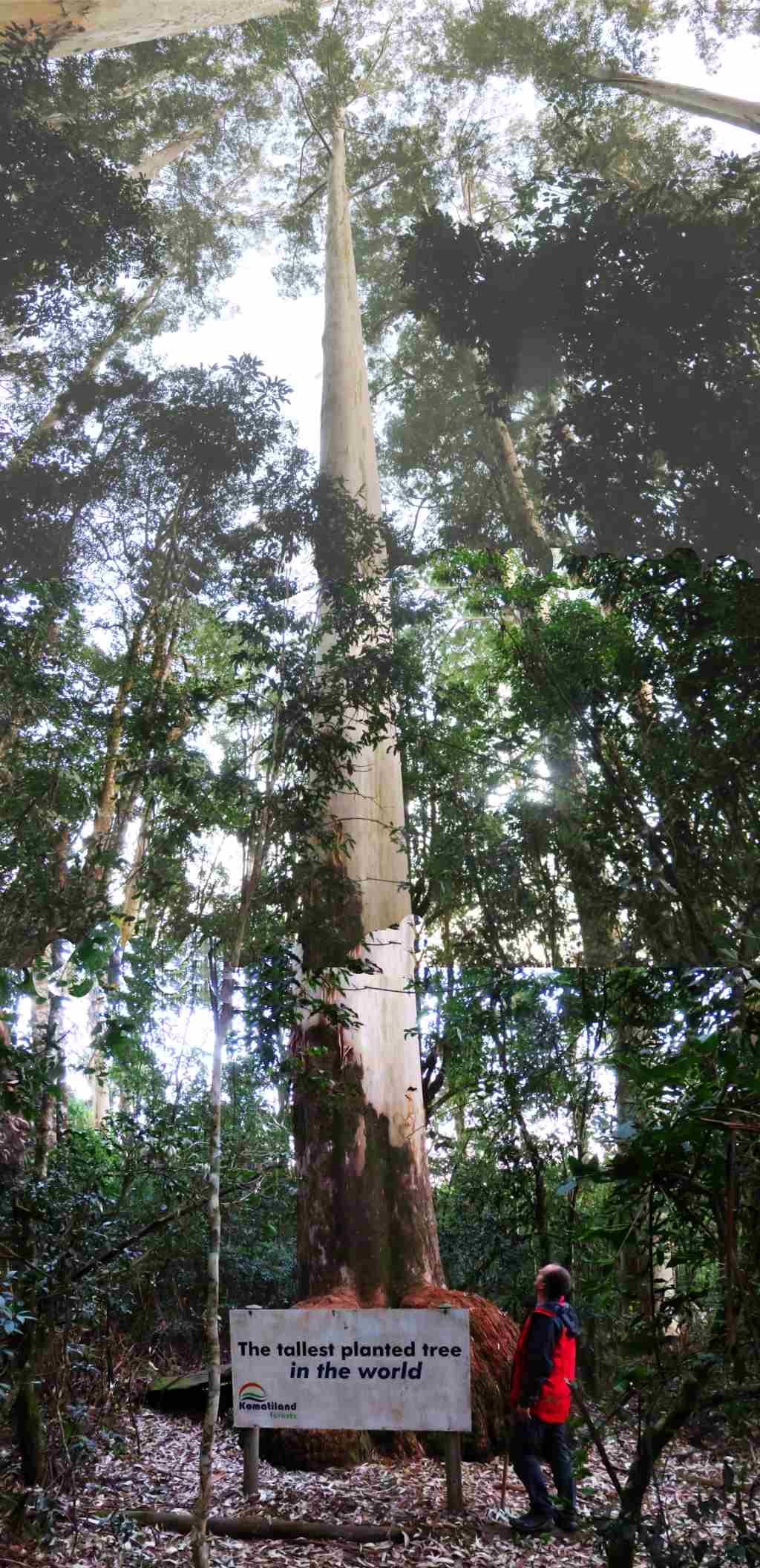 This is what I like most about the Magoeskloof hiking trail, the walk through the forests surrounded by pine trees, tree ferns and green grass.
Jörg, my middle son, wanted to take me on a backpack hike, that was very much appreciated. He did point out that one of the legs would be 18km and I said 'well, we just have to do it'. with us was also Frans.
Day 0
After an event-less drive up the N1 through Pietersburg to Magoebaskloof we arrived fairly early, about 16h30, at the Woodbush hut.
The map showed a shortcut to the next hut, but then we would miss out on the 'big tree'. So we decided to take a quick walk to the tree the same afternoon. And there it is on the right. I stitched this picture together from three. The tree is said to be the largest planted tree in the world with a height of 79 meters. A specimen of Eucalyptus saligna, planted in 1906.
Day 1
We had a bit of a puzzle, because we could not figure out where this shortcut is and finished up going past the big tree again. No harm, it's lovely to walk between the trees.
Our walk today took us to the Waterfall hut, a nominally 15 kilometer hike. At the end of the day Jörg had measured 13.5km. The overall height difference was 1500m at the Woodbush hut, going up to just over 1700m and lots of smaller up and down, and finally to the Waterfall hut at 1550m. My knee was playing up and with it my other leg muscles.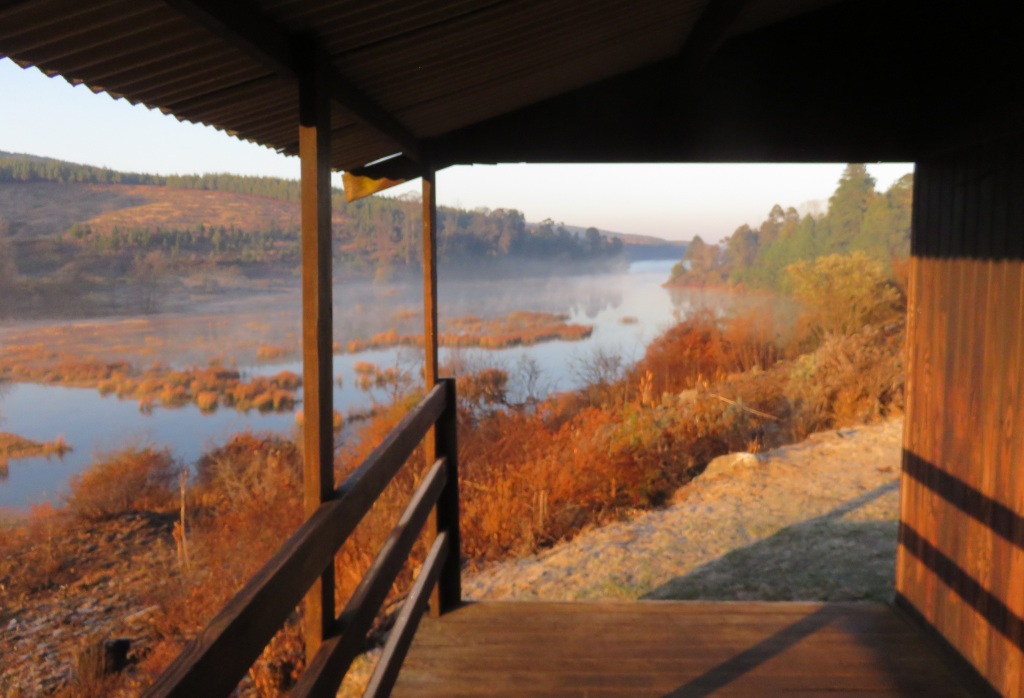 We had a consultative conference in the evening, because it was clear that the next stretch of 18km would be hell for me. At his suggestion we decided to take the road back to Woodbush, pick up the car there and take it to Dokolewa hut, actually de Hoek from where it is a km to Dokolewa.
Waterfall hut is, of course, next to a waterfall. It is a wooden hut, fairly comfortable.
Day 2
It got cold over night, the grass was covered in frost, very beautiful. So off we went, following the road. That easy, it only had one long and gentle up and a long down. We were back at Woodbush by lunch time and had lunch. Picked up the car and went over to de Hoek and from there by foot down to our overnight hut.
Dokolewa is a wooden hut, same style as the previous one, beautifully situated at a pool with water racing into it over smooth sandstone.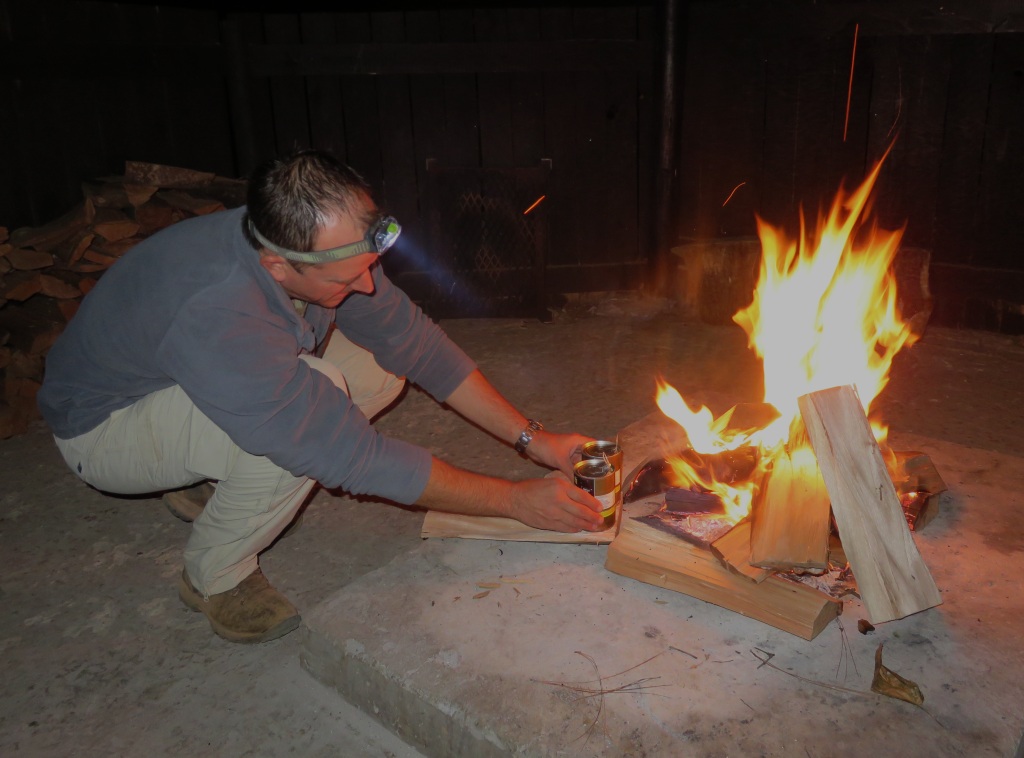 Dinner tonight was provided by Jörg, it consisted of chicken curry and vegetables with the tins delicately heated on the open fire. Day 3
There was a call for a volunteer to go by car whilst the others would do the hike. There was no contest, the volunteer was me.I took the car on a bit of a detour so that I could inspect the little town of Haenertsburg. A nice little town, totally orientated towards tourists. I got to the woodbush hut by about lunchtime and didn't have to wait long for the intrepid hikers to arrive. They must have done the 9km and 600m up in record time.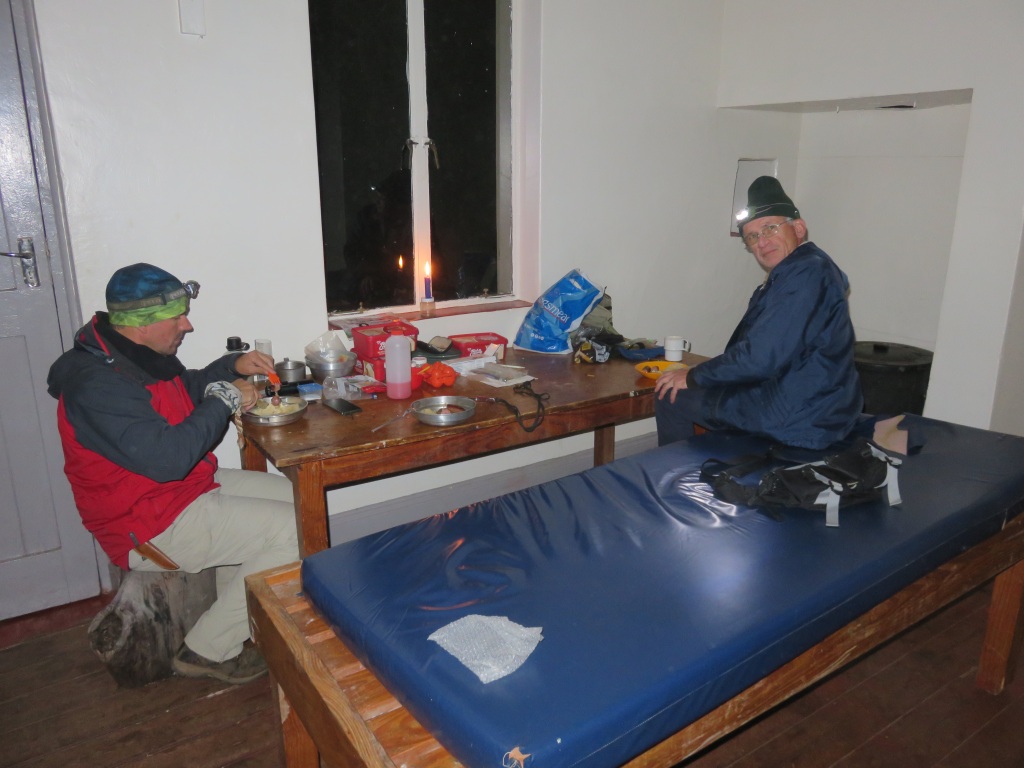 We slept in the hut for the night. Dinner was bacon sausages, Sauerkraut and smash.
Day 4
Nothing to report, just going home.
And a final note. Whilst on the hike and suffering knee problems and muscle pain I had decided that it is time to hang up my rucksack. I think at the age of 77 I am entitled to that.