Lesoba (25-May to 27-May-07)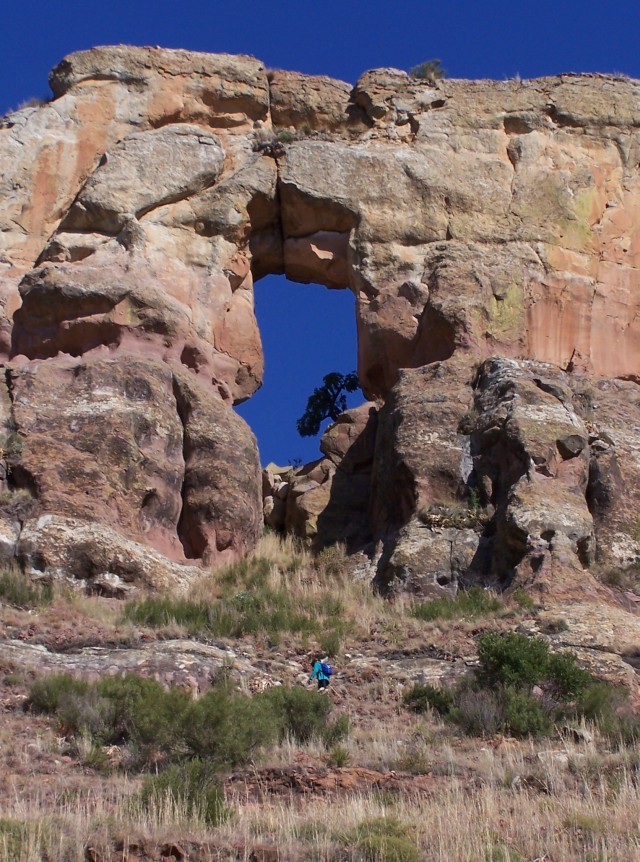 Thanks to Judy for organising this gorgeous hike and managing yet another upgrade, as our accommodation was excellent - cosy, all mod cons and with a view of mountain and lake. A communal dinner arranged by Janine and potjie slaved over by Oscar was a highlight somewhat dimmed by Judith's dramatic fall and rescue off the mountain.
A day of wonderful hiking, climbing and scrambling over a mighty sandstone massif came to a screeching halt in the middle afternoon, when Judith mis-stepped on dodgy terrain, and fell. Loud screams alerted us to the fact that something drastic had happened, and Lydia on the spot had to bend Judiths foot in the right direction (more screams but job well done) and we soon realised that this was probably more than just a sprain or a tendon injury....
The upshot was that after 4 of us set off to get help ( a 1 1/2 hour hike) - rapidly overtaken by Frans storming across the mountainside - Judy, Eleni, Lydia and Horst remained behind with Judith....They broke the hiking stick to make a splint, strapped the ankle with the bandages that Judy and Janine fortuitiously had with them (Alan - where where you when we needed you???) and then (using gaiters as hand pads, and a jacket as a sling to carry the ankle) Judith manouvred her way straight down the steep mountainside on her bottom....a very brave exercise on her part and sterling work on the part of the rest of the team. Horst went ahead to clear the path as best he could, and the girls took turns to carry the injured leg out front and supported Judith as she inched down the mountain. (See Horst's picture!)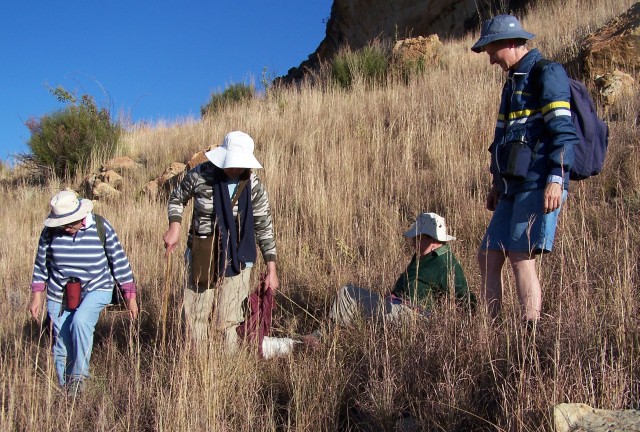 MEANWHILE 'back at the ranch' - Frans got back to the farmhouse, and for a while confusion reigned. The farmer and Frans couldn't get to the rescue spot because of a large donga....they had to come back and phone another farmer to open the gate. Oscar somehow got the wrong end of the stick and for quite a long time was under the impression that it was Judy and had a very big fright. There was quite a lot of dashing to and fro of vehicles in the veld, but finally, just as the sun was going down and it started to get really cold, the two parties met at the bottom of the mountain, exhausted and stressed out. It had taken about three or more hours for the descent and rescue and all in all we concluded that everyone's best that they had done was very good but that we all need to take some extra first aid and rescue lessons from Allen and carry some stuff on the hikes, so that will be our next mission on one of our upcoming hikes.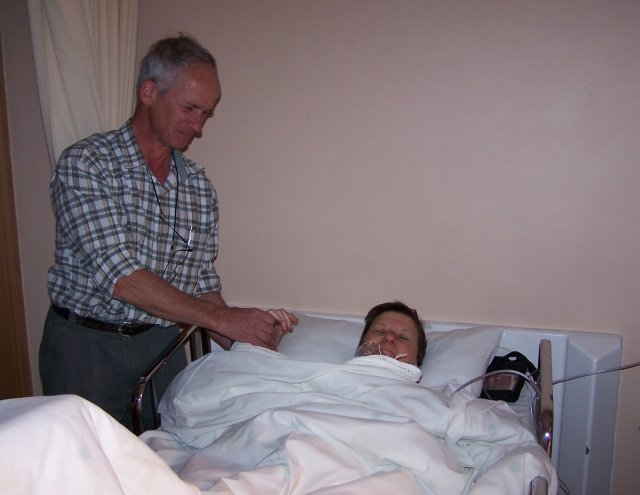 Judith and Frans went straight to hospital in Bethlehem and the Rescue Team back to the cottage, where much talking, describing, explaining etc, followed by the communal dinner, and numerous phone calls to the hospital for progress reports.
Judith had a pinning and fixing op on Sunday, (by epidural), and from all accounts the doctors are satisfied...We all popped in to say hello en route home, and Frans stayed on and will in due course take Judith to his house to recover for a while. Sadly no hiking for Judith for at least a year.
Jen

Where is Lesoba? We went there last year, but couldn't hike because the veld was burned. It's on the road from Clarens to Fouriesburg in the Freestate.