Lesoba (21-23/July/2006)
The weekend started with some confusion, the veld had burned down and hiking on the farm was not going to be pleasant. So, what's to be done? Cancel? No! Eric organised an alternative hike at Fouriesburg in Meiringskloof and at the Golden Gate.
The accommodation is quaint, rooms and huts all over the place. Unfortunately no closed communal area, which was a bit of a problem in the middle of winter.
On Saturday morning we got going to do the hike in Fouriesburg, that is Meiringskloof. Because apparently there is a rule that they do not accept groups over weekends we arrived there well spaced out, pretending we don't know each other. It worked, and off we went to start the hike. The split came very soon when Eric and others decided to have a look at the rock paintings higher up and off the normal path. The rest of us pushed on wanting to get to the ladder and up.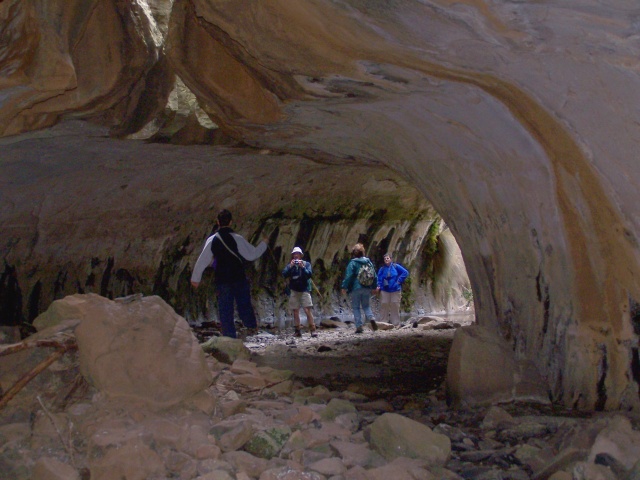 Our conscience got us a bit when we decided to rather stop for a while and let them catch up. It took a long time, so much so that Frans, Christopher and I decided to climb the nearby mountain to 1988m for a look around to see whether we can spot them. On the way up Frans found a lovely piece of fossilised wood, I am so envious and also had a good look around, but only found a few splinters.
We made it to the top and down again, spotting them near the chain ladder. From where we had left the others we marched further up the valley to get to the phenomena. A place where the water has cut through hard sand stone into a lower much softer rock forming a lovely cavern, see the picture.
This then was also the turning point and we returned back to the starting point via a higher route taking us down from the mountain just above our cars. Investigating Fouriesburg a bit more we stopped at the tourist information for a bit of coffee and pancakes.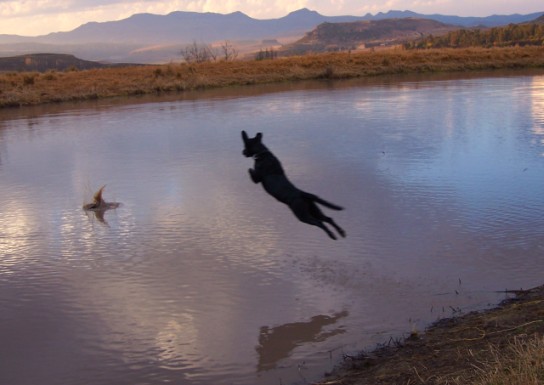 And then there was the amazing dog. A young, black labrador who was absolutely crazy about retreaving things, no matter what we threw and where we threw it. He climbed tree, hauled a dog from very close to the fire and jumped into the dam on a cold morning.
On Sunday we packed our things and moved off to Golden Gate to do the hike behind Brandwag hotel (actually I think it has a different name now). Lovely sandstone formations are the main attraction of the hike. It's very short and should only take about one hour, we had lunch in between and took about 2 hours. And that is that, home we went.