Kosi Bay (7-12/Dec/2006)
I didn't have to write it this time, Tania did, that way it's much less work for me.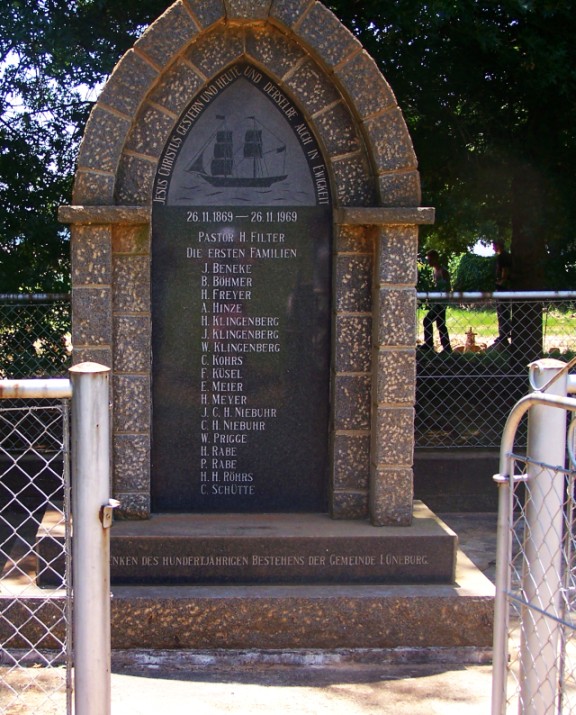 We left home on Thursday morning with great excitement and expectation. Because the N17 would be to busy and full of trucks we took an alternative route to Pongola. We went via Volksrust and discovered a wonderful little "town" called Lüneburg. It's a German Lutheran mission station, with a beautiful church, primary school and other facilities. It's supported by the farmers in the area who all happened to be German. Horst was very excited about the beautiful graveyard, which happened to only have German gravestones. Anyway, after a tour of the church and interrogation of the Minister we made our way to Pongola where we had lunch at the Wimpy.
At 16:30 we arrived at Kosi Bay Nature Reserve. Because the reception was closed we were given direction from the lady at the gate. We however, got lost and after many phone calls and much frustration we found Nhlanga Base Camp.
The Kosi Bay Hiking Trail was previously run by the Parks Board. However, Parks Board recently handed the trail over to the local community to run. The trail is now being mismanaged, as there is rivalry among the local chiefs as who should get what money. So the rivalry has resulted in two of the camps being burnt down. In their short sightedness they are not maintaining the two remaining camps, so the camps are rundown. We reckon that within a few years, Parks Board will have to take it back and give it out to a private concession.
Anyway, we were glad to finally be there and the area is incredibly beautiful. The camp caretaker, Jaapie, instructed us to be reception at 08:00 sharp the next morning, where we would be met by our guide, a black lady. Some of us were a bit concerned about this, preconceived ideas and all.
After a good nights sleep, off we go to reception to meet our guide. Along she comes, a young black woman in a very short floral dress and camo hat. And wait for it - 6 months pregnant. A walking stick and a plastic bag full of mango's slung over her shoulder.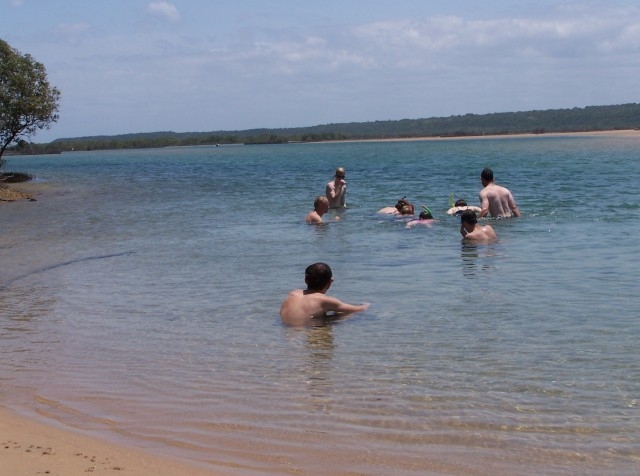 Horst loved the dress, telling us that woman should still be wearing dresses. But surely not while hiking? She shook all our hands, and we asked her how far we would be walking that day. Not far she said, just ten kilometres there and ten back. We agreed, not far!!! So off we go on our walk to Kosi Bay mouth. We averaged 4km's an hour. This girl could walk. Passing some graves, we asked whose graves they were. "Oh" she says "some people who died." We didn't ask to many questions after that. By the way her name was Jabu. What a wonderful days walk it was. We waded through the first huge lake and finally got to Kosi River mouth where we swam and snorkelled, and then returned to Nhlanga camp. The distance turned out to be closer to 23km's. On returning to camp, we discovered that the water had run out, because no one had bothered to fill the tank and it would only be done the next day. Luckily we could go to the parks board bathrooms. That night some local Zulu boys danced for us. We had to pay them, of course.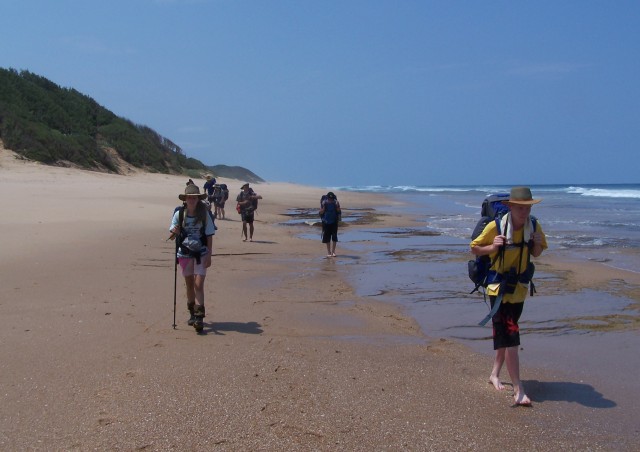 Eight o'clock the next morning we met our guide for the fourteen kilometre backpack to Bhanga Neck camp on the beach. Once again, a wonderful walk and wading through Lake 2 to the coast. A final 4km walk along the beach and we reached camp. The most beautiful coastline with hoards of frightened crabs, that kept us quiet entertained. The rock pools have been totally stripped of anything edible. We sat on the beach while the sunset, and the children played. We found lots of beautiful shells. During the night it started to rain and it rained all night. Luckily, the tents did not leak.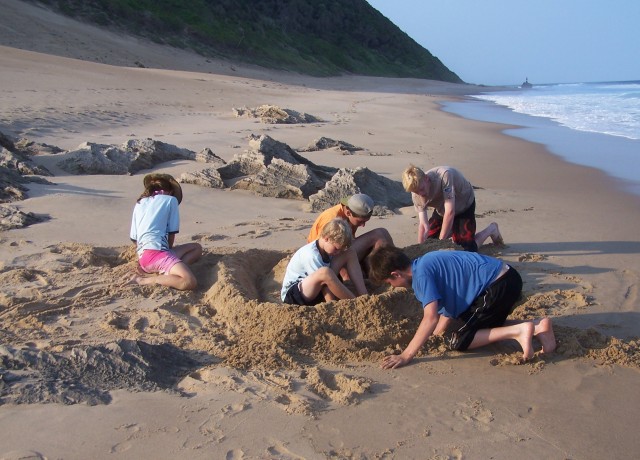 The next morning it was still raining, so we decided to stay in camp that day. Our walk would have been unpleasant in the hard rain. We were happy to hang around camp, talk and enjoy the beauty. It stopped raining for about 4 hours and took advantage of this. We took a long walk on the beach and had a swim. The water in the rock pools was so hot it burnt our feet. We wondered how the small fish trapped in the pools at low tide survived. The sea was also really warm. Unfortunately, it started raining again and carried on until the next day. We therefore did not go looking for the turtles that come onto the beach at night, at this time of year, to lay eggs. We were a bit disappointed by this. In the afternoon, Jabu got a message to say that her mother had been hit by 'the light from the sky' and was in hospital. She was obviously very distressed. She however contacted her family that evening, and discovered that her mom had not been seriously injured. We went off to bed early that night.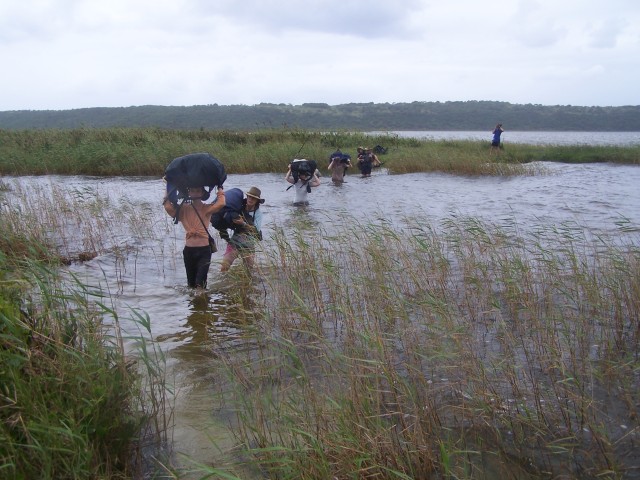 After breakfast the next morning we set off for our return hike to Nhlanga Base Camp. Back along the beach for 4km, where we saw tracks of the huge turtles that had come up to lay their eggs the previous night. We would really have loved to have seen them. A long swim in the lake, refreshing, clear warm water. Luckily we encountered no crocs, but we did come across hippo tracks. Unfortunately, we never came across the hippos. We arrived back at Nhlanga at lunchtime. We had lunch and then went to Parks Board bathrooms for a nice hot shower. By evening there was no water again. Quiet annoying.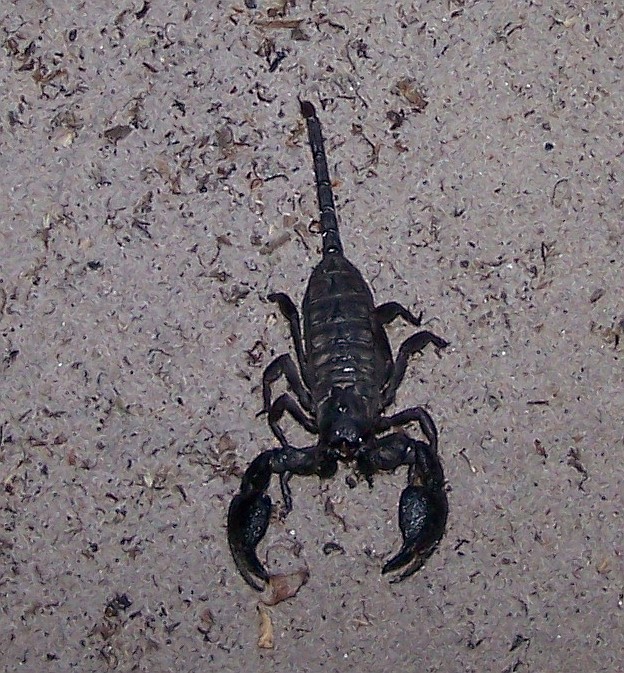 We encountered a few scorpions in the camps and Kelly walked into a big green snake in the one kitchen. Horst got bitten by bed bugs and we all got mozzy bites. Vervet monkeys hung around the camps and the bird life was rich. We heard hippos close by, but unfortunately never saw them.
This must be one of the most beautiful hikes in South Africa, and I'm quiet sure that we would all do it again without hesitation.
We returned home quite reluctantly the next morning and look forward to our next Kosi Bay visit.