Iceland 2012
The beginning! We are sitting at Jan Smuts waiting for the plane to take us to Amsterdam. Getting to check-in the lady at the counter was reading out the final destination 'R e y k j a v i k' looking a bit puzzled and me trying to test her I said 'ah, where is Reykjavik?'. The quick reply was 'don't worry Sir, you'll find out when you get there'. I enjoy encountering people with a sense of humour.
31-Aug-2012 (Friday)
As usual a long night, the pilot got us to Amsterdam on time and we had 3 hours to kill. That was done by having coffee and finding out how the free wi-fi works.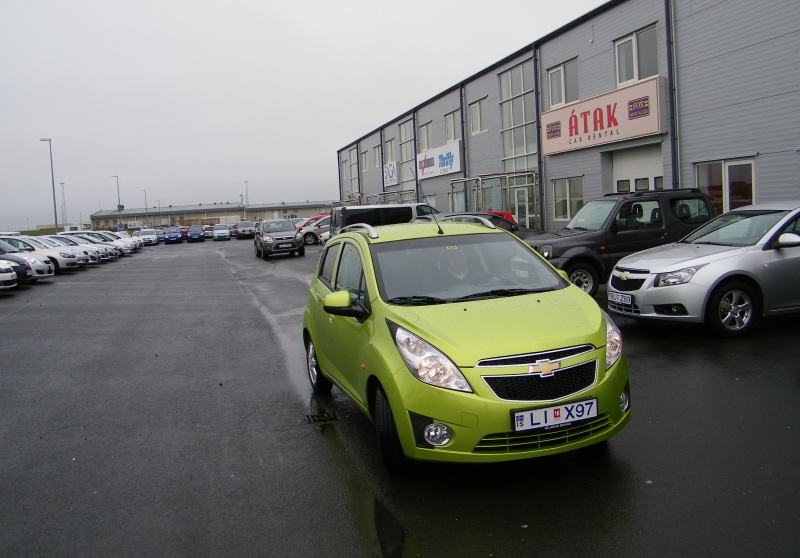 In Keflavik it took us a while to collect the car, Jörg had to phone to hear that somebody was going to come to collect us. In the meantime I tried to use my credit card to extract money from the machine which turned out to be the parking pay point. Everything was in Icelandic and it took somebody to point out to me that this is for parking, it takes money it doesn't give. I could not find a money printing machine anywhere. In desperation I went to the foreign exchange counter and got money without hassles. That was the first lesson, I saw very few money machines in Iceland, everything is paid by card. We even found a coffee machine that had a slot for the card and one could get a IKr200 coffee. Just a note on exchange rates, one Rand is appr IKr15 and one € is about IKr150.
From here on things went well, got the car, drove into Keflavik to find a supermarket and to get our Rødspririt for the cooker, which we found at the chemist. At the supermarket I found this lovely Kaviar paste again and some nice smelly cheese. Straight down the road to Grindavik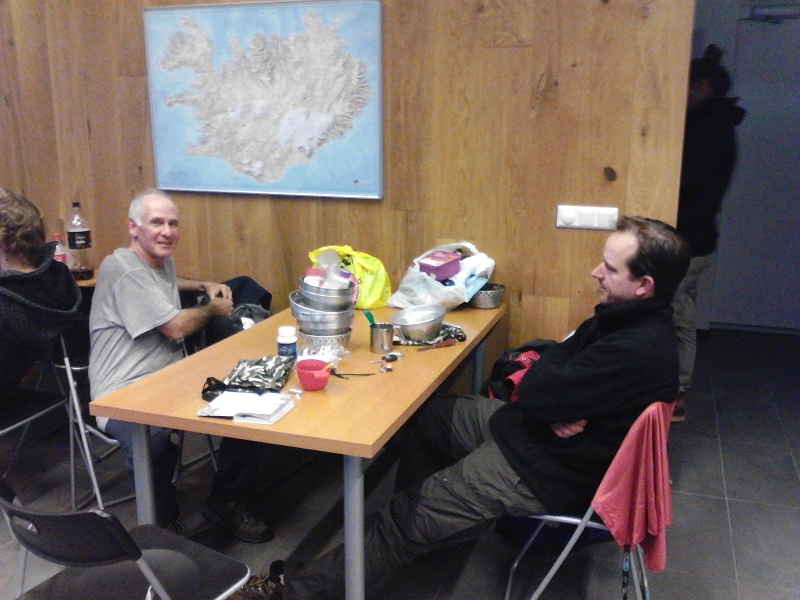 to put up tent and to have our first cup of coffee in the Aufenhaltsraum (communal room, where one can cook and have dinner and mill around in general). Here we met Harvey (yes, that is him, sitting with Jörg), one of those incessant travelers originating from Chicago, a very interesting person who has been to nearly all countries of the world. One of the exceptions is Antarctica, he has got it marked on his little worldmap of the places still to be done. That concluded the first day.
1-Sept-2012 (Saturday)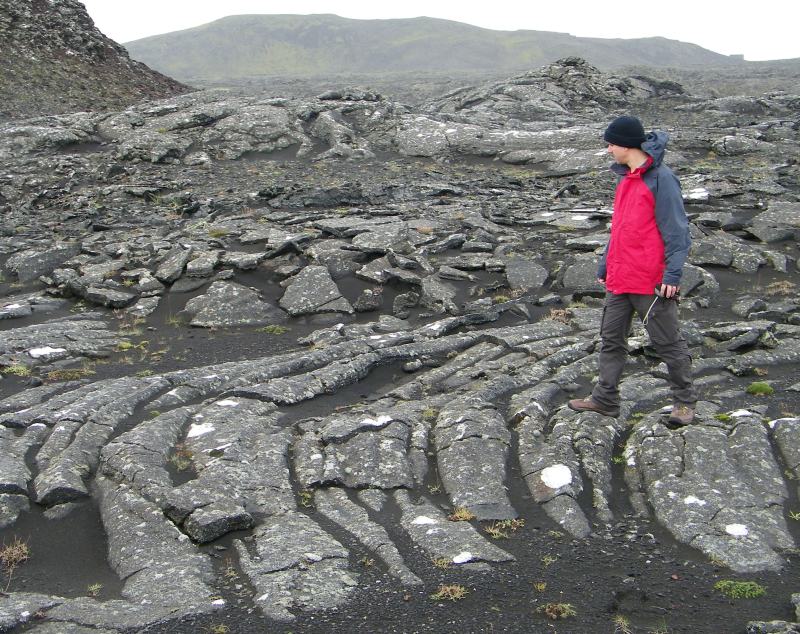 The first day in Iceland was a full day, after breakfast off to the thermal field of Gunnuhver. Overshooting the turnoff we than first had a look at and walk over the lava field. This lava came from the bowls of the earth a few hundred years ago and is thus still fairly fresh. Taking a bit of a walk we came to a place that looked like a mini vulkano, obviously a place where lave had been emitted. There was also something that looked like a fissure, a long crack, from which the lave had been pouring out. I still find this difficult to visualise, having all that lave flowing over such a large area. Some rocks were collected here, Jenny's order.
Going back the road we found the turn-off to Gunnuhver. Very exciting seeing all that steam, hot water and mud being emitted from the earth. It was also the site of the first attempt to establish an horticultural industry on the island, that aim was to use the geothermal energy to heat up the green houses. Another geological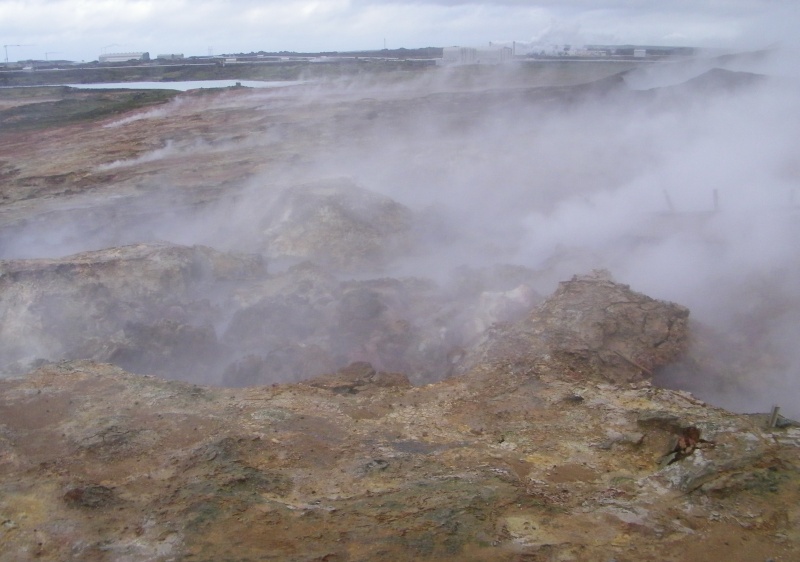 process that can be observed here is the chemical breaking down of the rock and the formation of minerals. Turning away from the thermal field we went south and climbed a rock (made from lava, of course) which turned out to be the most south western point of the island, Reykjanesta. We had lunch here in a very windy place.
The Studvahus power plant offered an exhibition on: earth power plant. And we paid a whooping IKr1500 each to enter, that was R100. A bit steep, but we hadn't come all the way to Iceland to be stopped by something like this, we want to see it all.
It was interesting and we could see into the turbine house with two 50MW turbines. They are using two boreholes of about 2000m, pumping saline water (similar to sea water) down the hole and getting a water steam mixture at 300°C from the well, and that goes straight to the turbines.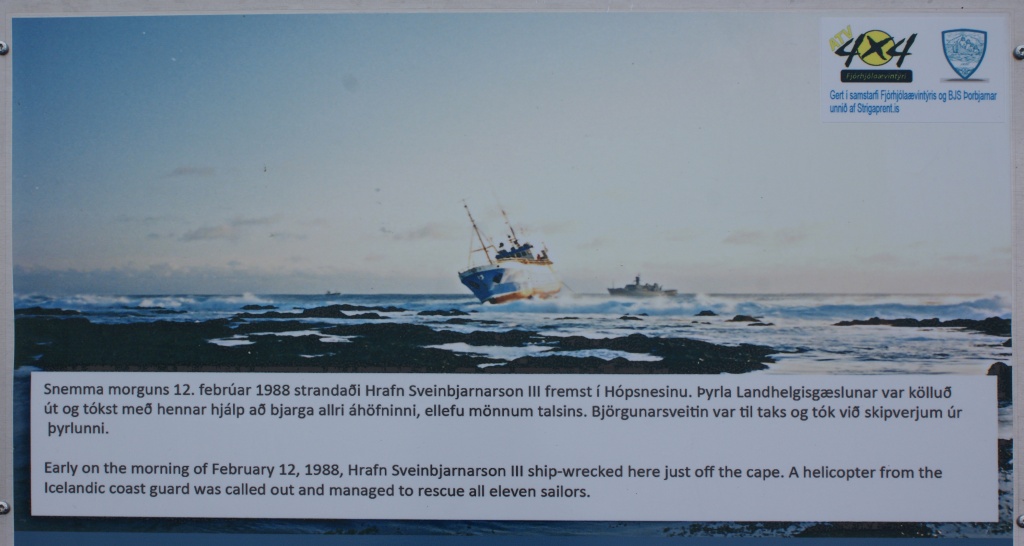 Not a big deal most people would say, but I as somebody who knows a bit about these things am amazed, because this stuff is corrosive as hell, material science has done a great job here. Also noted was the fact that we saw no operators or maintenance people, the whole thing runs totally on automatic.
A quick visit to the bridge over the Atlantic. The Icelanders selected a crack and put a bridge over it for no other purpose than to attract tourists. So there you are, it symbolises a bridge over two tectonic plates, the American- and the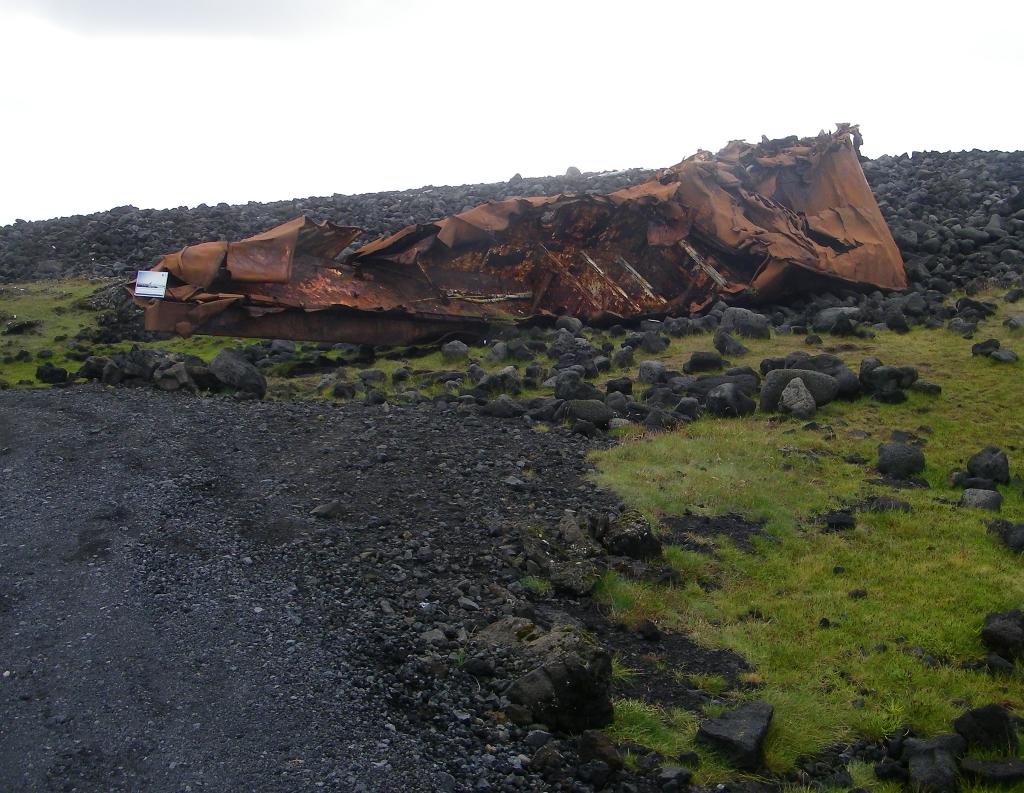 European plate.
Going back to Gridavik we were mulling to go to the Blue Lagoon, to get this over and done with. But the entrance price of €40 had us a bit concerned. And after all its not as if this is a natural wonder, the water or rather brine is the effluent from one of their power stations. So we skipped it and went on a hike along the coast, on the shipwreck trail. And there were plenty of those. This part of the coast must be very wild at times since some of the boats had been well above the usual high water mark. Each site was well marked with a board and an explanation of what happened here.
2-Sept-2012 (Sunday)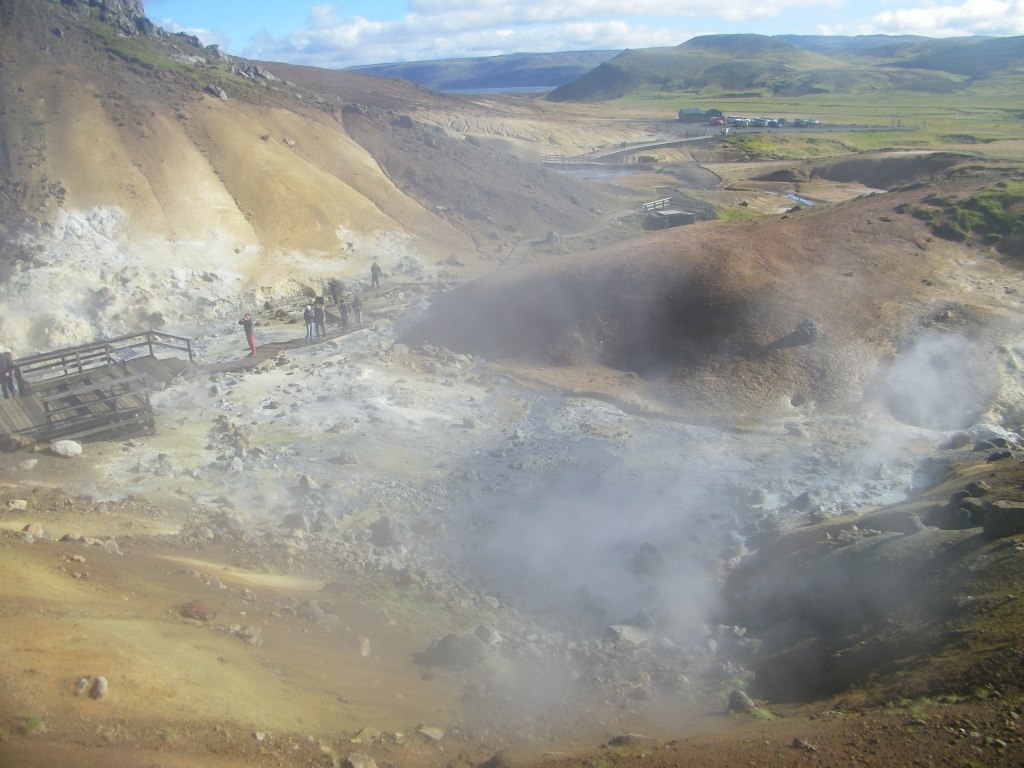 It started with a missing church. We set off towards Hveragerði and our first stop was Krýsuvikurkirkja, the guide book had the following to say: The church was built in 1857. It is a typical Icelandic country church. It was discontinued as a parish church in 1929 and for a time used as living quarters. The church is now under the protection of the National Museum. Well, they didn't protect it very well. A big sign at the entrance to the yard tells the whole story, but no church to be seen. Initially we thought it to be just behind the hill, but no church. On closer inspection we established that the church had burned down as indicated by pieces of charcoal at the site where it would have been. So we gave up on this one and proceeded to another steaming place, called Seltún. The hot stuff is coming out from all over and it is best to stay on the board walk as is advised. On the way up to the top of the hill we marvelled at the various colours of mud and stone or minerals.
Onwards we had to move, to Hveragerði. The name is a nightmare for people not able to speak Icelandic, its pronounced something like Qurragerthi. On the way up to the bathing place we met two Icelandic teachers who tried to teach us how to pronounce it. They declared success after a few tries, but it was soon forgotten again.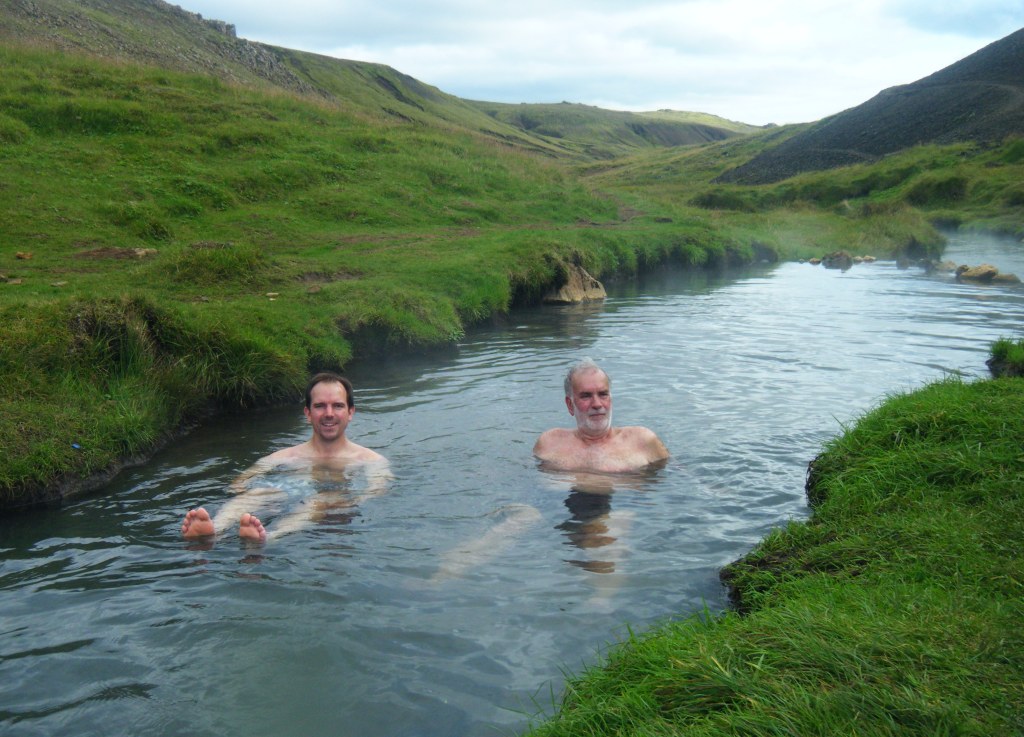 Entering Hveragerði we followed the signs and got to the camping place. We quickly got sorted out with the camp commander declaring that today still we must go up to the hot spring in the mountain, a place called Reykjadalur where we can have a swim. Why today? I inquired, because tomorrow it is going to rain. So we followed instructions and went up the mountain to the north of the town. A 3.5km hike, mostly uphill, brought us to a place where the water temperature in the river was 38°C, just the right bath temperature. This was a great experience, we stayed in there for about an hour, it was difficult to come out again and to turn our back on a place like that.
This is not the only attraction of Hveragerði, the place is known as the garden centre of Iceland. The abundance of hot water made it possible to heat greenhouses, and there are plenty of those. I will come back to this, give us another day.
page 2 page 3 page 4 page 5 page 6
return to home page