Hebron (16-18/March/2007)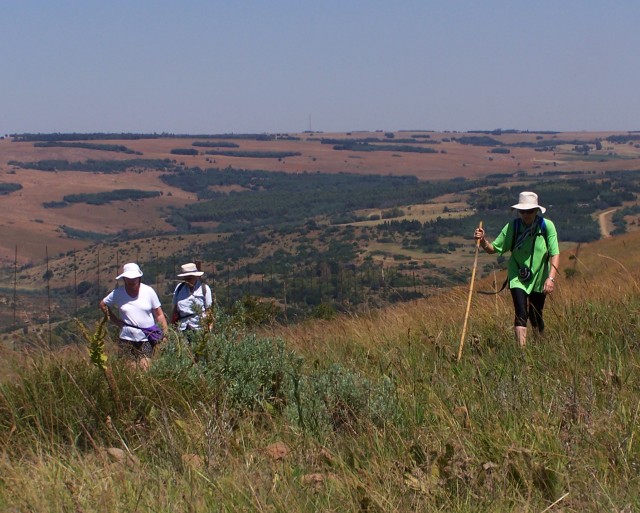 Hebron is a hike just the other side of Carolina in the Eastern Transvaal. We have been there before, its claim to fame is good accommodation and the charcoal production on the farm.
Arriving there on Friday late afternoon we found everybody was there, we were the last. Who was there: Jenny, Janine, Frans, Judith, Oscar, Judy, H-L and the Herwegs. What makes a stay at this place very pleasant is the huge entertainment area and kitchen with plenty of fridge space.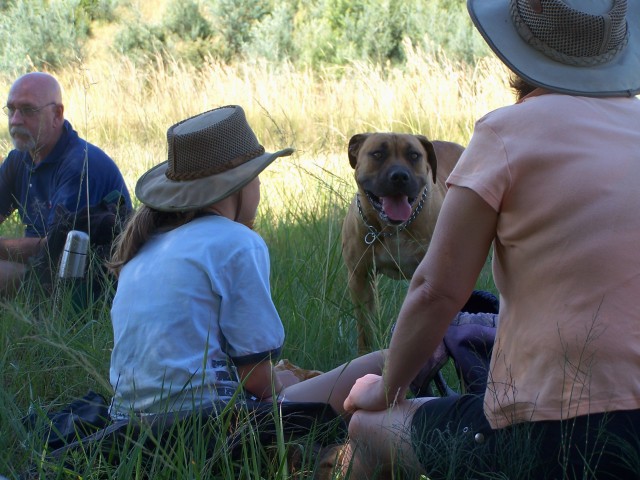 Hiking the next day was with a friendly dog, down the road, past the charcoal kilns and through wattle forest and grassland. It was not outstanding, but pleasant enough. The water situation was not very plentiful. Our first detour was to a cascade which turned out to be a trickle and than we came past this water fall place which was even less than a trickle. The farmer was complaining about lack of rain, and the little bit they did have recently has already disappeared. The day was finished off by a swim in the dam (some of us) and playing 'Black Bitch'.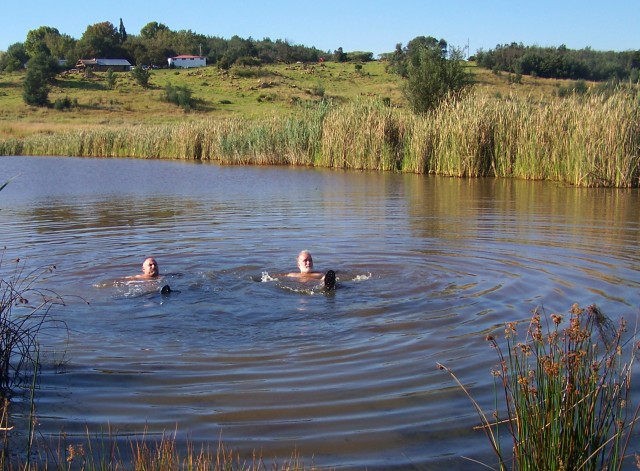 The place is steeped in history, the little house some of us were living in was originally built by a de Clercq (funny spelling), he was the founder of Klerksdorp. That was back in the 1860th, at that stage he was the magistrate for the Lydenburg district. The farmer also told us about this abandoned village not far from here called Bonnefoi.
This was going to be the excursion for the Sunday, nobody felt like going on a hike. Rummaging around an old ruined village is much more exciting, who knows there could be some Kruger pounds laying around, or some old stamps and letters in the post office.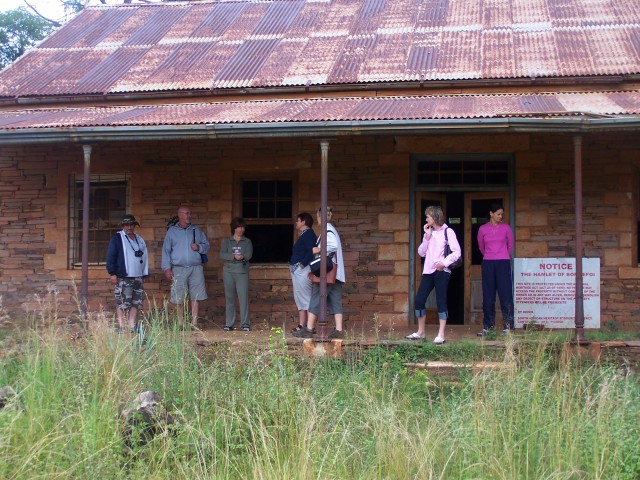 And here we found the old post office (picture), the hotel, the church, the old standard bank and a few houses. The whole place has been declared a national monument which, of course, doesn't stop squatters from moving in. Another piece of history was that the manor house was used in the 50th as a safe house by the communists, Joe Slovo and Braam Fisher were mentioned. Joe, apparently nearly missed being captured, which is a pity, I don't like commies.
After that nothing more was to be done. Jenny and Janine were in a hurry to get back to Jo'burg since they had been informed that Janine's car had been broken into whilst parked in Jenny's garage. Fortunately only the radio disappeared.