Frankfort(21 - 24/May/2010)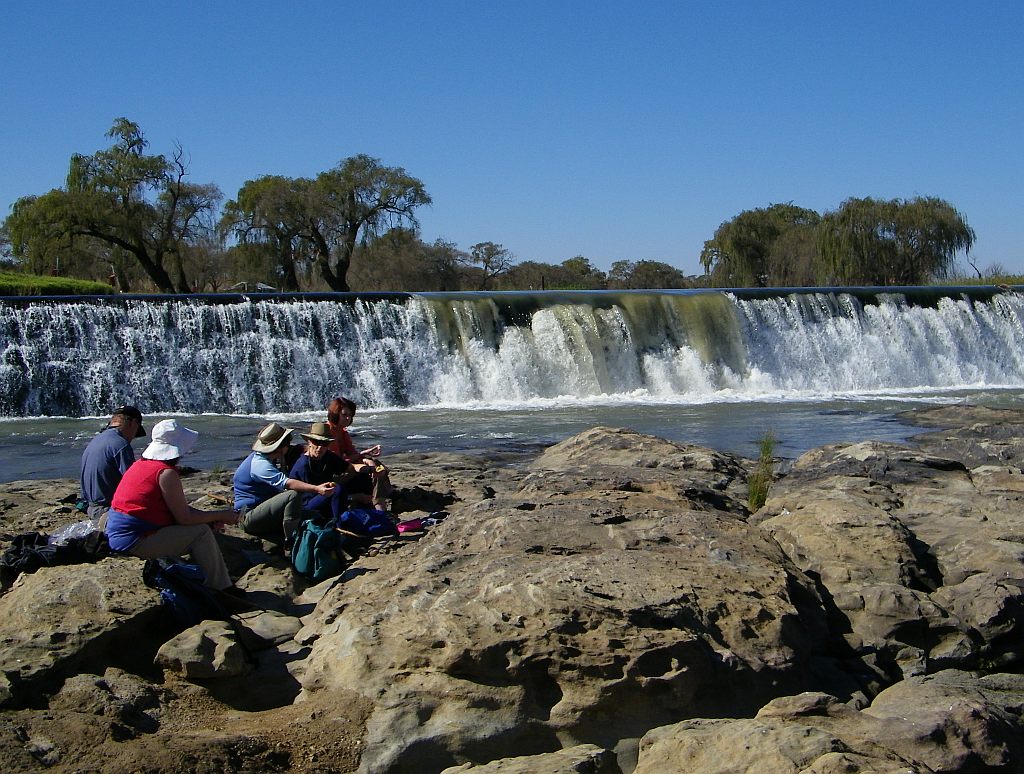 Thanks to all who had a hand in making this weekend the delicious, delightful, discerning, divine, diverting, dazzling, desirable, demanding, distinctive, democratic, delectable, different weekend that it was.
Different it certainly was....We all arrived early, (minimal packing, short trip) to very comfortable accommodation, 6 to a chalet with ALL mod cons, in a park next to the river. Early supper and - wait for it - a trip to the cemetry where we crept around in the dark 'painting with light' and wandering round the old graves and anticipation and Experience which never actually materialised. Then hanging round in the dark at the church causing passing cops to wonder what we were doing.....Followed by interesting picture shows - the fruits of the 'painting' experiments and bombs and explosions etc from Allen.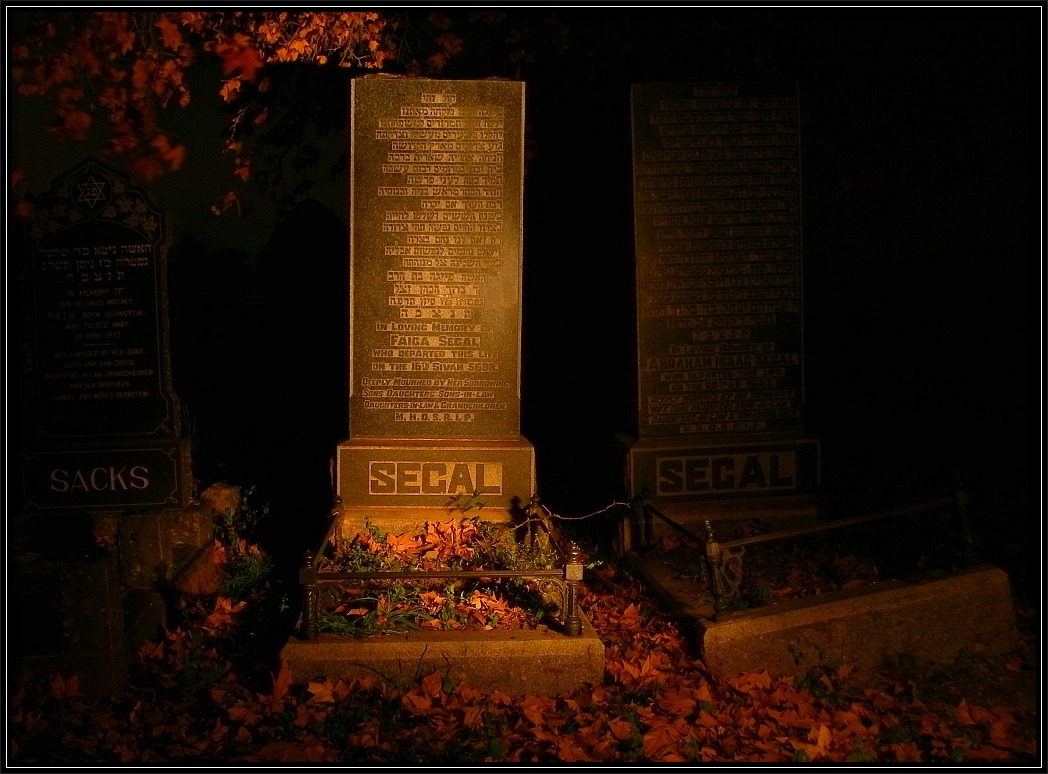 A decidedly languid start next morning found us wandering along the Wilge River - bit of initial blackjack-bundu-bashing - and then out onto the sand road - being amazed at the aftermath of a mighty flood in January 2010. Debris high up in the trees - even a kitchen sink (!) - and overturned trees and smashed branches lying in heaps. A welcome tea stop at an overflowing weir was very pleasant, and then on past an Oooord where 'people get killed', to the end destination which was the Dinosaur Footprints. The jury is still out as to whether they are REALLY footprints or just an accidental grouping of dimples in a large dimpled rock.....Luckily this was right at a beautiful old railway bridge and we pottered around there for a while, walking across, taking pictures etc. The long plod back became a bit much for some of us, and we had to call in the backup squad (Colin, who was slaving in the kitchen back home.....) who fetched a few brave enough to say they were pooped, and then later fetched the rest who couldn't take the pace anymore (!) It was a long flat hike and almost more tiring than and up and down hike. A guided tour round the town (Colin) showed that there is a lot to it - seems to at least not be going backward, although the dominee says they have to work at it, given the usual municipal twits....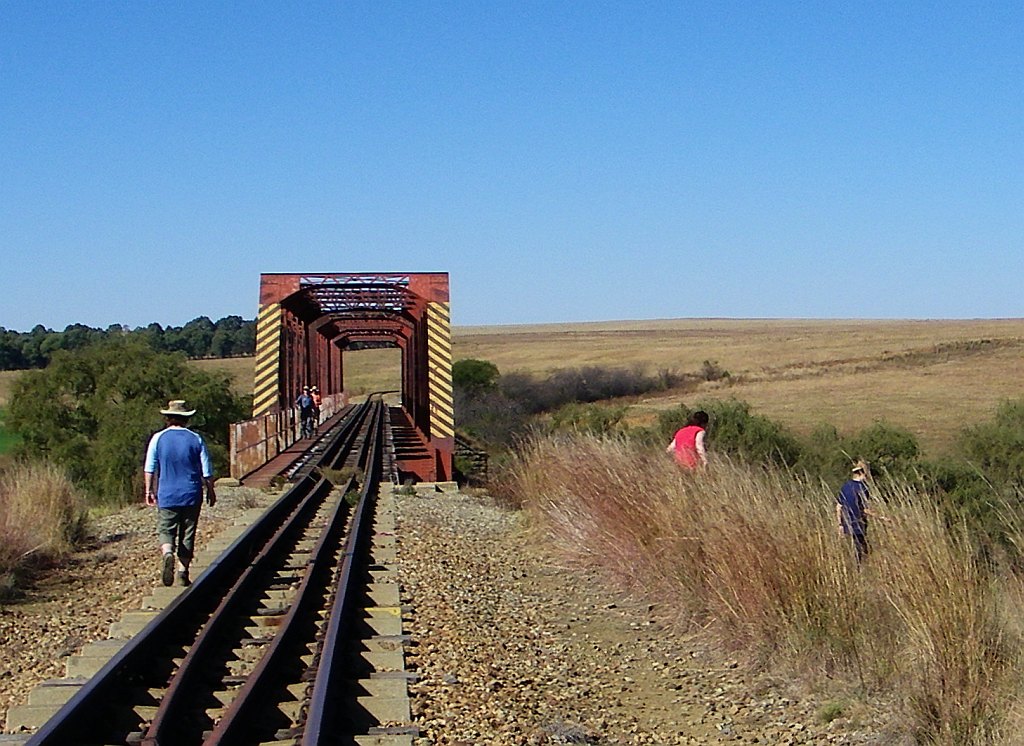 Anticipation had been building up and we were all more than ready for the most delicious evening meal, per kind favour of Horst (recipe and veg) Colin (shopping and cooking) and Hester Louise for a mind-bending pudding. The main course cost us the vast sum of R15 each and was extremely tasty and a huge potfull disappeared in no time at all...HL donated the pudding and luckily for her she made a huge one (two pots) because it didn't look as though we had just had a large meal when we fell upon the dessert! Colin then regaled us with the tale of his discovery of the Dragon's Breath Cave in Nam - the largest underwater lake in the world (he has promised to show us the video next time) and then we watched Pat's DVD of a photographic Salon - selected best pictures from all over - very inspirational - and a bit of Iceland and crop circles although the punters were fading by then....We HAD been promised a DVD of The Flood, which was going to be fascinating as the waters were VERY high and the world had become a huge lake, but the Manager let us down. However, Colin is going to nag him to send us a copy. HAY Colin????? (Ed)After that was the visit to the cemetery which resulted in the picture on the right, taken by torch light.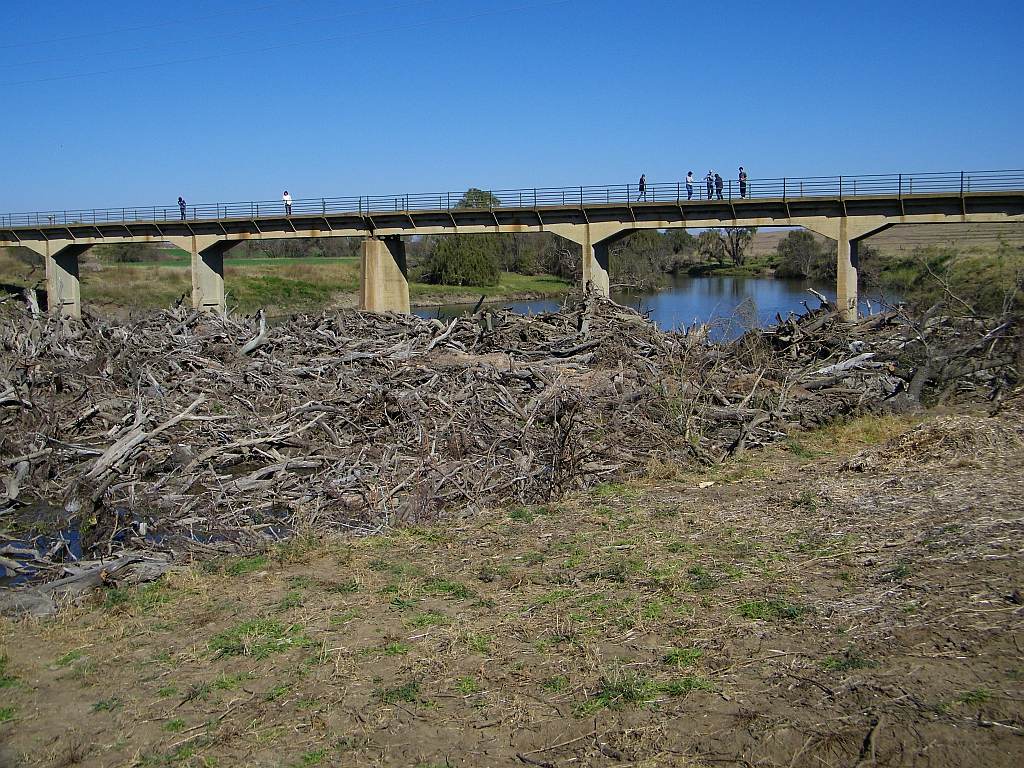 An even LAZIER morning start (SOME people having cooked breakfasts right in front of other deprived souls) saw us driving off to The Log Jam. A most amazing sight of a couple of hundred yards of smashed trees all piled up at a bridge - an eyeopener as to the destructive power of a mass of water on the moooooove. Then back into town to see The Church - specially opened for us by the dominee after the service and then the next gourmandising event of the weekend....lunch at The Wild Rose.....A quaint place with Fabulous Food. Fine Dining, actually, as Tania said.
And so to home. Safe driving for all, I presume??? So thanks again to all - Horst for the booking, the chefs, and the always happy company. Big hugs all round!!

Jenny