Ezemvelo Nature Reserve (15 to 17-April-2005)
For some reason the response to this trip was very poor and in the end we had 9½ participants. Who was the ½? That was Jenny who arrived on the Sunday morning after humming and hahing since Friday morning whether she should come or not. On the phone on Friday night I actually had to agree with her, things didn't look good, wheatherwise. At the end she was very happy to have come out, though on a very elaborate route via Hammanskraal.
The 9 of us arrived on Friday, it was raining for most of the way and I thought that the weekend would be a washout. The 9 were the Herwegs, H-L, Eric, Tiens and I.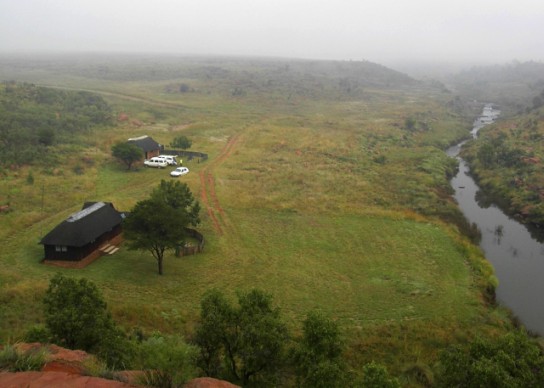 The accommodation is very basic, beds and a bit of a kitchen with a gas stove, no lights, only one toilet and a cold shower. It brought us back to basics, something that we need from time to time. I certainly had no problems with the set-up. Arriving at night we were not able to see the surrounding, in the morning it revealed itself, the huts are at a river (Groot Spruit) with swimming facility, but the weather was too cold.
The usual time of 9h00 we were ready and roaring to go, where to? First to the reception to pay our fees, here we could pick up the information needed. As the trail for the day we selected the 'Penduka Trail'.
I am not sure how long it is, there was no information on that. It took us about 3 hours to walk it, so I would say about 6 km. Whoever designed it must have had lots of fun naming places, we passed Stone Gulch, Lavender Loop, Mushroom Rock, Rock Highway, Creek Haven, Shady Grove, Lichen Kranz, Moss Cove, Overhand Haven, Zigzag Ledge, Highwater Logs and Forest Retreat. The trail starts off by going through open country, this is where we walked amongst the bucks and Giraffe, then it gets into the rockery consisting of well-eroded sandstone. After the valley viewpoint it was down to the river and along it to get back.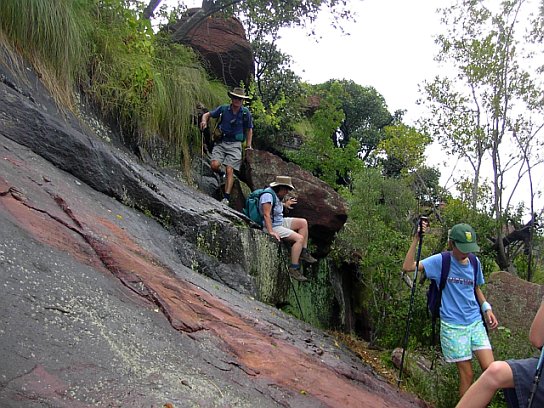 That way we got back to camp fairly early and just lazed around the afternoon, some of us may even have had a bit of a snooze. The rain stayed away and we could have a braai outside under the stars (not many).
Jenny arrived the next morning (Sunday) and we could go off on our other day hike, that one didn't have a name, we just had to follow the yellow footprints. And soon we ran out of those and got lost. Not really, with a bit of intelligent navigation we soon spotted the family huts and now knew where we were. Eventually we found the trail again at a point where it came out from the valley near a point called Noah's Arc, and since we all wanted to know what this Noah's Arc was we went down the path but still couldn't find the Arc. But we did find a path taking us down to the Wilge river, that was a welcome distraction and we took it. It first crosses the Groot Spruit and then goes over and down to the Wilge. A nice walk, just one small problem H-L fell and twisted her ankle. That had me worried for a while and I was checking on how we would be able to get a helicopter into the place for a pick-up.
No need for that she was soon up and carried on by hobbling along. I think that was possibly the best to do, keep it moving to stop it from freezing up. The shores of the Wilge were not that inviting. It was difficult getting close to the water due to the reeds. After a short rest we set out back to the Groot Spruit where some swimming was attempted without much success, the water was far to shallow.
From here it was back to the hut, packing and leaving. I was in a hurry because I wanted to get back in daylight. One of my headlights had been smashed and I felt somewhat unsafe traveling at night.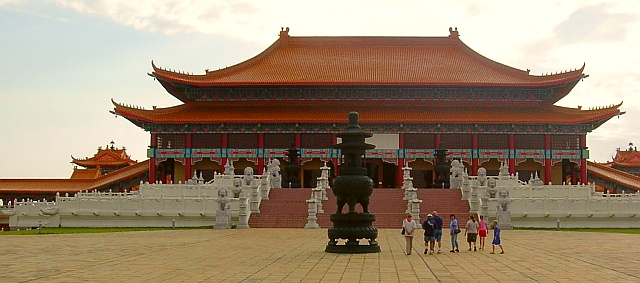 At the Buddhist tempel in Bronhorstspruit we made a short stop and were amazed at the size and the architecture of the place. Our stay turned out to be longer than planned because we still had to fit in a coffee at the Chinese coffee shop. Here I picked up some literature, which I have read and come to the conclusion that Buddhism is actually a nice religion and if one day I feel the need to become religious it will be Buddhism.