Didima Gorge(1-4/May/2014)
The report by Jörg and pictures by me and Frans

The May Day Four Day Hike, hike commenced on with the meeting of the Hikers at Frans's house in Sasolburg for a 7am departure. The roads to the Berg are in a shoddy state so much so that at one point we opted for an alternate route on dirt road to avoid the pot holes and abandoned road works of the R74. On our return journey whilst travelling towards the abandoned roadwork's of the pot hole ridden R74 we came across a political convoy travelling in the opposite direction escorted by Blue lights, probably to address an election rally. Not surprisingly we didn't see them brandishing too many ANC flags whilst hanging out of the sun roof of their white merc as I'm sure they chose to keep their identity indistinct after travelling on 20km of provincial mismanagement.
Back to the hike....
Day One - Didima base camp to Field Rangers Outpost ruins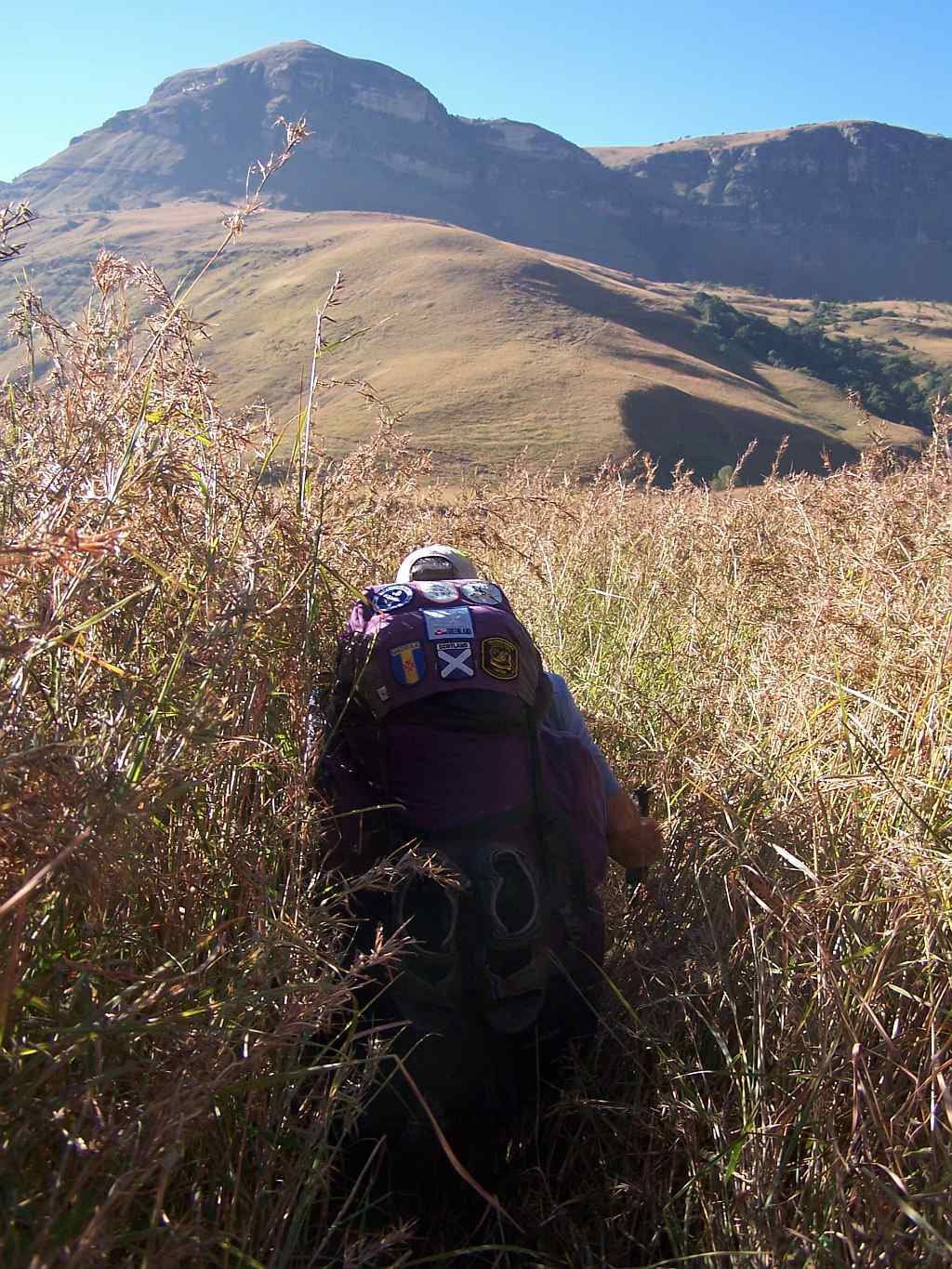 After signing the mountain register we dropped the packs and two hikers (Christopher and Horst) at the beginning of the trail, close to the reserve entrance, whilst Frans and myself (Jörg) delivered the car to the Didima reception parking lot and hiked the 4 k's back on the road to the start. I attempted to acquire a lift for us by putting out my thumb but it would seem the 'thumbs up' is not a universal sign for give me a lift. A European tourist responded to my two thumb request by giving me the thumbs up in return and saying 'HI!' whilst driving past.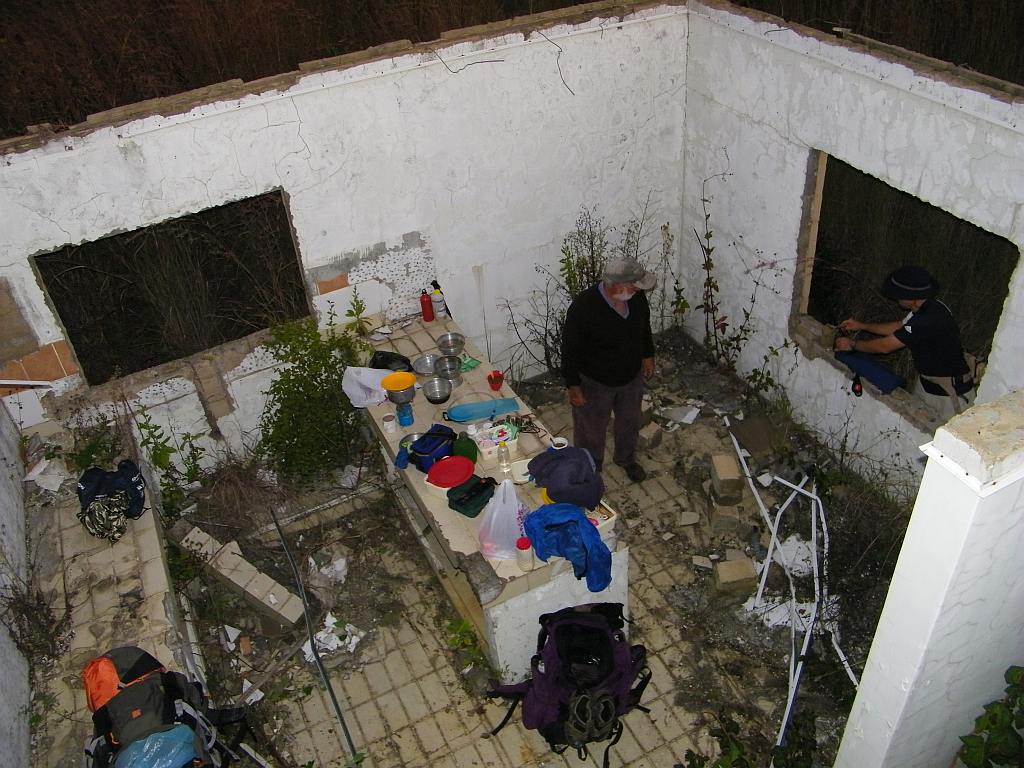 We commenced the hike a bit later than planned so before we could set off on the trail we first had to stop for lunch. We weren't headed too far as we had only planned 5 k's on the first day (excluding our 4k walk from the car park). Our target was the ruins of the Field Rangers Outpost on the Eastern side of the park. We had camped there before so were fairly confident that we could camp there again, this however would not be. It seems the grass had grown somewhat since our last visit and what was once a flat bed of Kikuyu is now a head height field of savannah grass and black jacks. All was not lost though as we promptly jumped into action and cleared the rubble from two of the rooms of the ruined house to free enough space to erect a tent. The accommodation was comfortable with the old kitchen serving as the communal eating and cooking area. No doors, no windows and no roof - this was truly open plan.
Day two - Field Rangers Outpost to Poachers cave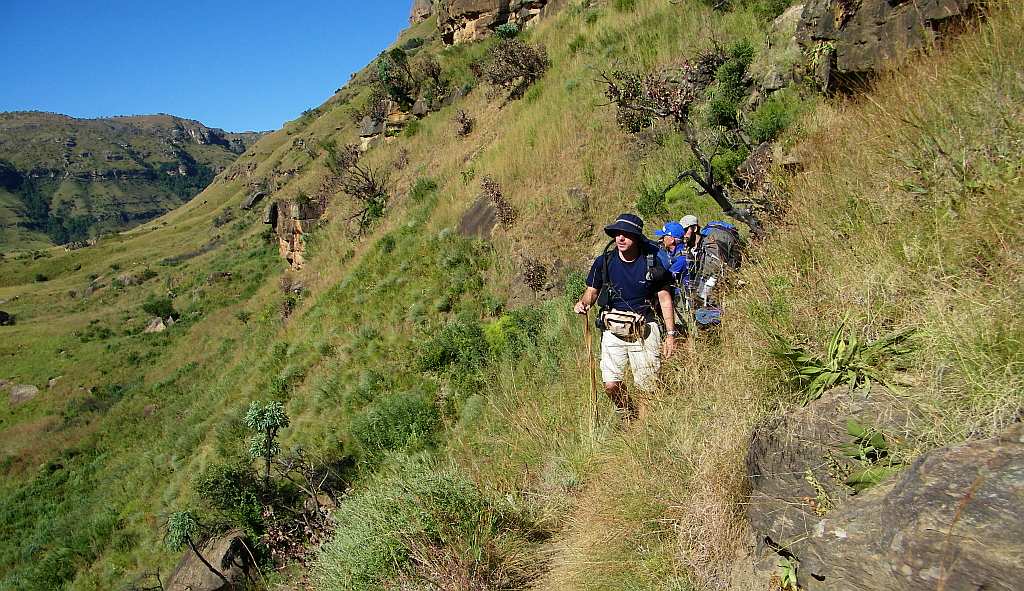 Our departure the next morning was with the same trouble we had the previous day getting to the ruins, we had to beat our way through 6ft high grass and vegetation to eventually get onto the hiking path and the first river crossing. We were rather surprised to find some fly fishermen fishing the Didima and although rather untalkative, revealed they were fishing for trout and had some success in catching a few small rainbow trout. They didn't catch much though whilst we were watching, I think we spooked their fish. Another fisherman we crossed paths with was far more talkative and rather helpful in directing us to our path up the Didima gorge. Turns out he had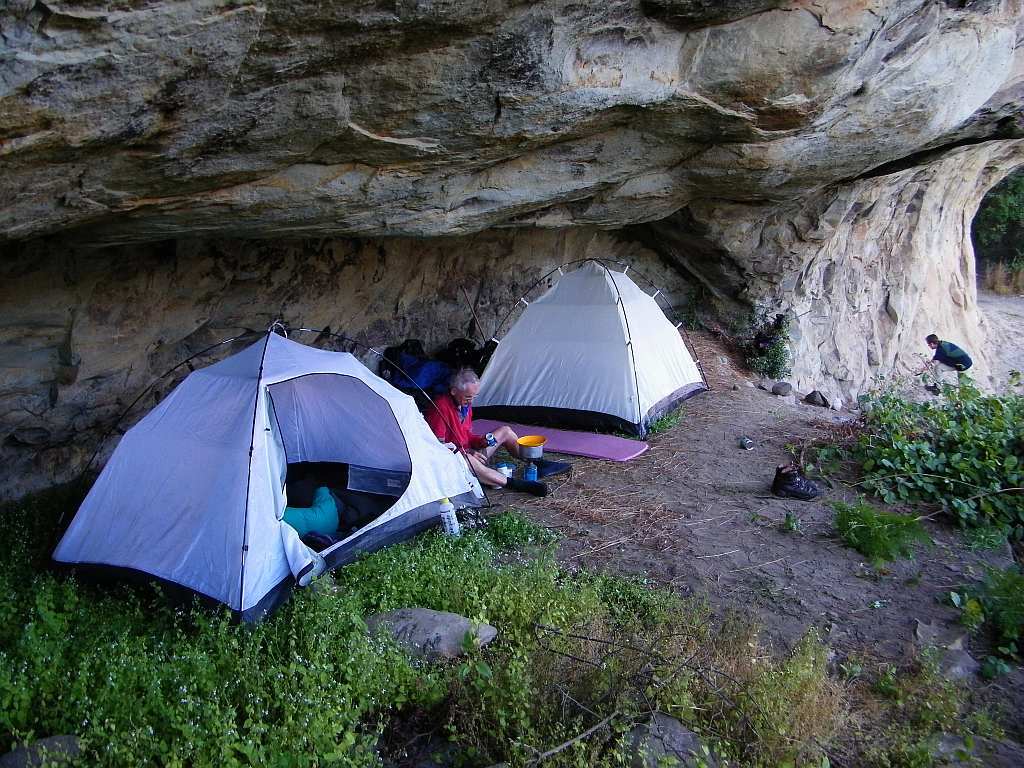 authored a book about fishing in the berg and was also a hiker - hence the friendliness. (from the ed: he has a blogg on the internet and his name is Peter Brigg.)
Our battle up the gorge was hampered by an overgrown path and again this six foot grass. The grass did little for Christopher's hay fever, even my hay fever that had lay dormant for the past decade reappeared. The path eventually cleared but it was up hill for most of the way. A lunch stop was called behind a large boulder which offered some shade and some entertainment for a group of baboons on the adjacent cliff face. It was not too long a walk after lunch before we got to our cave for the night Poachers' cave, but again we had to tackle this 6 foot grass which was now referred to as *$%$ing!!! grass to get to the cave. The grass did however offer some form of comfort as we realized that it would be unlikely that any 'visitors' would tackle this *$%$ing!!! grass at the dead of night. The cave came with great comfort in the form of a flat sleeping surface, entertainment in the form of bushman paintings and a shower ⁄clothes washer ⁄ dishwasher in the form of a waterfall. Although Frans made purposeful use of the shower facility it was impossible to collect water without taking an involuntary shower.
Day Three - Poachers cave to Top of Mike's pass
Although not everybody was aware of it Day three would contain our biggest challenge yet - Phillip's folly. Phillip's folly is 2.5km of nothing but energy sapping, upper leg muscle paining, serious uphill. But before we got there we enjoyed a rather pleasant walk on the contour path which then descended to the junction of the Thutumi and Didima rivers for lunch. Whilst not big enough or even warm enough for a swim the Didima stream seemed so pleasantly inviting as it cut its way over hundreds of years through an outcrop of sand stone to a marble smooth finish. Makes me wish I could chop out a section, water and all, and take it home with me. In preparation for Phillip's folly Christopher and myself relieved Horst of some of his load as we knew how much he dislikes uphills.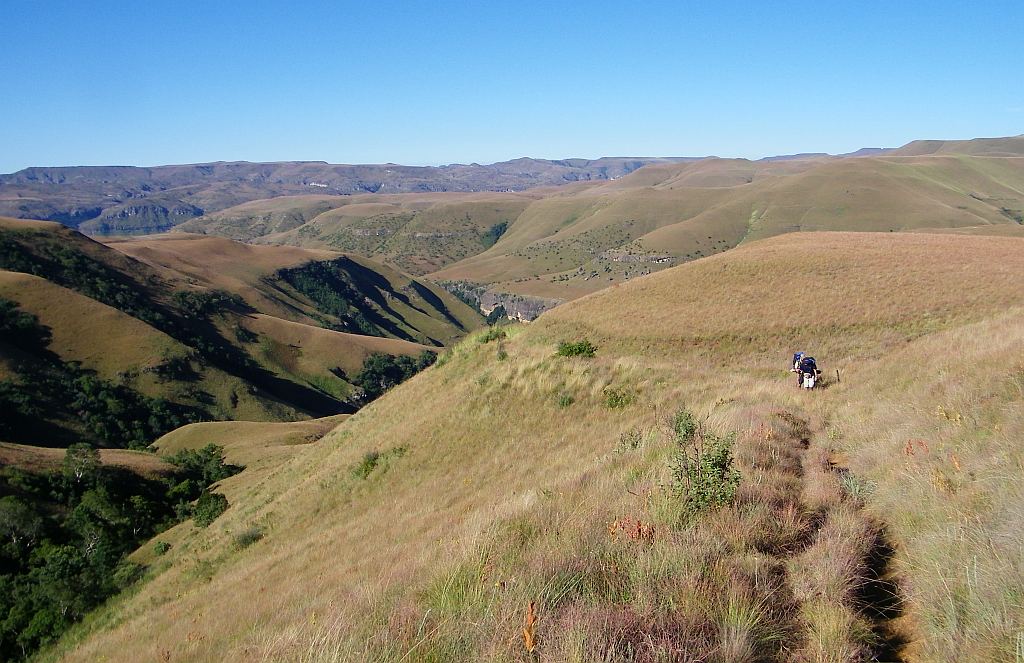 Frans and myself had been up Phillips Folly before, although it was some ten years back the memories were still fresh - there's some hills you just never forget. Unintimidated, Frans shot off in his usual style doing his best to teach the hill a lesson for being a hill and in no time at all was out of sight (I sometimes think the man likes uphills). Christopher, Horst and myself tried a different tactic - walk slowly for a short while, sit down drink some water, shoot the breeze, get up walk a short while, sit down, shoot the breeze etc etc etc .. you get the picture. 2 hrs later when we got to the top Frans had already recovered from his record setting ascent and we, well we weren't that tired either. But it was already 16:00 so we only had an hour or so to find water and a suitable camp site for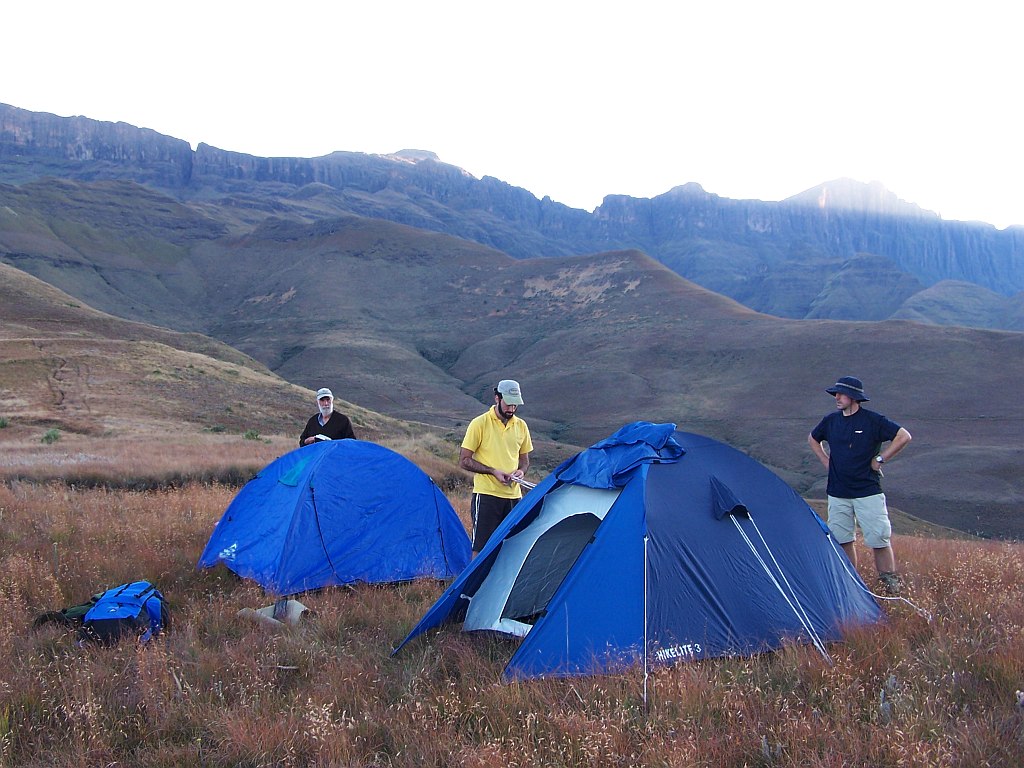 the night. From the top of Phillip's folly we headed off in the direction of Mike's pass with the intent of covering as much ground as possible in the time we had left. The walking was fairly easy at this point as it was mostly downhill and on a jeep track. A camp site was agreed upon two kilometers short of Mike's pass and just 5 minutes before sunset. When checking the GPS it revealed that we had covered 14km that day, not too bad considering we were with back packs and had Phillip's Folly to contend with. Not surprising we were in bed by 19:30 that night.
Day four - Top of Mike's pass to Didima base camp.
And not surprising we were out of bed before sunrise the next morning and witnessing the beginning of a new day over a bowl of caramel oatsoeasy. Tents were derected, bags were packed and off we went, making our way down Mike's pass towards the Didima reception. Our original plan was to start our hike by getting a lift up Mike's pass, as offered by the reserve, and to do this hike the other way round but as it turned out no more Vehicles were allowed up Mike's pass. Initially the pass seemed perfectly fine so had to wonder what the problem was but at one stage, when we walked past a recent rock fall, I glanced up and saw another rock fall pending, 100kg boulders and tons of dirt waiting for the slightest vibration to let go their meager hold to the hillside and give into gravities demand. Needless to say I felt the need to quietly tip toe past. It was downhill all the way and all that was still required from that point on was one more bundubash/shortcut and we were back where we started four days earlier.