Broodboom 17-19 April 09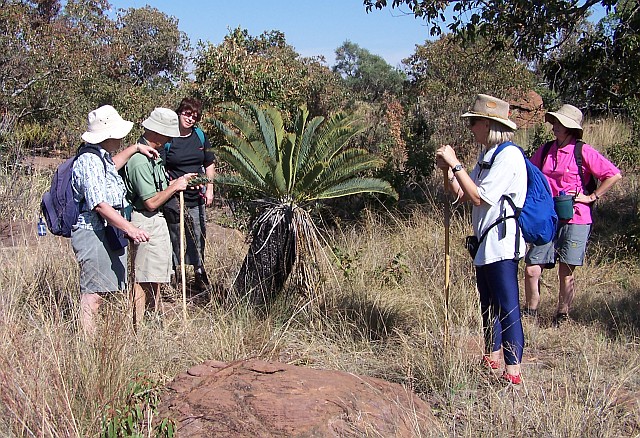 This hike gets 10 out of 10 for lay-out and accommodation. The accommodation didn't get 10 for its 5-star qualities like electricity, bathrooms, service etc, but for its location. Arendnes (Eagle's nest) was up on top of the Olivants river gorge, an absolutely beautiful setting. The shower there, driven by a donkey (for our overseas friends, a donkey is a water heater requiring an open fire under a drum to get hot water), was in such a position to give a view over the Olivants river gorge below. And where is it? Just to the north from Middelburg (Transvaal) off the road to the Loskopdam.
And who was there? Frans (the organiser), Judith, Jenny, Hester-Louise, Tania, Allen, me, Christopher and Michael.
Arived after dark, the two huts are basic but sufficient. Life happens outside the huts around the braai fire, there is no kitchen as such and I also think none needed. The farmer had undertaken to take our rucksacks over to the Arendnes camp, that made hiking that much easier, all we needed was a day-pack. The hike took us out towards the gorge overlooking the river, past some Cycads, the population of which is diminishing due to theft.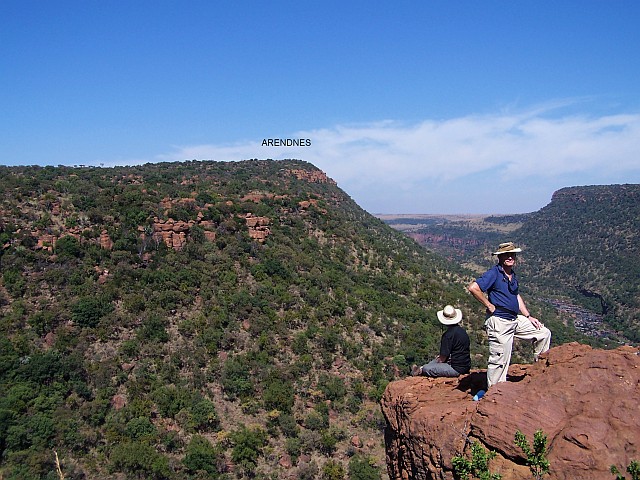 According to the farmers wife a major problem in the area. Nature conservation is using transponder chips and DNA testing to stabilise the numbers of Cycads.
The view point gave us a view of our hut for the evening, perched high up on the mountain, we were looking forward to spending the night there. But first we had to get down into the gorge to the bottom where the Olivants river flows. A lunch stop was called here at the river, only Frans and I went for a swim. The water was pleasant and according to the farmers wife free of crocodiles, bilharzia (Schistosoma) and cholera.
From here on it went up and up (1223m to 1416m), we managed to do this in no time and had a long afternoon still at the hut. That was spent playing with the dog, talking about this and that. The dog needs to be mentioned.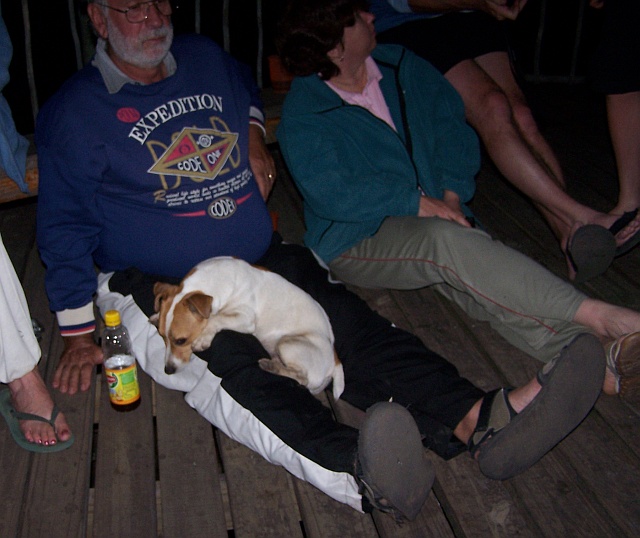 This is a little Jackrussel called Snoopy who was with us at the first camp,
first sleeping with Michael, than jumping on Tania head and after that sleeping on my legs. The farmers wife already warned us that he would walk with us and that we will have him at the next camp. She locked him up for a while until we had left, to no avail, at Arendnes he was waiting for us. He slept with us for another night.
The return trip was fairly short, the kids managed to do it in 57 minutes, the older generation took a bit longer. The route passes through lovely rock formations. We didn't see Snoopy on the hike but when we got back to the first hut he was waiting for us. He obviously knows a shortcut.
And here is the other version of events written by Jenny, it arived after I had prepared my story so I thought I just add it.
Well chaps...what can I say. This was a FABulous hike....the pictures that you have seen struggle to convey the wonder of it all!!!
Its not too far, and we all (9) gathered more or less at the same time, to the first night's accommodation, which was in sturdy little wooden huts, lined with reeds...So you will not be surprised to hear that they were much infested with LAAAAARGE spiders which seemed very mobile and disappeared and reappeared in a most disconcerting fashion. Frans' solution was to clap a tiny mug over them and trap their toes (this did not work and just made them disappear only to reappear later with flat feet) Anyway the night passed quietly without any alarums, despite the qualms of the ladies. (a small Jack Russel, Snoepie, spent the night on Horst.)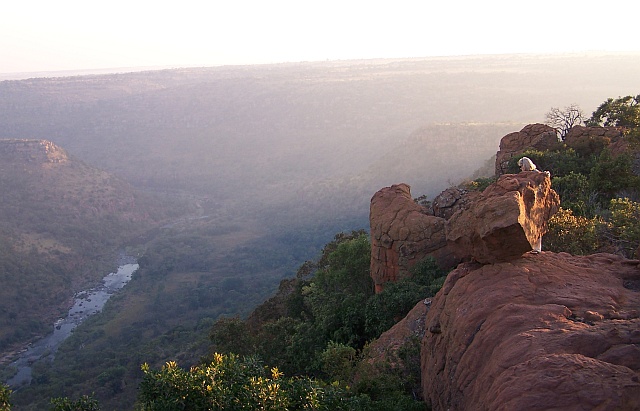 On Saturday we set off, after packing up for our stuff to be conveyed to Arendsnes. The hike just got better and better...wonderful rock formations, lovely views, up and down, along the river, not too taxing, lots of butterflies, and as it was only 12 kms we took our time and stopped and looked and took photos and just fiddled along until we came to the grand finale which was a 300m straight up climb to the top where perched our Arendsnes, another sturdy little hut (sans spiders - too much altitude!) with a deck cantilevered over space and a shower with a glass wall (see Judith's picture) and a Loo with a Voo with NO wall. We were closely observed by a troup of baboons, so reluctantly decided NOT to sleep on the deck but it was Really Tempting...The pooch, Snoekie, only released by it missus in the afternoon, took off from the farm and arrived to join us only about an hour later, after we had walked for hours!! Those little legs must have been a blur!!!
Next morning, as is our wont, we set off at our leisure, knowing that it was just short hike - also Beautiful - slow descent past the rocks and kranze down to the fields below, and after a brief wait at the camp, our chattles were delivered unto us and we packed up to leave....only to discover that one part of Allen's car was not speaking to another part and all that could be delivered was a dull click at the turn of the key.
Fortunately with all the beef around we got going quite quickly, and then after an attempt to visit ....oh I forget the name...another farm just down the drag...anyway, they wanted to charge us R25 each to eat our lunch on their patch, so we gave up on that idea and surged on to the Shell Stop en route for an icecream, where HL had a run-in with some @#$$% thieves who snatched her card and cloned it. She got it back after a tussle and luckily it was quickly cancelled, but it was a real eye opener to realise how bold these miserable sods are to rob IN a busy shop. NATurally, no manager on duty, and the big sign "Security is Top here" a jolly joke. HOpe you are recovered,HL?
Thanks for the lift Frans, and also a BIG thanks to Allen for, as always, saving the day with camera batteries as I would have slashed my wrists if I couldn't take all the lovely pictures that I did.... We also had an impromptu little 'meeting' the conlusion of which was that hikes should be booked WELL in advance, people should respond yea or nea immediately, and we amicablly agreed that its a free country and people dont have to do every hike and they are allowed to do private hikes, and the club is not splitting and we all love each other very much. So thats settled.'
So thats it about Bread Tree.