Bosmanskrans (22-24/Oct/04)
Down in the Free State near Fouriesburg is Bosmanskrans. This time most members made it, we were 20 altogether. The accommodation was not to everyone's expectation, I think it was ok. The house most of us stayed in was apparently from 188something. It served as a refuge during the Boer war when some minister looked after the woman and children of the area.
The hike on Saturday was lovely, all in sandstone with lots of caves (overhangs). A couple of bushman paintings were also in attendance. It was a windy route, wound such that the 12 or so kilometers would fit onto the farm.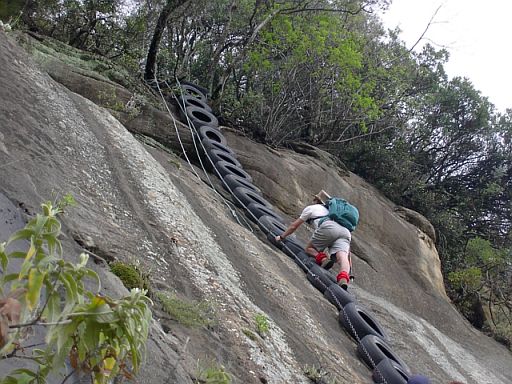 Some excitement was had when we went up the tyre ladder, it must have been an about 10m climb up the rock face, made more difficult by the different sizes of tyres used. At places we had to heave ourselves up by our arms in order to make the next rung of the tyre ladder. It took a long time to get everybody up.
I always enjoy sandstone, because one can see so much history in them, like ripples caused by running water 200 million years ago, or the layering of the original dunes just the same as we can observe them in present dunes. Its all very fascinating, I think in my old age I will take a bit more interest in sandstone (Roland, please help).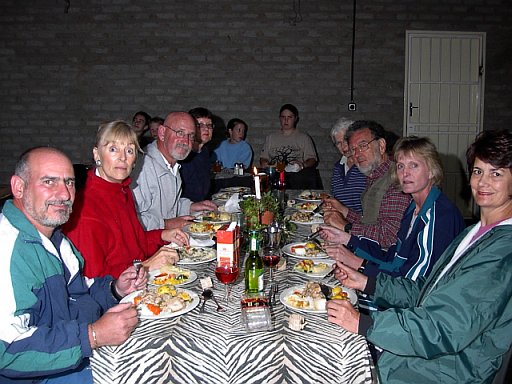 The evening was different from our normal hiking evenings, first the young ladies: Kelly and Joany, showed us their skill on the resident piano. I must say, it may not have been perfect, but I enjoyed it. In future we must only go hikes that also provide a piano. And the other thing that was different was that the farmer cooked for us, we had a sit down pootjie meal. This was certainly a good idea of Jenny to organise this. That way we were able to socialise much more than we normally do.
The Sunday hike, attended by only a few of us, was down to the river, that is the Little Caledon River. A deep and interesting ravine took us down to a lovely stretch of the river, which I must say invited for a swim, but the water was far too cold.