Bermondsey 12 to 14-Sept-2008
Fortunately I don't need to write anything, Jenny has done it all, and here it is! Just as well, because I wasn't on the hike. The place is in the Eastern Transvaal, just south of Machadodorp.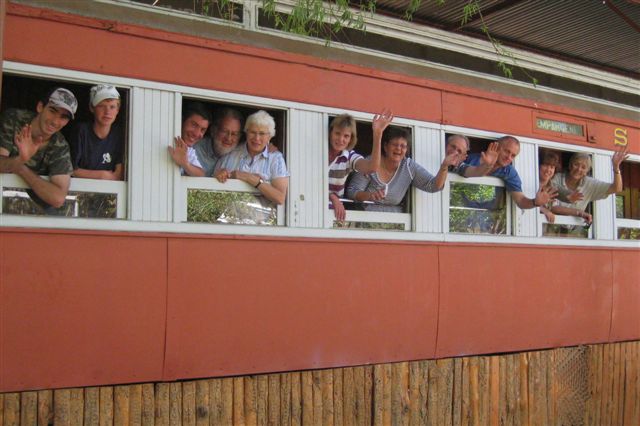 Thanks to Frans for organising this really lovely hike....nicest one we have had for ages!
We all arrived in dense mist and rain, feeling very anxious about the prospects of hiking the next day. Anxiety tempered, however, by the discovery that we had been upgraded from the bus station to the train station. The most charming accommodation in two beautifully preserved train carriages. We (11 including Frans' amiable young French friend Cedric) fitted most comfortably into the old compartments, one converted into a large bathroom with H & C running W, and with the old proper lavs on each end etc....(plus 2 other attached bathrooms) The other carriage was the old dining saloon. In perfect condition. The attached spacious bar, kitchen and open dining area with lots of seating completed our satisfaction, and we fell on the bar with cries of joy at the sight of a cask of old brown sherry laced with a bottle of 1976 Port!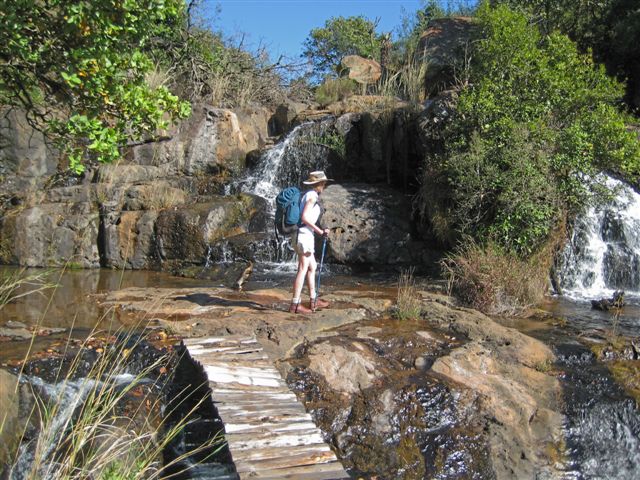 It didn't hurt that the owner/host is a most attractive and agreeable person and his assistant/? was just as pleasant. Their enthusiasm for the project development was most infectious (horses coming up etc)
Next day, as ordered from 'Upstairs', the day started off misty and cleared up in no time so that we set off in glorious sunshine and had a lovely uphill and downdale hike, with many interesting features, falls and views. We arrived back in camp in the mid afternoon, and after a brief respite, had a most interesting 'chocolate tasting' of Oscar's creations..( I think you should CALL them "Oscar's Chocolates" - and when people offer them they can say 'have an Oscar' or 'buy me an Oscar' ). Dogs and Darts added to the ambiance, and Dinner was enjoyed by candlelight in the dining saloon.
Next day 6 of us hiked, while the others lazed comfortably - well - Tania supervised exam revision - and once again the hiking was delightful.....not an inch to be missed....huge red cliffs, vast views, riverine forests,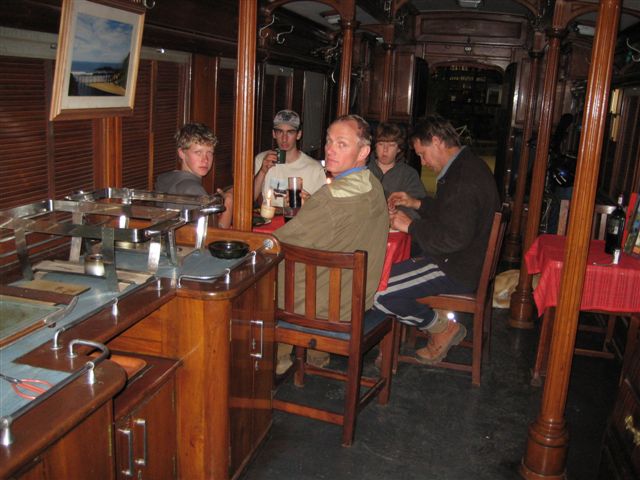 waterfalls, a mighty cleft in the mountain that we could walk through and be hauled out the other side, "Discovery" type ladders and bridges - we could not ask for more! It was ONEderful! And at the end, a catered communal brunch.
All most satisfying and as usual, lovely to see friends again....So thanks to all for a FAB weekend....and thanks again to Frans. I will attach some pics next week after deep deliberations with Oscar. Off to Kroonstad today for a week.
Happy Monday. (Janine found the avos in the car - Oh NOOOOO - and will give some to Judith and Lydia, but so sorry about the rest of you?! But there are still lots on the tree so maybe they will last until another day