Angel Wings (24 to 26-Aug-2012)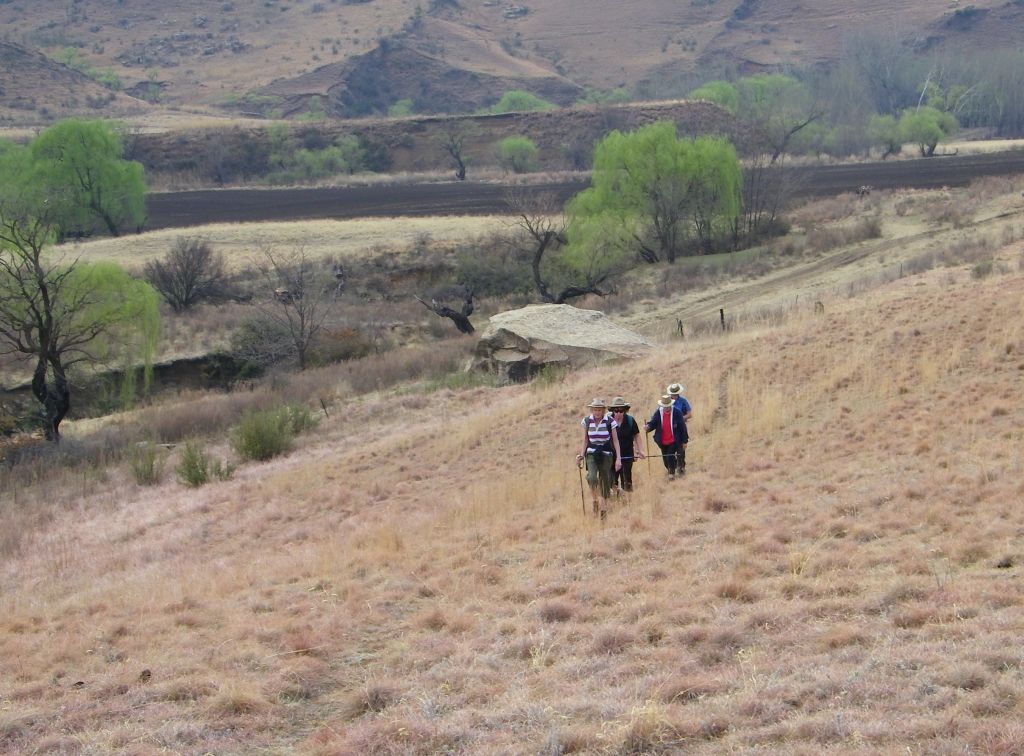 A hike near the Clarence in the Free state, along were: Jenny, Janine, Allen, Jörg, Tania and me. It started off with some confusion, we are not taken up to the hut at Oumas Kraal and have to say in alternative accommodation at the Gourmet Chef. This was because the road up to the hut is no very good and the bakkie cannot carry passengers. And the other thing was that there is not enough drinking water, we had to bring from home.
From Bethlehem we had to phone to get directions and off we went to the Gourmet Chef place. This place has electricity, is well situated and had comfortable beds, no complaints. The entertainment of the evening was trivial questions from tablets and music, also from the tablets. This tablet stuff is a revolution taking the hiking fraternity by storm.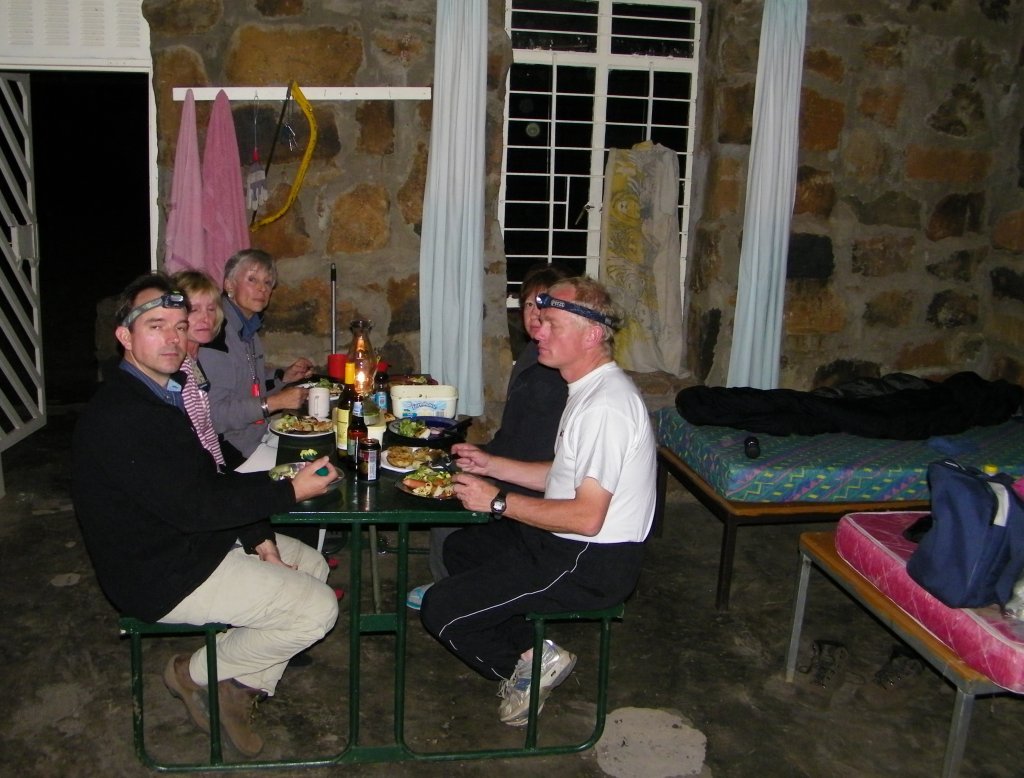 In the morning we drove over to Sunnyside where we would leave the cars and receive directions on where to go. That didn't work as you will see later. We faithfully followed the white on black footprints, going over some bridges, up some ladders until we got to some point where the path wanted to take us back to Sunnyside. There was a general rebellion and we decided to stuff the path and to just follow the GPS.
This turned out to be a good decision. It was easy walking over relatively flat country until we got to a house which we from far thought must be our destination. It wasn't, it was the house of a tenent farmer who initially was not very friendly but after noticing that we mean no harm he put the ax away and became our friend. At this stage we had picked up the path again, but he was after us on horseback saying don't go that way. That will be a loooong way around, just go over this mountain in front of you and you will get to the hut in no time. And so we did, checking the map we could see that he was right, not only was it a long way (about 6km) but it also went up very high.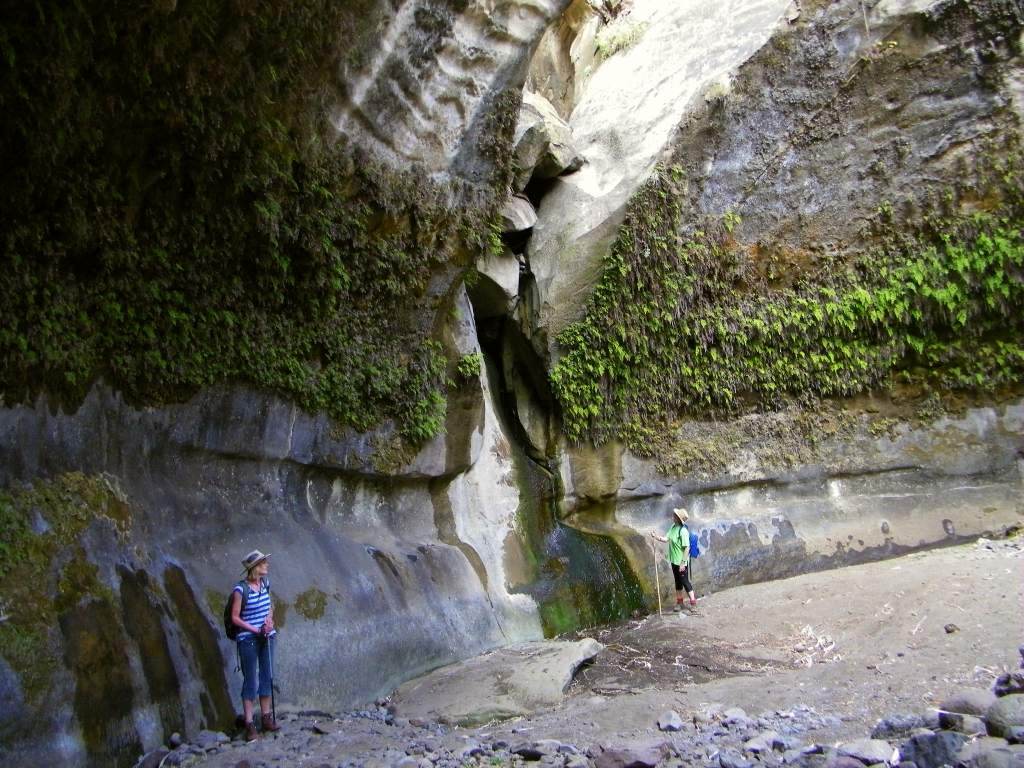 We were now staying in Ouma's kraal. Immediately the donkey was lit and hot water produced, all had a lovely, warm shower. Thus well prepared for the evening we had a game of 'I have forgotten the name' played with poker dice and than the braai fire took over and we had dinner sitting all together at the same table.
The way down was an easy 8km passing an interesting gorge, I guess about 20m to the bottom and actually getting into it and standing in a huge cauldron. Further down we had a split with some hikers deciding to go straight back to camp, following the road whilst some of the hardy types took the high road. The most interesting feature here was, at least for me, a lava wall which must have pushed out magma out of a fissure some 70 million years ago, the softer, surrounding sandstone has been eroded leaving this wall standing. Strange was to see basalt crystallized in a horizontal direction, not sure how this came about, I'll ask Roland.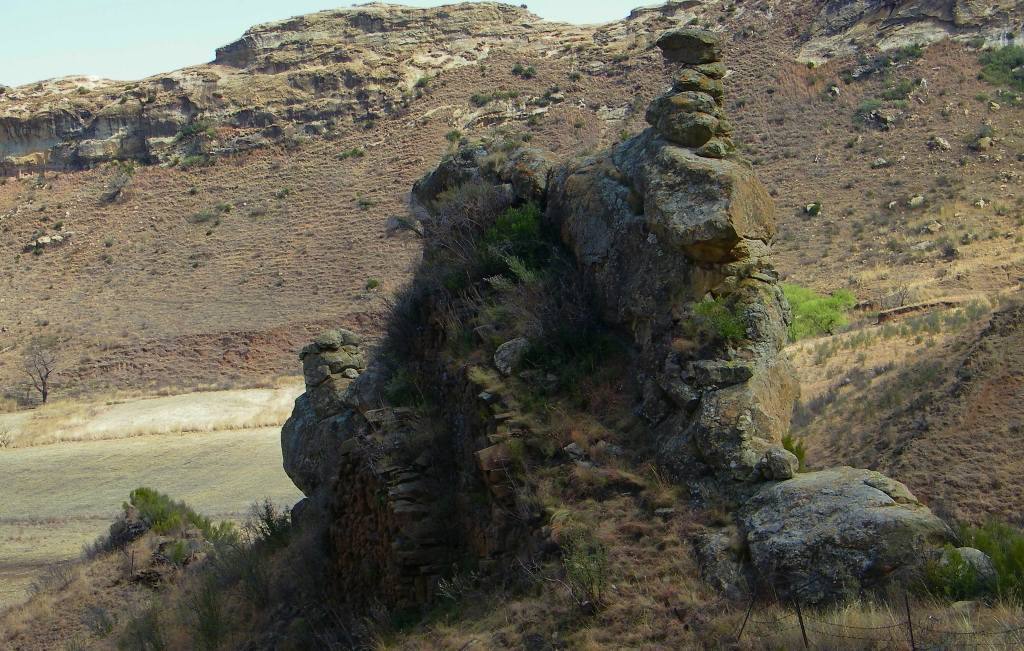 Lunch was in Clarence and on the way out a look at the Ash River outfall, where all the water from the Lesotho highland scheme enters the Vaal river system.